As owner Jason Fordley promised earlier this year, Soul Groove has expanded its footprint in the Tenderloin. And fans won't have to go far to experience the larger—and soon, groovier—new restaurant.
The beloved chicken and waffles joint has taken over the spacious former Mr. Crave spot at the corner of Ellis and Larkin, which is connected to the Cova Hotel (655 Ellis St.)
Though the original location at 422 Larkin St. will remain in business, fulfilling takeout, delivery and catering orders, sit-down dining will move to the new space. Fordley's hope is that Soul Groove's new digs will allow them to put more focus on customer service and, eventually, make soul food available to neighbors 24/7.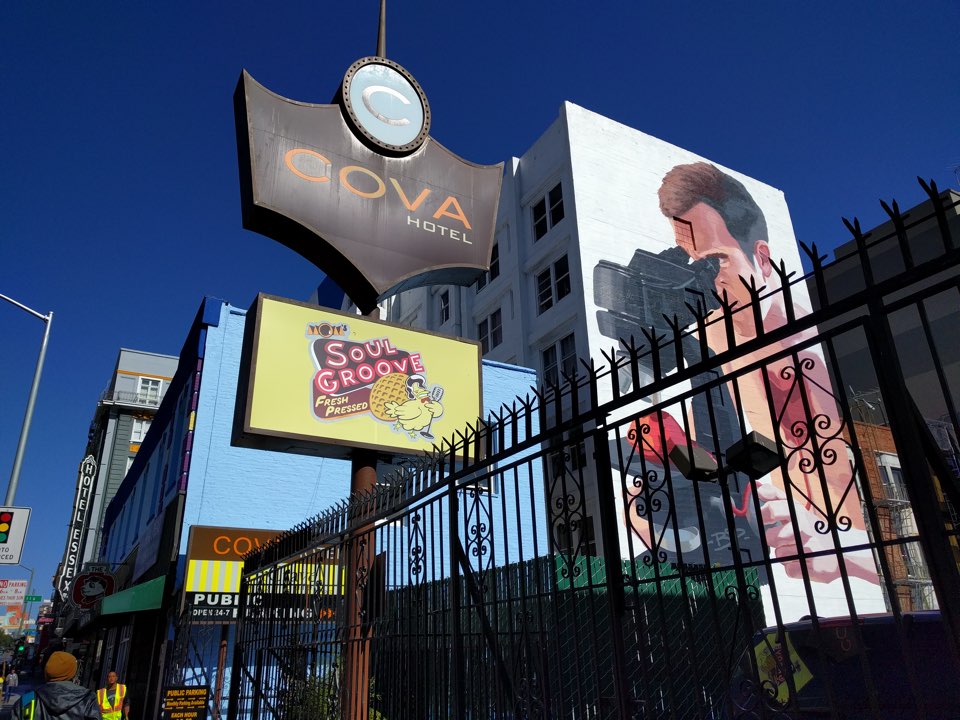 After taking over Mr. Crave in July, Fordley and his crew immediately took to the kitchen, to keep continental breakfast available to Cova Hotel patrons. Ever since, he's been working to revamp the space, extend the menu and hire staff so he can offer table service for the first time.
With a much larger kitchen, the menu will feature dishes the staff wasn't able to accommodate before, like eggs benedict, Fordley said. In addition to the popular chicken and waffles (available in both standard and vegetarian versions), the new location's menu offers egg combos and sides of hash browns, mac and cheese, cheesy grits, collard greens and more.
So far, Fordley said guests—and even the staff—"are going crazy" for the Jamaican-Me-Waffles, plantain sweet-corn waffles topped with coconut-lime butter and a choice of regular or vegan jerk chicken, which Fordley says he's been working with multiple sous chefs to perfect. Another budding favorite: chimichurri skirt steak and eggs. 
To the disappoint of initial customers looking for the full Soul Groove experience, the restaurant's liquor license is still pending. But Fordley hopes to have it in the bag by this coming Monday.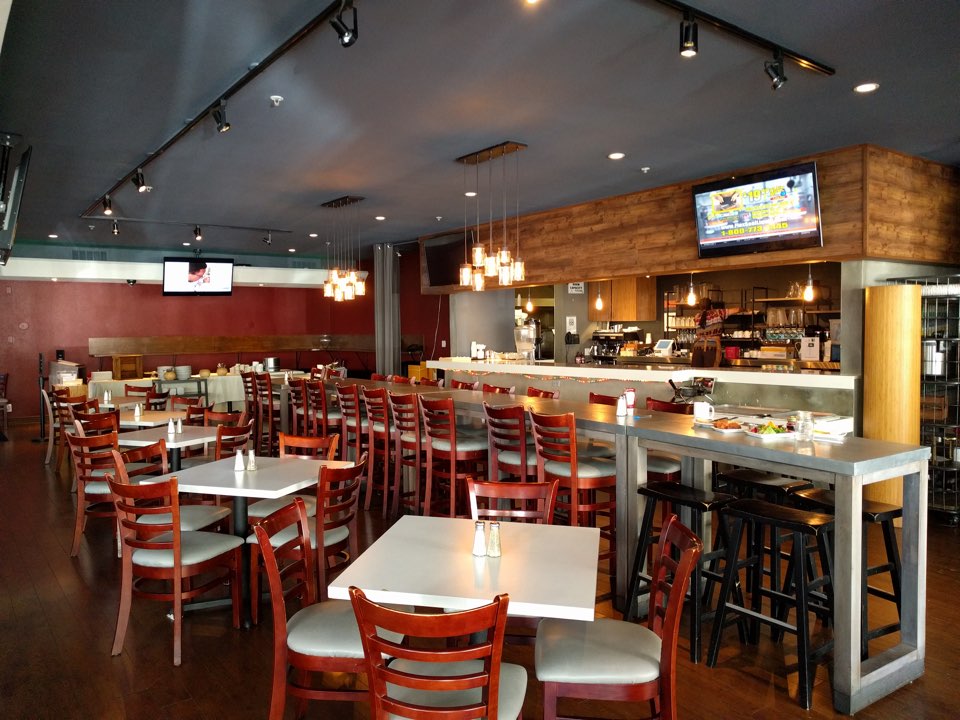 Keen eyes will notice that the official name on the new location's signage is 'Mom's Soul Groove.' The addition of 'Mom's' is a nod to Soul Groove's new partnership with DJ/dance party collective Motown on Mondays (a.k.a. "MoM"), Fordley said. Once the liquor license is settled, Motown on Mondays will pump beats every weekend from a new custom DJ booth inside the restaurant, built from a vintage 1960s record player.

In exchange, the Soul Groove team will join Motown on Mondays at its regular Monday-night dance parties at Divisadero's Madrone Art Bar, handing out sandwiches and getting down on the dance floor in a chicken costume.
With "busloads" of tourists regularly dropped off outside the Cova Hotel at all hours of the day and night, Fordley is hopeful that the new Soul Groove could eventually become a 24/7 operation, something that's been increasingly rare in the city with the closures of all-hours spots like Sparky's and the Lucky Penny. "I think it's gonna be a really steady opportunity we have here," he said. 
For the moment, though, hours will be 6:30am-3pm daily. Once the liquor license comes through, they'll be extended to 7pm, and they might extend even further once Soul Groove's subscription to DirectTV's NFL Sunday Ticket begins—hopefully, next Wednesday. Fordley said he's heard Sunday Ticket can be a "huge draw" for restaurants, and very few places in the immediate vicinity offer both food and football.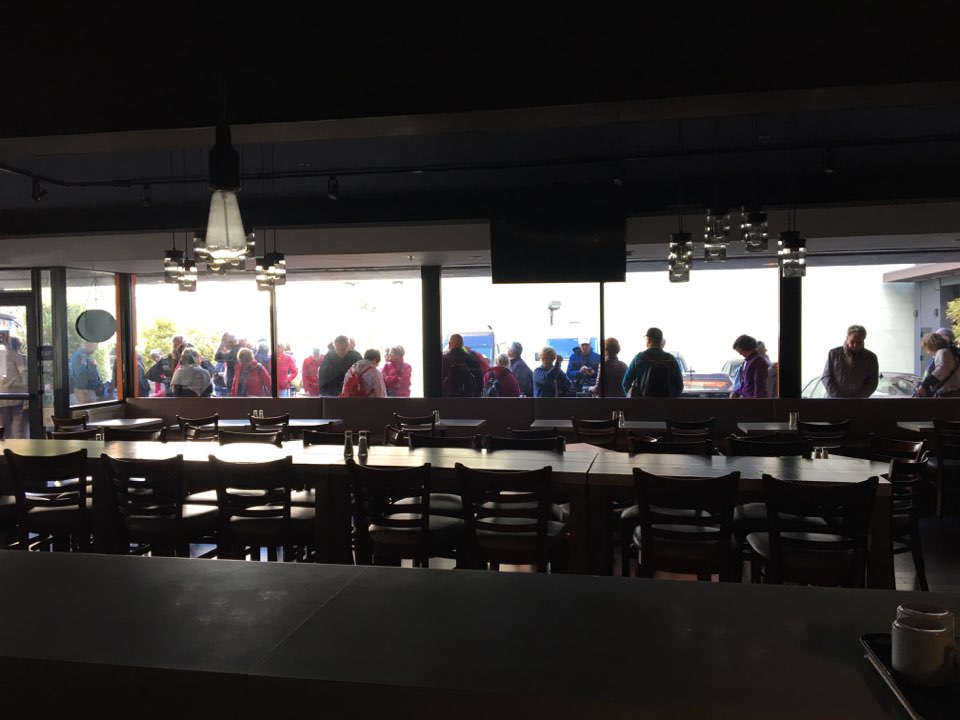 While Mom's Soul Groove is already softly open, Fordley is waiting until mid-November to hold a grand opening celebration.
The reason: He completed the paperwork last winter to make July 30th the official National Chicken and Waffles Day, and come November, Soul Groove will be featured for the first time in Chase's Calendar of Events, "the most comprehensive and authoritative reference available on special events, worldwide holidays and festivals, civic observances, historic anniversaries, famous birthdays and much more."
Fordley plans to hand out copies of the newly released 2017 calendar during the grand opening celebration, while  beloved chicken and waffle mascots show guests a good time.
Keep an eye on Soul Groove's website, Facebook or Twitter to stay on top of their latest updates.