While Tacolicious may not have a Hayes Valley location yet, the neighborhood recently welcomed a new children's clothing store that features a variety of Tacolicious-printed kiddie ensembles.

Kira Kids founder Christine Tang went into business selling children's clothing almost six years ago, and in September, she opened her first San Francisco store at 542 Laguna St. (at Hayes). A Bay Area native, Tang, whose original store is in Los Altos, said the expansion to this location is particularly exciting. 
We recently caught up with Tang to talk about the inspiration behind her brand, and this Saturday's big grand opening celebration for the new shop, which will feature sweets, drinks, and a 20 percent off sale.  
What was the inspiration behind Kira Kids?
I created Kira Kids because I was inspired by my nephews and the dream of owning my own business. I was still working full-time when I started Kira Kids, but my 9-5 job left me uninspired, so I would take night classes, from interior design to sewing and screenprinting, to push my creativity and help me figure out what I wanted to do with my life.
Initially, I thought to myself: Why not start a clothing business and use that as a self-taught course on entrepreneurship and garment manufacturing? If it works out, great! If not, at least I was able to gain some experience. I had nothing to lose.
At the same time, I began shopping for my nephews, and fell in love with the fun and whimsy of kids' fashion. My nephews reminded me of what it was like to be a kid again—they were always imagining, creating and being silly. I wanted my prints and illustrations to also inspire other adults, and remind them to lead a fun and creative life.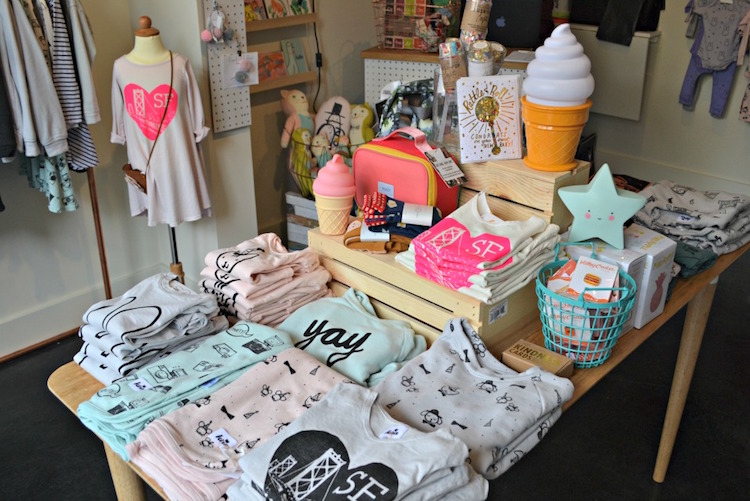 What makes your clothes unique?
All of the clothes are organic and sustainable—they're made to be more eco-friendly. Quality is the most important element of Kira Kids. Because of this, I'm always on the hunt for the softest and comfiest non-toxic fabrics that kids will love wearing. I want kids to play, jump, run and feel happy wearing all the pieces in the collection.
Why did you decide to open a shop in Hayes Valley?
Opening a shop in the city has always been a dream of mine. I love all the independent shops, the family-friendly vibe, and the growing number of tourists making Hayes Valley part of their San Francisco tour. This neighborhood is the perfect match for Kira Kids.
Tell us a bit about your designs. 
All the clothes feature my hand-illustrated graphics and prints. I love designing clothes that are not only soft and comfortable, but have fun unique designs that both parents and kids love, like this season's Tacolicious print.
Our shop also carries a curated selection of accessories, toys and gifts from local and international brands that we absolutely love.
What does the future hold for Kira Kids?
We can't wait to bring more exclusive collections, weekend pop-ups with our favorite brands and fun activities for kids to our shop!
Kira Kids is open 11am-6pm Monday-Saturday and 11am-5pm Sunday.