Longtime neighborhood grocery store Real Food Co. has abruptly shuttered its Cow Hollow location.
The storefront at the corner of Fillmore & Filbert has been in business since 1997, offering groceries with an organic, non-GMO philosophy, along with deli items, bath and body products and more. 
It appears that landlord troubles may be behind the closure. In an online petition launched earlier this month, Real Food Co. CEO Stephanie Hong writes:
After owning the building for decades, our current landlords have decided to sell the property at 3060 Fillmore Street.  While the parcel is still zoned for a grocery store, there is no guarantee that we will be able to continue to operate as tenants.
We've reached out to Hong for more details. 
The company dates back to 1969, preceding the birth of Austin-based Whole Foods, now a natural foods grocery behemoth, by over a decade. Its Polk Street location, open since 1976, will remain in operation, according to a notice in the shuttered Fillmore store's window, which also thanks its local customers.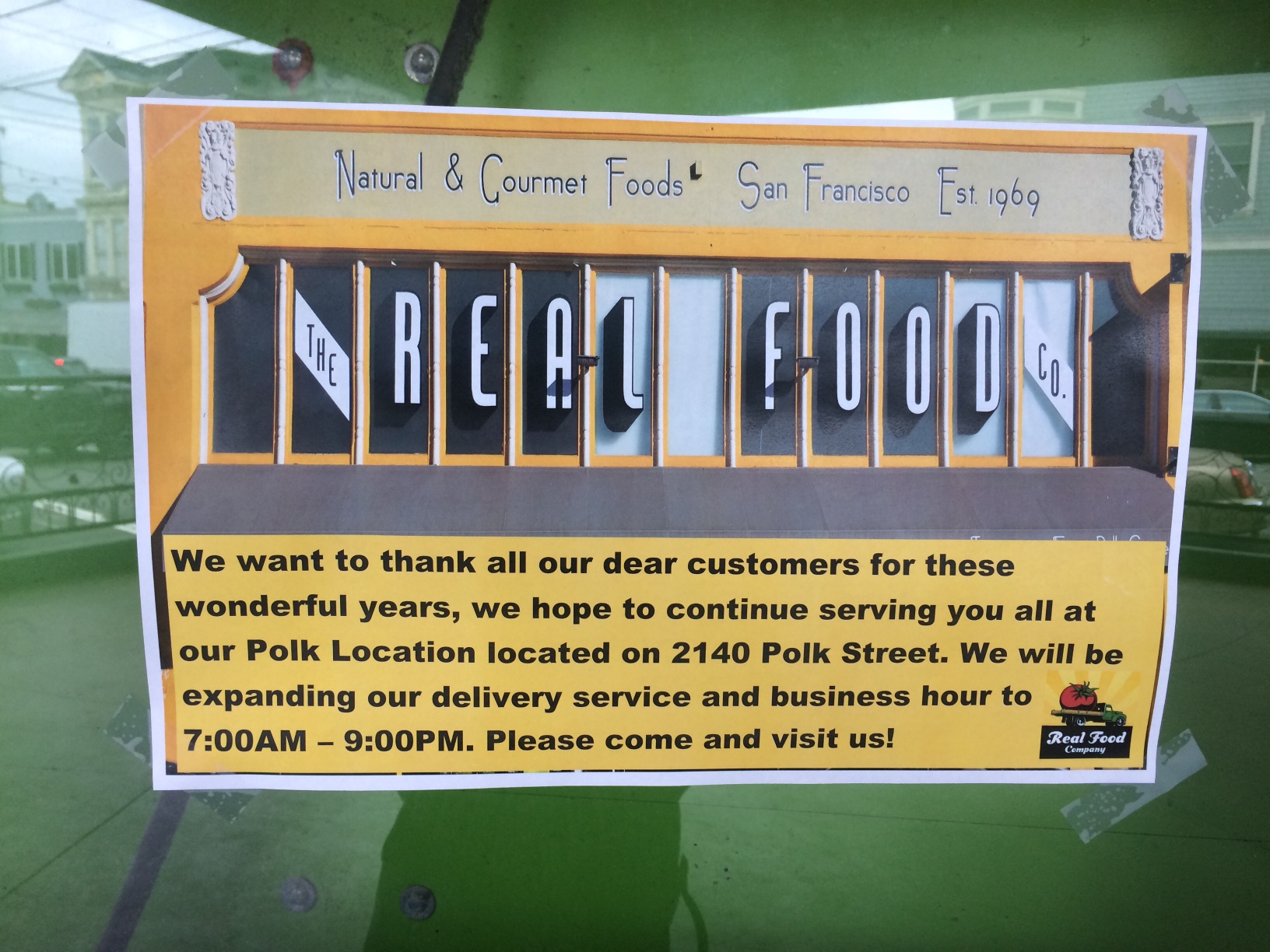 The online petition had urged customers to show their support for the Fillmore Street location, and currently has 1,196 signatures, with supporters weighing in.
"Real Foods is central to the neighborhood which needs quality, basic businesses—not just restaurants and boutiques. It serves those who live near by, young families and their children, and the elderly," wrote one supporter.
"We have to have neighborhood grocers! They have to be walking-distance or short bus-rides away," wrote another. "If we have to go only once or twice a month to a big-box grocer, we have to use cars to carry back all we need. This location is vital to our community!"
The closure came with little notice to local shoppers, as Hoodline reporter Nathan Falstreau noted that disappointed customers could be seen outside the store today. "I'm watching as folks keep walking up to the store with bags in hand," he reported.