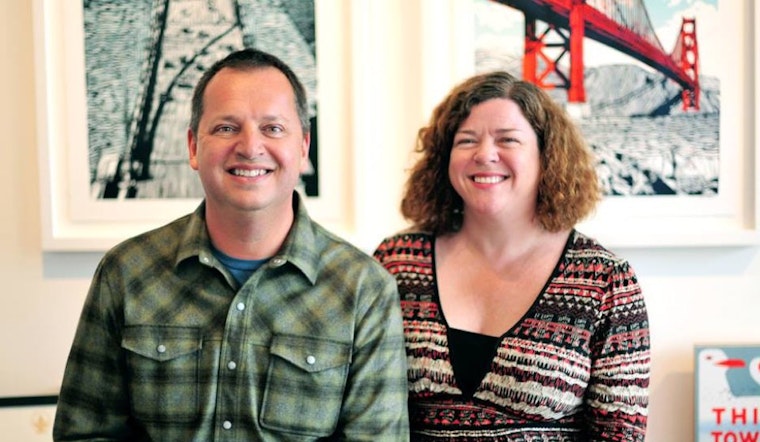 Published on October 27, 2016
ArtSpan is celebrating its 41st annual Open Studios this year across the Bay Area, and this weekend, rain or shine, many notable artists around the Sunset District will throw their doors open to the public.
One of the many participating studios is 3 Fish Studios, owned by husband and wife Eric Rewitzer and Annie Galvin and located at 4541 Irving St. in the Outer Sunset.
Printers and painters, the couple has participated in Open Studios since 2005. Galvin told Hoodline that in previous years, she and her husband held their Open Studios exhibition in their garage, so they've "come a long way" since then.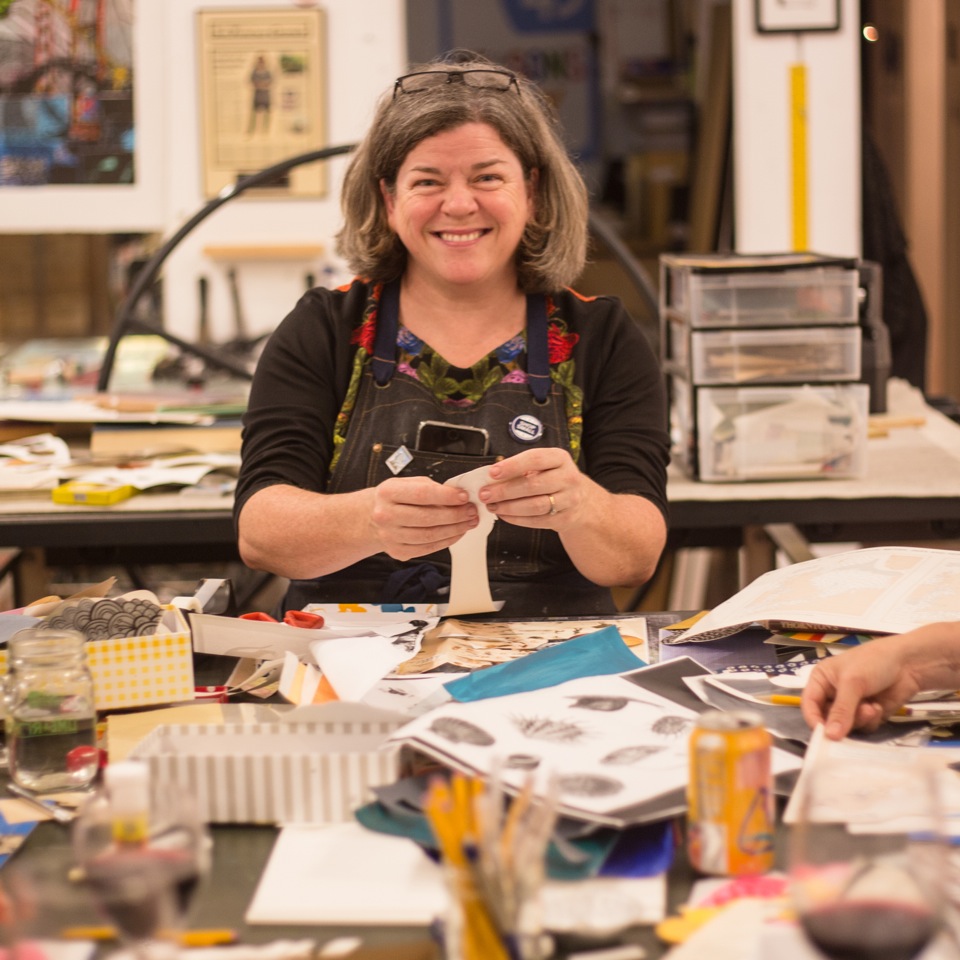 Originally from Ireland, Galvin considers San Francisco her adopted home and is inspired by the city and the beautiful places nearby, she said. Her work revolves around public signage, vintage packaging and comic books. Outside the studio, her artwork can be found in bookstores and visitors centers around the Bay Area, such as The Conservatory of Flowers in Golden Gate Park, Green Apple Books and the Land's End Visitors Center. 
One of her most iconic pieces is the 49 Mile Scenic Drive sign, originally designed in 1955. Galvin says it's one of her favorite signs in San Francisco, and she has been painting versions of it for years.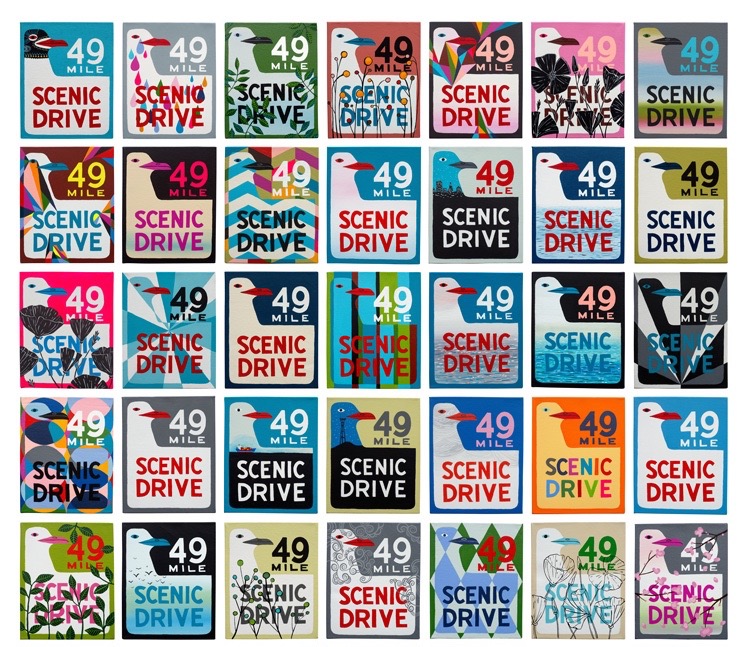 This year, Rewitzer is showing several new relief prints that include a view of the Golden Gate Bridge framed by cypress trees. In addition to their own work, Rewitzer and Galvin have welcomed six artists to display their work as well. Guest artists include Paul Madonna, Orlie Kapitulnik, Sean Hipkin and 14-year-old Kyle Trefny—whom Galvin calls "the neighborhood art prodigy."
This is Paul Madonna's 13th year participating in Open Studios and third time showing with a group at 3 Fish Studios. For 12 years, Madonna, both an artist and writer, published a popular weekly series, All Over Coffee, for the San Francisco Chronicle. He retired the series last year to focus on new projects.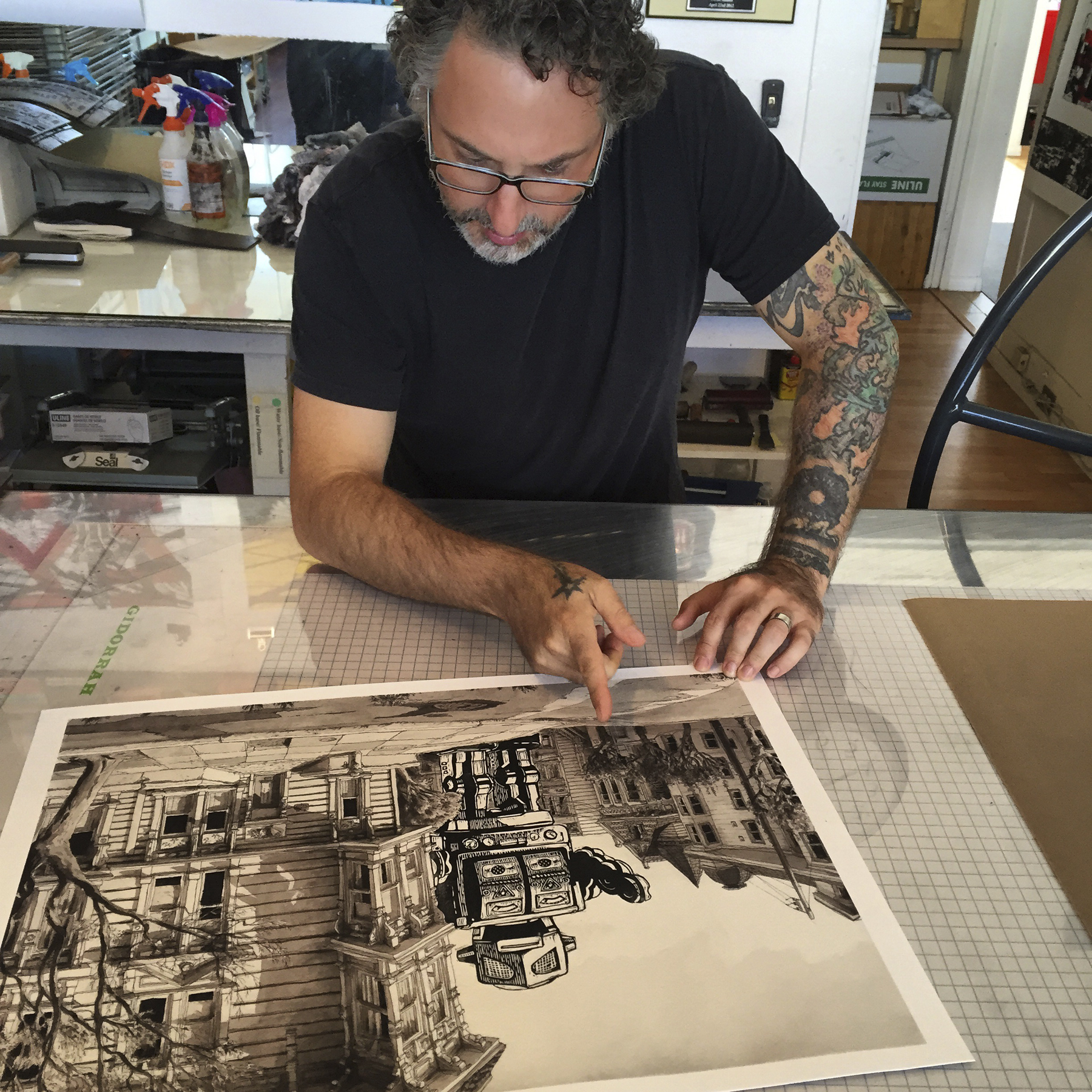 Madonna says the great thing about Open Studios is that it allows artists to 'open up the drawers' and display work they wouldn't normally get to show. "Exhibitions are about curating," he said, "but Open Studios is about letting people see behind the curtain."
Throughout the weekend, he'll be offering some discounted prints that he says wouldn't otherwise be available, as well as some drawings that have been tucked away for a while. "I'll also have some limited edition books and previously unseen original drawings from my recent show Close Enough for the Angels [at the Dryansky Gallery]," he added.
Open Studios run from 11am-6pm Oct. 29th-30th. See below for some other notable Sunset galleries participating this weekend. And for the complete weekend guide, go to ArtSpan's website.