After more than 20 years in the Castro, Zapata Mexican Grill was set to close its doors today. Owner Jorge Perez decided to shutter his long-running taqueria after his landlord, Les Natali, refused to give him a long-term lease.
But at the last minute, Natali made a deal to extend Zapata's lease by 10 months. He did the exact same thing last year, giving Zapata a one-year lease extension within days of its planned closure. 
Natali owns a number of seemingly profitable businesses in the neighborhood, such as Toad Hall and Badlands. But he also owns many vacant properties, including the long-empty Patio Cafe, whose once-heralded transformation into Hamburger Mary's has now stretched on for years with no end in sight.
Perez has repeatedly said that Natali's refusal to offer a long-term lease to Zapata is bad for business, and many are concerned that its space could eventually become yet another long-term vacancy.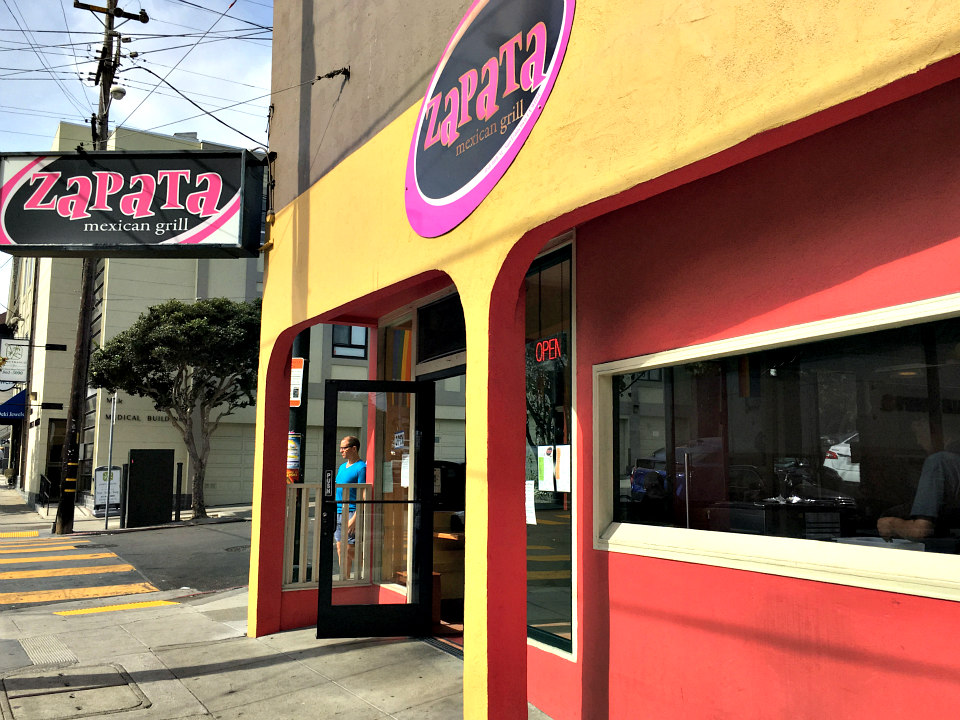 For years, Natali's behavior has frustrated many local residents and merchants, and we've repeatedly been unable to get comment from him on his business practices. As a result, many Castro neighbors have looked to District 8 Supervisor Scott Wiener for leadership. 
As the district's elected representative, Wiener is in a position to communicate with local merchants like Natali. However, we recently found that last year, Natali donated $8,400 to Wiener's campaign for State Senate.

Although $8,400 is a tiny fraction of the approximately $1.5 million that Wiener has raised for his State Senate race against District 6 Supervisor Jane Kim, we wanted to know what he had to say about accepting campaign donations from a landlord whose actions are opposed by many of his constituents.
We were also curious to hear if Wiener has spoken directly with Natali about his empty Castro storefronts, and what he has to say to District 8 constituents who are frustrated with Natali's questionable business practices.
Wiener responded with this statement, which we're printing in full. (A note to readers: he wrote us before the news of Zapata's lease extension broke this afternoon.)
"Les Natali contributed to my campaign—one out of 3,000 people to do so—just as he contributed to the campaigns of David Campos, Bevan Dufty, Mark Leno, and Gavin Newsom. Les has a history of supporting local candidates, particularly LGBT candidates, across the political spectrum.

Like my predecessor, Bevan Dufty, I have taken the approach of working with Les. Before taking office, I was very involved in the protests relating to Badlands. It was important to speak out. It's also important, as an elected officeholder, to work with businesses and property owners in our commercial corridor. That's been my approach with Les, even when I've strongly disagreed with him.

Since taking office, I have worked with and pushed Les to reopen the Patio, and for several years, I have pushed Les to give Zapata a long-term lease. Both of these issues are personal for me. As a nearly 20-year Castro resident, I patronized the Patio before it closed, and Zapata has been my go-to taqueria since 1997. I've probably spent enough money at Zapata over the years to send a student to SF State for a year. As a neighbor and as Supervisor, the continued closure of the Patio has been a significant frustration for me, and I'm heartbroken that Zapata is closing.

While the Patio and Zapata situations are extremely disappointing to me and to many others, we should also look at the positive in the neighborhood. In addition to the work we did to widen the Castro Street sidewalks, nearly 100 businesses have opened in the Castro/Upper Market neighborhood since I took office. We've welcomed amazing new restaurants to the Castro, new bars, a new bookstore, a new pizzeria, two new supermarkets, new athletic facilities, a new candy shop, new clothing stores, a new medical cannabis dispensary, new cafes, and numerous other retail establishments. New businesses continue to move into this wonderful neighborhood. I've lent significant support to these new businesses whenever needed.

It's important to look at the many good things that have happened in the neighborhood and not just focus on the frustrations that we all share. If I could make the Patio reopen and keep Zapata open, I would do it in a heartbeat. Our city government, however, does not tell property owners to whom they must lease or what rent to charge. Les pays the vacant building fee on the Patio, and depending what kind of business he tries to open in the Zapata space, he will have to go through a public permit process. What I have done is exactly what Bevan Dufty did before me—push Les and advocate."