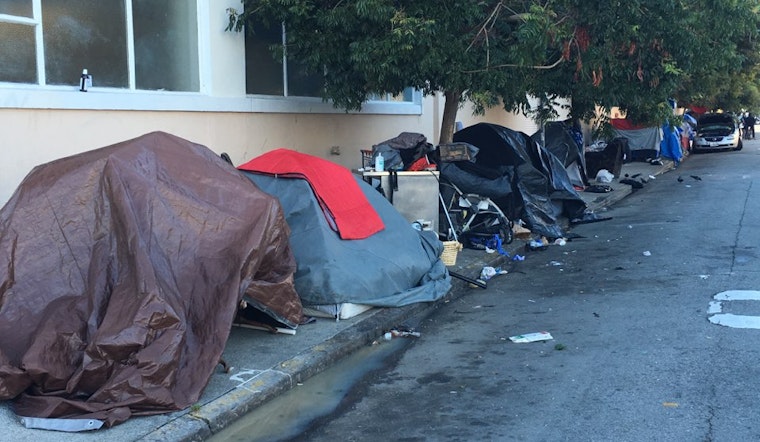 Published on November 25, 2016
The November 8th election brought the passage of Proposition Q, a San Francisco ballot measure that aims to give city officials a renewed mandate to remove homeless tents from city sidewalks. The new law will go into effect within the week, once it's certified by the Department of Elections—but city officials say it's unclear about how exactly the measure will be implemented.
The text of Prop Q prohibits "the placement of tent encampments on public sidewalks" and empowers the SFPD to remove said tents with 24 hours' notice. The new code also mandates that the city must provide shelter for all evicted tent dwellers and hold any confiscated personal property for up to 90 days. Technically, public sidewalk tents were already illegal—but the 24-hour warning purportedly gives city officials another tool with which to address the camps.
San Francisco is decades deep in a crisis of homelessness. The 2015 Homeless Count Report (a census taken by a mass volunteer sweep over a single night in January) identified 6,686 sheltered and unsheltered individuals experiencing homelessness within the city limits. Of these, 3,505 people were sleeping on the streets, in cars or in public parks at the time of the survey—many of them in tents pitched on public sidewalks. Homeless rights advocates contend that the actual number is much higher because less visible groups (e.g. families and youth) are underrepresented in the count. The Department of Public Health recorded 9,975 homeless individuals in the city over the 2014-2015 fiscal year, a third of whom had been intermittently homeless for at least a decade.
From 2004 to 2014, the city cut its adult shelter bed count from nearly 2,000 to fewer than 1,200. In June 2016, a Board of Supervisors decision mandated the creation of six new Navigation Centers by 2018—but these communities are still just one portion of the policy puzzle. Homeless San Franciscans routinely wait five or six weeks for a shelter bed, and the overwhelming majority of the chronically homeless wind up right back on the streets after each shelter stay.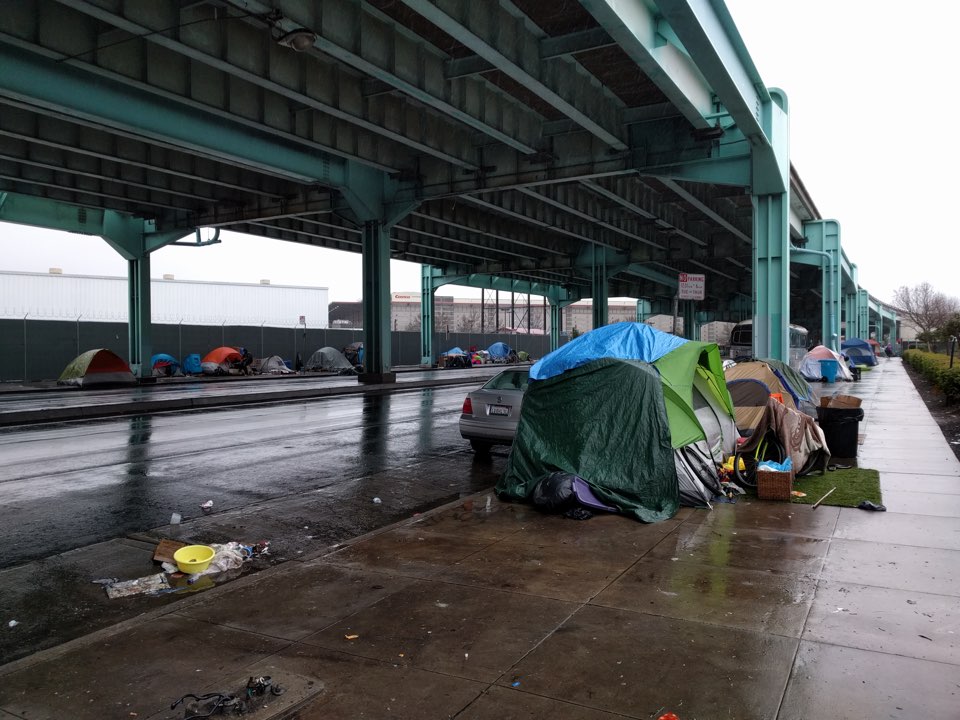 Prop Q, which requires ample shelter capacity to cover its mandate, does not allocate any extra funding for the development of new homeless service facilities. Prop J would have set aside tens of millions of dollars for homelessness services, and Prop K would have levied a sales tax to fund J—but K did not pass, and the money isn't coming.
"At this point, the city is still working out what the rules of the road are for Prop Q enforcement," said Randy Quezada, the spokesperson for the city's new Department of Homelessness and Supportive Housing (DHSH). "Certainly, it was enacted, and we need to comply with the law. I think we can all agree that people shouldn't be living on the streets, in tents or otherwise."
In reality, it's possible that Prop Q may not change homeless policy much at all. Jeff Kositsky, Director of the DHSH, told Mission Local that the passage of Q will not impact his method for handling tent encampments. Jason Albertson, head of the Encampment Resolution Team, was still awaiting a briefing when Hoodline called him two weeks after the election. Kositsky, Albertson, and many of their coworkers have come into their city jobs after long careers in community organizing and social work, and they don't seem to be in a hurry to tackle the sidewalk tent ban.
"As it is right now," said Quezada, "we have a system in place where we work to resolve individuals' homelessness. We get to know the people and figure out what the best solutions are for them. The Prop Q situation is kind of unrelated in a way."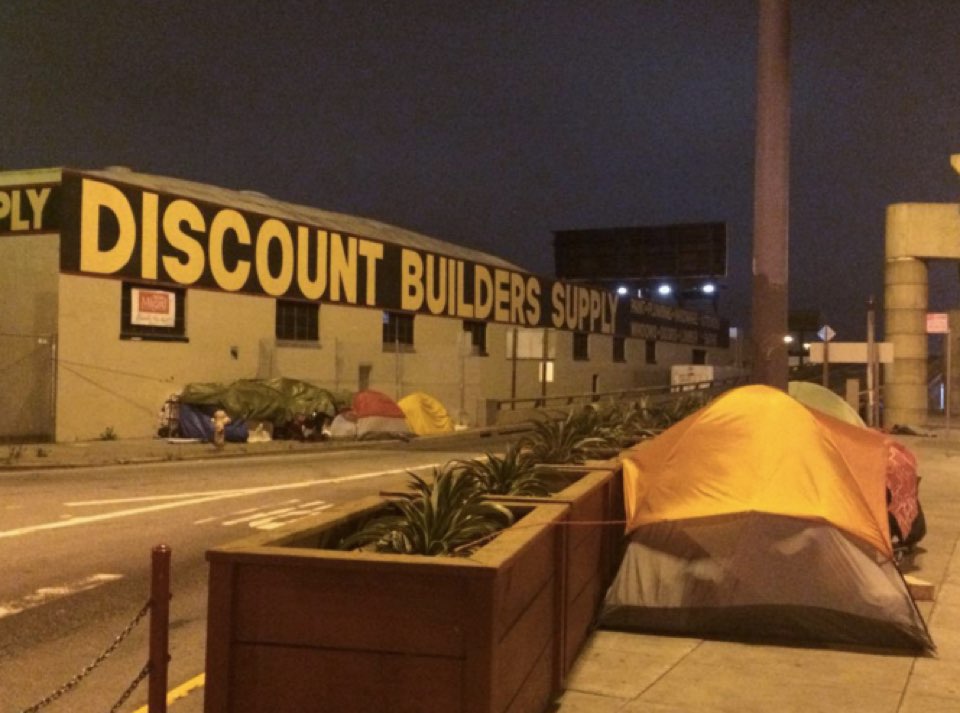 Prop Q was one of the most controversial measures on the ballot this November, and passed with a slim 52.8 percent of the vote. Voices in opposition included the Democratic Party, the Chronicle, SEIU, Hospitality House, and a slew of other human service organizations. The overwhelming bulk of the funding for the Yes on Q campaign came from tech investors who collectively contributed several hundred thousand dollars.
"We're talking about basically billionaires funding a campaign to take away the most destitute San Franciscans' tents," said Jennifer Friedenbach, Director of the Coalition on Homelessness. "Besides making homeless people the enemy in all of this, they put out messaging that Prop Q would move individuals out of tent encampments and into housing. They talked about six new Navigation Centers and hundreds of units of supportive housing, none of which is true."
In August 2015, the Department of Justice ruled that a Boise, Idaho anti-camping ordinance was unconstitutional because it criminalized homelessness in violation of the 8th Amendment, which states: "Excessive bail shall not be required, nor excessive fines imposed, nor cruel and unusual punishments inflicted." Critics of Prop Q voiced concerns that the new measure would raise similar human rights concerns. Supervisor Mark Farrell, who wrote the legislation, told the BBC ahead of the election that "this will in no way criminalize the homeless."
"It's all about political will," said Friedenbach. "What voters said with a 'yes' vote on J and a 'no' vote on K is that they want the city to find the money within their budget."
The city could build shelter capacity and meaningfully reduce homelessness, Friedenbach argued, "if they had the resources to do it. Instead what we have is your policymakers making half-assed and mean-spirited initiatives."
So far, it remains to be seen how the city will implement Prop Q—and to what degree this will impact the work of the SFPD, the DHSH and the Department of Public Works as they continue efforts to move encampments off city streets.