French bakery Le Chat Rouge (1314 Grant Ave.) had issues from its inception in March 2015, as owner David Carbonell struggled with an array of red tape that delayed his debut until May 2016.
Now, after just six months in operation, tipster Robert H. informed us that the bakery has unexpectedly shuttered for good—and without notice, leading many in the community to wonder what happened. 
Le Chat Rouge (French for "red cat") is Carbonell's multigenerational family business. It dates back to a French bakery founded in 1775, which now has five locations in Paris, Lyon, Marseille, Toulouse, and Tarascon.
A photojournalist by trade, Carbonell told us last year that he had long hoped to open in San Francisco, a city that he grew to love as a visitor. After overcoming issues with a conditional use authorization and upgrades required by the Health Department, he was finally able to get his doors open last summer. 
But the whole business ultimately proved too complicated, Carbonell's French manager, Philippe Leprincier, told us via email this week. The final nail in the coffin was a rent dispute with the landlord, and when the issue went unresolved, eviction proceedings began to move through the courts.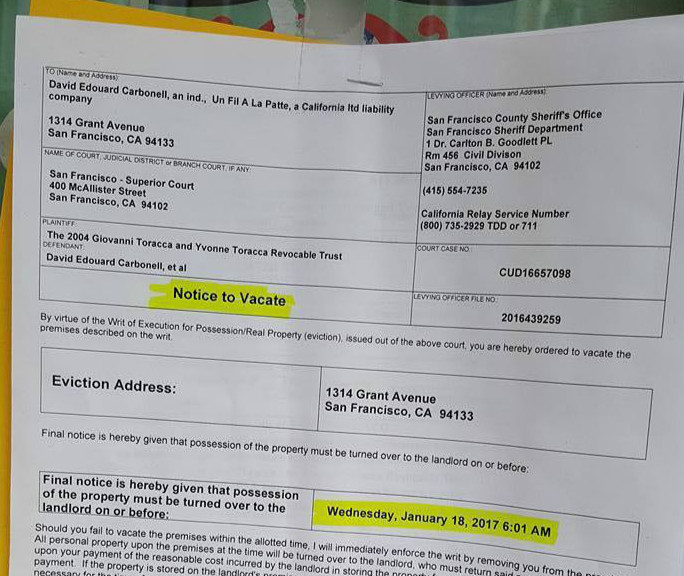 Carbonell, who was in Germany at the time finalizing a deal for another Le Chat Rouge bakery franchise, was ready to fly back to San Francisco to attend the eviction hearing. But on the way to the airport, his car collided with a taxi, injuring his leg. 
"David took this as a sign of destiny, decided to not go to trial, and asked his manager to just close the door of Le Chat Rouge forever in San Francisco," Leprincier told us. "He said, 'They want the store back? Give it to them, I will not fight again and again like I [have] already done for 17 months.'"
Some tipsters told us they weren't surprised by the closure, with one noting that Le Chat Rouge's prices were too high for many North Beachers: a baguette was more than $13, and a croissant more than $6. 
However, it appears that Carbonell and his family will continue to open Le Chat Rouges elsewhere. Leprincier said that the German location is set to open in Frankfurt in July, and a Saudi Arabia location (in Riyadh) will debut in October. Carbonell is also in talks for a location in Singapore. 
"David is sorry to the people of San Francisco," Leprincier wrote. "They were coming to us with a smile, happy to have their fresh goods baked daily." 
Update, 1:31pm: Carbonell takes issue with our tipster's characterization of his prices, saying that a baguette at the North Beach bakery cost $3.50, and a croissant $3.75.
He also invites any of his former San Francisco customers to drop into one of his global locations this year for 10 Euros' worth of free baked goods, with a driver's license or other proof of San Francisco residency. 
"I loved my customers in San Francisco ... they gave me love and so many gifts," he said. "I am so sorry to disappoint them with closing the doors of Le Chat Rouge San Francisco."
Thanks to Robert H. and Junior for the tip.
See something interesting while you're out and about? Text Hoodline and we'll see what we can find: (415) 200-3233.