Nobuo "Nob" Mihara was 10 years old when his father told him that his family would have to leave their home in San Francisco.
He remembers his teacher telling him goodbye on his last day of school, in April 1942. "I don't know what she did the rest of the school year, because almost all of my classmates were Japanese-American, too."
Mihara, whose family runs local origami store Paper Tree, has lived in San Francisco for his entire life—apart from the years during and immediately after World War II, when his family was interned at Heart Mountain Relocation Center in northwest Wyoming. 
They were among the roughly 5,000 San Francisco residents affected by Executive Order 9066, signed by President Franklin D. Roosevelt in the wake of the Japanese attack on Pearl Harbor. Yesterday marked its 75th anniversary. 
The order, which authorized the U.S. government to "prescribe military areas ... from which any or all persons may be excluded," initiated the forced evacuation of more than 120,000 people of Japanese ancestry living along the West Coast.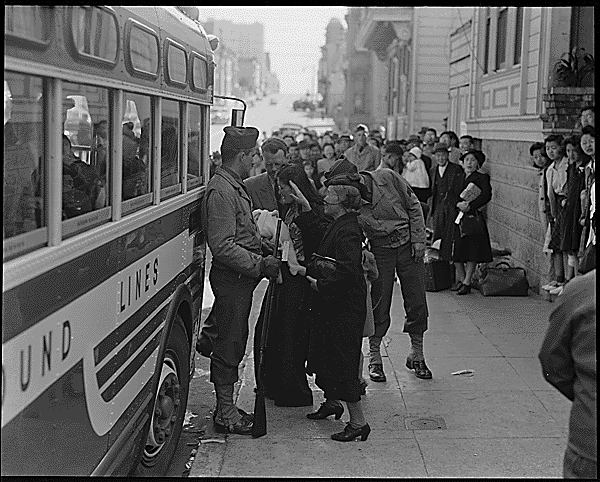 A community uprooted
Mihara was one of several hundred members of the Japantown community who gathered for yesterday's annual Bay Area Day of Remembrance.

Although the number of surviving internees gets smaller each year, there are still a handful of San Franciscans who can recall childhoods and teenage years spent in internment. For many of them, the memories of fear and tension before and after the war are just as poignant as the experience of internment itself.  
"People would shoot guns at our houses," remembers 86-year-old San Francisco resident Harumi Serata, who spoke with Hoodline about her experience as an 11-year-old girl living in Tacoma, Washington after the attack on Pearl Harbor.
In the months after Pearl Harbor, Serata's family was one of many interrogated by the FBI. "Some families started to burn all of their belongings [to avoid imprisonment]. My father didn't. He practiced the Japanese sport judo, which was seen as dangerous."
Serata's father was detained by the FBI after Pearl Harbor and sent to Fort Missoula, Montana, while Serata and the rest of her family were sent to Minidoka Internment Camp in Idaho.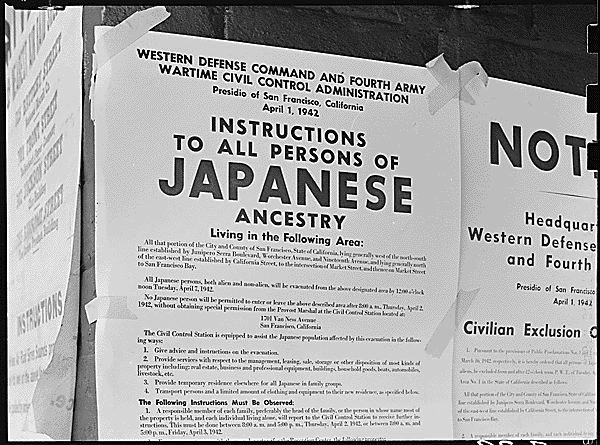 San Francisco's Japantown had grown into a flourishing community throughout the 1920s and 1930s, but it was all but destroyed by Executive Order 9066. Citizens of Japanese descent were given less than a month to close their businesses, sell their property, and pack what they could fit into one suitcase.
Business owners, like Dave Tatsuno of Nichi Bei Bussan department store, were forced to hold "evacuation sales," unsure whether to cite temporary or permanent closure.
By May 1942, the once-thriving Japanese community in the heart of San Francisco spanned 30 blocks of empty storefronts and shuttered windows.

Asked whether there were feelings of resistance or resentment among the Japanese community at the time, Nob Mihara shook his head, citing a phrase commonly heard among Japanese-American families in that era: "Shikata ga nai"—"it can't be helped."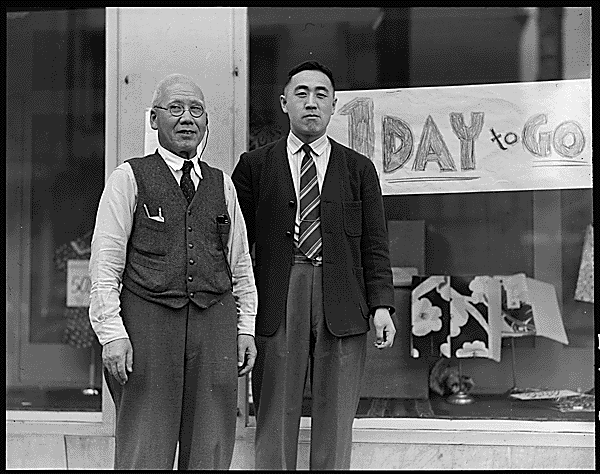 Life during internment
"People ask why there wasn't more resistance," says Sheridan Tatsuno, Dave's son. "But when there are men with guns telling you to get in a bus, close the blinds and don't look out, you do what they say."
During the early days of internment in 1942, a majority of San Francisco evacuees were taken to Tanforan Assembly Center in San Bruno while construction of the internment camps was finished. At Tanforan, a former racetrack, they were housed in hastily converted horse stalls and barracks, before being relocated to one of 10 American internment camps in "the interior": remote places like Poston, Arizona or Topaz, Utah.
Before boarding the bus for Tanforan, Dave Tatsuno left his 8mm camera with a friend in Oakland. Once his family was moved to Utah's Topaz Relocation Center, Tatsuno became friends with his supervisor at the War Relocation Authority Co-op, who arranged for the camera to be secretly mailed to the internment camp, bypassing security.
Once he had his camera, Tatsuno was able to film a collection of home videos depicting life during internment. The resulting film, entitled Topaz, was added to the Library of Congress' National Film Registry in 1997, as a film of "historical, cultural and aesthetic significance." (It's one of only two home movies on the registry; the other is Abraham Zapruder's film of John F. Kennedy's assassination.)
Rebuilding after the war
The average internee spent three and a half years behind barbed wire during World War II. But even after the war ended in 1945, feelings of animosity were still strong on the West Coast, causing many local Japanese-Americans to delay their return to San Francisco. Nob Mihara's family lived in Salt Lake City for three years after the war, while Harumi Serata's family settled on a farm in Idaho.
Even after they returned to Japantown, many residents were forced to start all over again. "Some of us who owned properties had boarded everything up in the basements [before leaving]," says Mihara. "But when we came back after the war, it was all gone."
The Tatsuno family was one of the lucky few to retain ownership of their store, and Nichi Bei Bussan reopened shortly after the war. Nob Mihara's father opened a book publishing company in the 1950s, and the family expanded its Japantown presence by opening a retail store, now known as Paper Tree. Along with neighboring Benkyodo, Soko Hardware, and Yasukochi's Sweet Shop, Paper Tree is one of the few remaining family-run businesses whose Japantown roots extend over 100 years.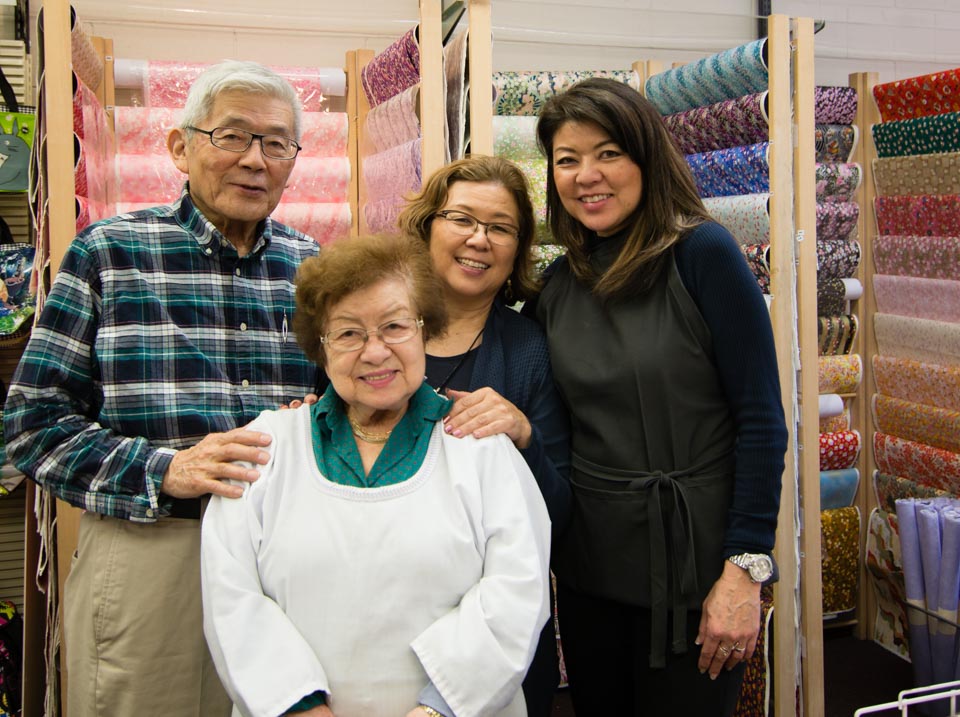 For Harumi Serata, who came to San Francisco after the war, neighborhood community groups have provided a way to connect with others and process the experience.
Serata has been part of the Senior Women's Writing Group at the Japanese Cultural and Community Center of Northern California for 19 years, and her memoirs, along with those of several other Bay Area Japanese-Americans, appear in two published books: From Our Side of the Fence and Making Home From War.
Today, San Francisco's Japantown is one of only three remaining in the United States. And although it has diminished in size from 30 blocks to just four, the community is determined to remember its past.
Remembrance and resistance
Attendance at this weekend's Bay Area Day of Remembrance was at an all-time high.
"We have Trump to thank for that," says Peter Yamamoto, volunteer at the National Japanese American Historical Society (NJAHS). "Now people want to know the history."
Speakers at the event drew parallels between Executive Order 9066 and President Trump's immigration policies, noting that both used fear and the disguise of "military necessity" to target American citizens based on their race or religion.

"Today's executive order brings back the fear and anxiety felt by Japanese-Americans during the war," said Sameena Usman of the Council on American Islamic-Relations (CAIR), describing the spike in hate crimes against Bay Area Muslims since the election.
Keynote speaker Don Tamaki, who was a member of the legal team that re-opened the U.S. Supreme Court case of civil rights activist Fred Korematsu, stressed the importance of educating others about the "stain" of Japanese internment in American history.
Unlike in 1942, "we can blog, we can take to social media to inform others, we can support political campaigns," Tamaki told the audience. "Most importantly, we can vote."
The Day of Remembrance turned into a Day of Resistance, with Tamaki and Assemblymember Phil Ting calling for action among the Japanese-American community. "We have to make sure this never happens again," Ting told the audience. "None of us can live free unless all of us live free."
Commemoration of the 75th anniversary of the signing of Executive Order 9066 continues this weekend, with New People Cinema hosting its sixth annual Films of Remembrance event in Japantown: