Here's a look at the latest round of tips we've received from Hoodline readers. You can join the fun by tweeting us @hoodline, texting us at (415) 200-3233, or emailing us at [email protected].
We'll start on the SoMa/Mission/Upper Market border, where tipster Nicole H. spotted a tent fire at a homeless encampment on McCoppin Street on March 5th. 
There are two fire trucks, a fire truck SUV, and three cop cars. I counted 20 people working on putting it out, and I saw another couple come out of another tent, from cops banging on their tent.

I have seen a person buy charcoal and bring it into their tent before. Wonder if this is what happened.
We contacted the SFFD for more information on the incident, but did not receive a response by press time. 
Over in Mid-Market, the Westfield San Francisco Centre mall continues to experience some business upheaval, as we reported last month. In addition to Bristol Farms, Bistro Burger, Mr. Hana, Amoura Cafe, and Bebe, the mall's Eddie Bauer location has now also closed, consolidating operations into the brand's Union Square store (128 Post St.)
But at least one of the open spots has a new taker: the Peet's Coffee that recently closed down in the food court will become the second location of Tenderloin "English cozy cafe" Scullery. Tipster Albertino M. said the cafe, which is known for its avocado toast, will be open by early April.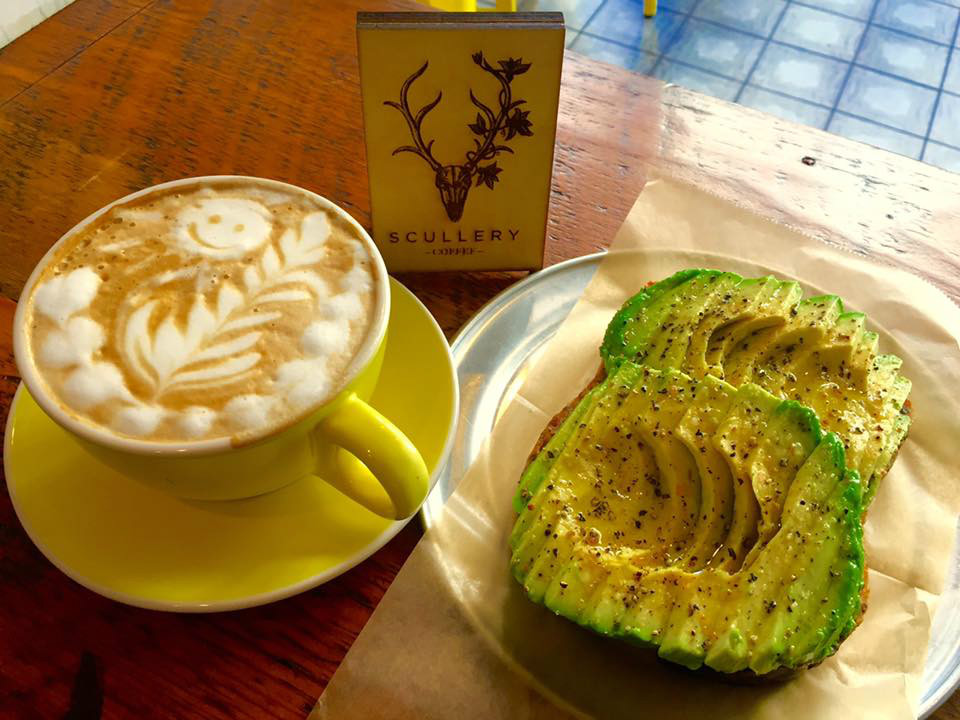 Up in the Financial District, tipster Allison alerted us to a fire at Kearny and Market streets on March 3rd. She said as she was leaving the intersection, she smelled the fire and saw fire trucks. We couldn't find any information, and the SFFD did not respond, but we'll update this story if and when they do.
Meanwhile, the vacant Boudin space on at 619 Market St., which closed in December after 26 years, has a new taker as well: Buckhorn Grill. The tri-tip purveyor has 11 Bay Area locations, three of which are also located downtown—two in SoMa, and one in the FiDi.
Albertino M. said that other than a "coming soon" sign posted on the door, there was no activity in the location just yet. We'll keep you posted.
Over in North Beach, Albertino M. gave us a heads-up on a new restaurant destined for 1224 Grant Ave., which was home to Viva Pizza Restaurant for 28 years. According to a liquor license filing, the new restaurant will be called Pesce e Riso ("fish and rice" in Italian), and will have beer and wine for sale.
Albertino M. also notes that Union Square's late-night eaters will temporarily be without the Pinecrest Diner (401 Geary St.), which has closed for what it says are short-term renovations.
According to its website, the diner, established in 1969, is the "oldest standing 24-hour diner in Union Square." It's not clear when it will reopen. (Update, 5:42pm: The Pinecrest's owner got in touch, and said it will reopen tomorrow.)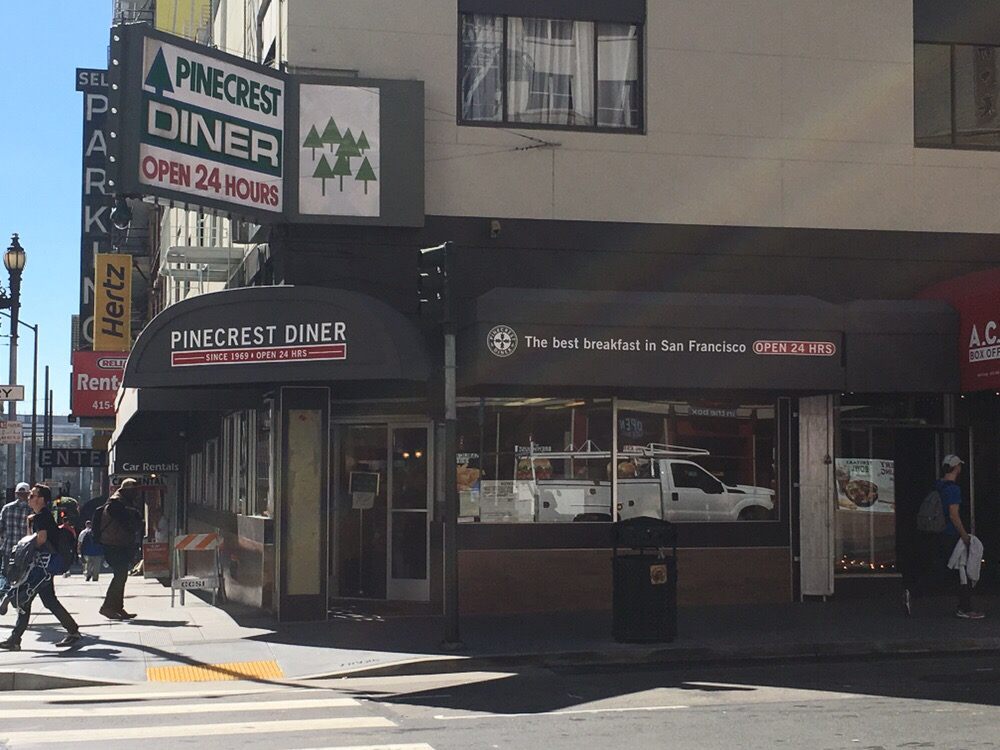 On March 3rd, an anonymous tipster told us about a "major police reaction" at the BART station on Powell Street. The tipster added that the police officers were carrying shotguns as they descended into the station, and police cars were speeding up Market towards the area.
The SFPD's Ofc. Robert Rueca told us that the incident was related to an armed robbery that occurred at the 5th and Mission parking garage.
According to a press release, a 24-year-old man was standing in the garage's stairwell when two suspects walked up to him, demanding his phone and wallet. One of the suspects put a gun to the victim's head, and threatened to shoot him if he didn't hand over the items.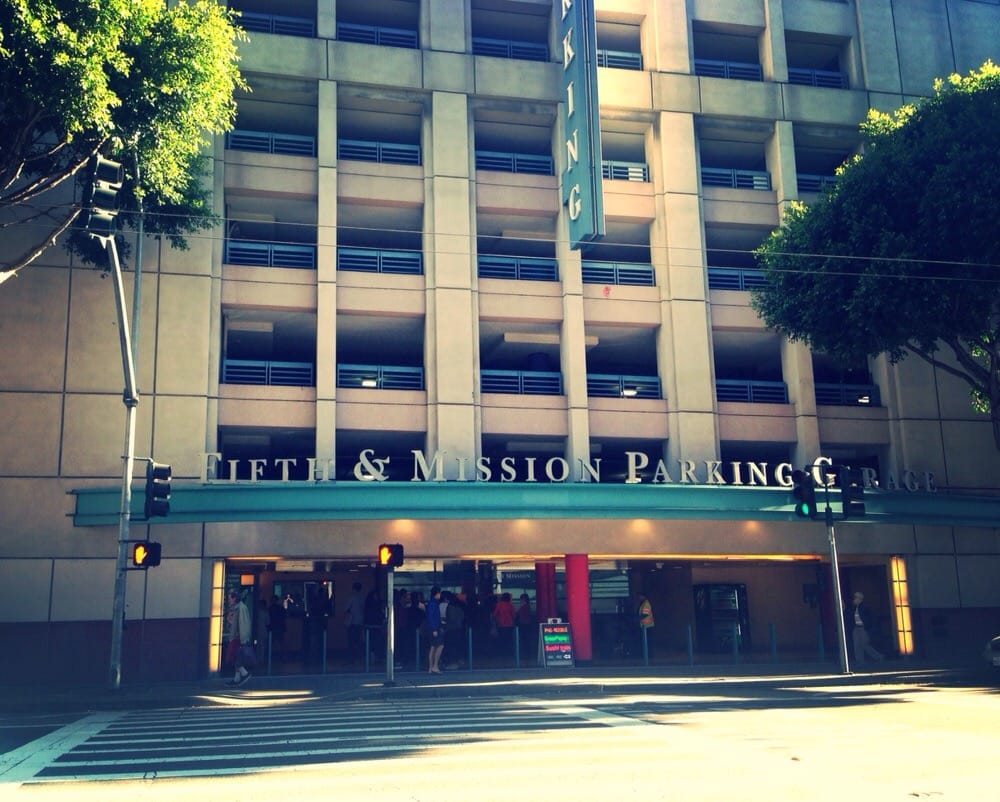 The two suspects then fled the scene, and were eventually located and arrested by SFPD officers on the BART platform. This is an ongoing investigation, and anyone with additional information is encouraged to call the SFPD tipline at (415) 575-4444, or text a tip to TIP411. 
Tipster Linda R. sent in a tip asking us what had happened to used electronics store CEX, which closed its locations at 938 Market St. and 2757 Mission St. The UK-based chain also had a store in the Upper Haight, which closed down in 2014.
There's no word on what businesses will take over the two empty storefronts. If you know anything, send us a tip. 
Tom J. sent us a GoFundMe page that he's started to prevent himself and his roommate, Patricia K., a senior citizen with a disability, from being evicted from their current home in the Mission. According to the page, Patricia has lived in the home for 30 years, while Tom has been her roommate for 17 years.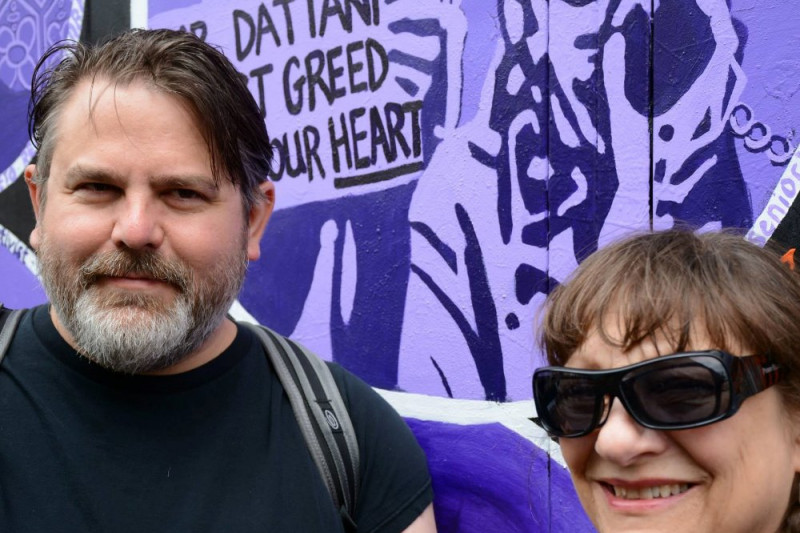 The GoFundMe page is hoping to raise $5,000, to help the duo fight their case. Tom told us they're also hosting a fundraising event at the Flying Pig Bistro on South Van Ness next Saturday.
Over in Noe Valley, resident Steve Z. asked us about the status of a vacant building on the corner of Douglass and 23rd streets. It used to be home to Sunshine Market, which closed down in 2015.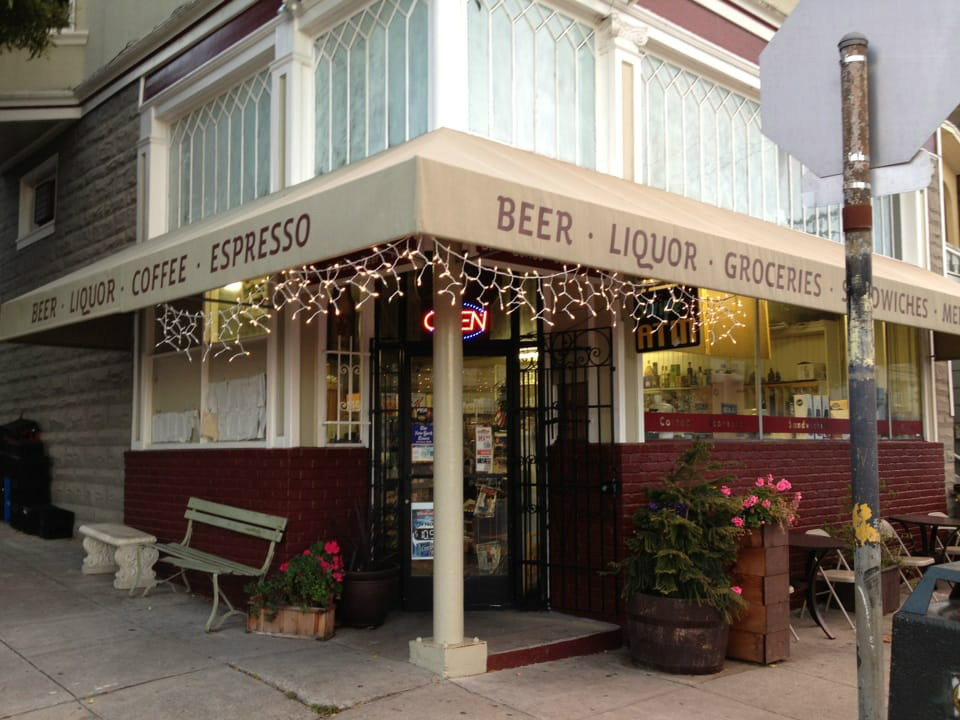 Steve said the neighborhood desperately needs a corner store. However, none of our writers have heard about a new business moving into the space, and no ownership or renovation documents have been filed with the city. If you know what's next for the former market, send us a tip. 
Also in Noe Valley, Kay F. told us that the Radio Shack on 24th Street is closing, with signs advertising an everything-must-go sale. The Radio Shack is one of many that's close in San Francisco in recent years; seven others shut down in 2015.
Finally, an uplifting note from Noe Valley: Asha M. sent in this great sign from the window of gift store Wink SF (4107 24th St.) "It really made me think," she wrote.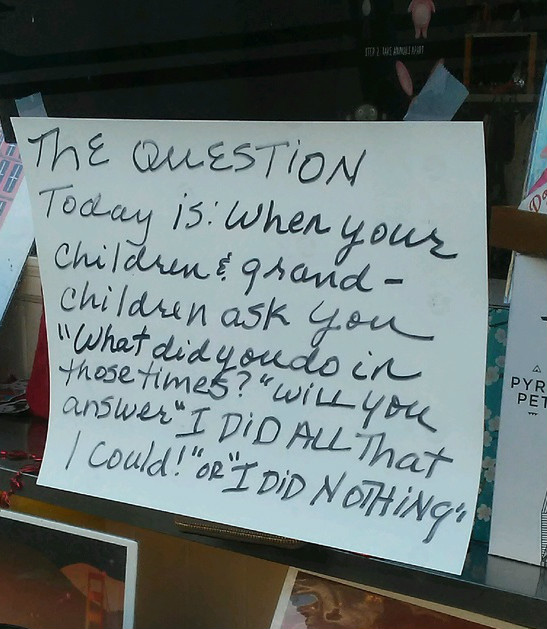 Asha spoke with Wink's owners, Marcy and Theresa, who said the sign was a reaction to the political turmoil this year. Each year, the pair also create a special window display for Martin Luther King, Jr. Day, where they take out all of the merchandise in the window and replace it with quotes from Dr. King.
According to Asha, Wink's customers sometimes think the store is closed, because there is no merchandise in the window, but Marcy and Theresa believe that "selling merchandise is not the way to celebrate this great man."
The dynamic duo plan on putting up more signs in the coming weeks, so look out for those, and let us know when you spot the next one.
Want to be part of our next tipline post? Text us your tips at (415) 200-3233, email us at [email protected] or tweet us @hoodline.