The New Year has ushered in several changes to the Inner Sunset's business landscape. Here are the latest in openings and sudden departures:
Let's Roll Ice Cream (1152 Irving St.)
After October's closure of long-time corner shop JJ Ice Cream, those left wondering where they were going to find their ice cream fix won't have to go far; newcomer Let's Roll Ice Cream will sell frozen rolled confections from the same location.
Part-owner of Let's Roll, Jojo Chee, told us that though the front signs have been installed — featuring her daughter's Boston Terrier as mascot — they're still in the midst of setting up shop. But she's aiming for an April 1st opening. (Thanks to tipster Amy C. for the heads up!)
Kitchen Kura (1525 Irving St.)
Kitchen Kura closed its doors at the end of February after more than a decade of serving up homestyle Japanese fare. According to the restaurant's website, the owners have decided to relocate to Kyoto, Japan, where they plan to open a bed and breakfast.
Park Parlor Hairstyling (1239 9th Ave.)
Park Parlor Hairstyling has opened in the former location of The Cutlery hair salon, which closed abruptly last fall. Yelpers report that many of the same stylists have stayed on at Park Parlor.
Moo Dees Indian Cuisine (1386 9th Ave.)
Moo Dees Indian restaurant, which opened last March, has departed. Without warning, the restaurant's windows were papered and doors closed for good.
However, a public notice posted on March 2nd announced that new eatery Gorkha Kitchen has applied for a beer and wine license in its place.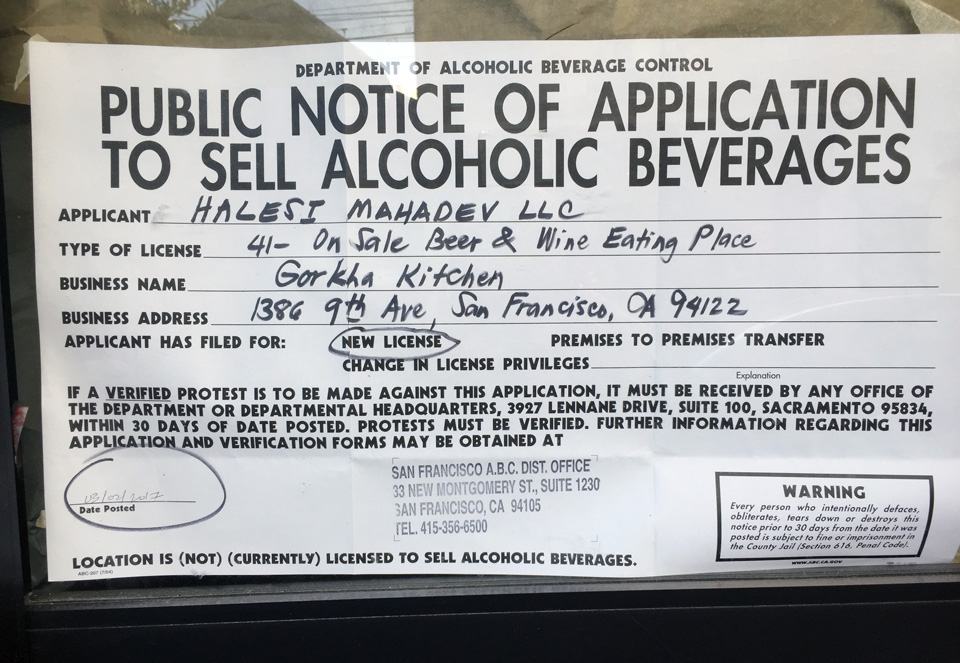 J & J Bakery (1398 9th Ave.)
A few doors down from Moo Dees, at the corner of 9th Avenue and Judah Street, J & J Bakery recently closed. A notice in the window indicates that its owners are relocating to 324 Grand Ave. in South San Francisco.
Noticed any recent business openings or closures, or other changes in the neighborhood? Be sure to send us a tip here or text us at (415) 200-3233.