Since 1979, Grand Master Bill Dewart has taught tae kwon do and self-defense to people of all ages at Academy of Tae Kwon Do, his dojang on the corner of Oak and Scott.
But beginning this Saturday, April 1st, Dewart will need to move his practice across town for an undisclosed period of time, as the building undergoes an earthquake retrofit.
While Dewart said that he wasn't sure exactly when the Lower Haight construction will start, he's opting to get ahead of the game by moving this weekend to City Barbell, located at 2 Brook Street (near the intersection of Cortland and Mission streets) in Bernal Heights.
His first class there will be held at 11am this Saturday, and all other classes will follow the same schedule as the Oak Street location moving forward. (For more information, students can contact Dewart's assistant Christina at (415) 845-0211 or christinayoga (at) yahoo [dot] com.)
"I'm not excited about moving across town, but we're on the ground floor of a huge building and I want to make sure that during an earthquake, a large building doesn't come down on us," said Dewart. "I'm in complete support of the retrofit."
While many longtime Lower Haight businesses, like Bean There and Rooky Ricardo's Records, have lost their leases or sustained significant rent hikes after earthquake retrofits, Dewart says he's not concerned.
"I'm pretty sure we'll be able to move back into the space," he said. "We've been there since 1979, so we're part of the furniture at this point. We have a good relationship with our landlord, and they haven't given any indication that the landlord will raise rent. We have our fingers crossed, but they've always been fair with us and treated us well."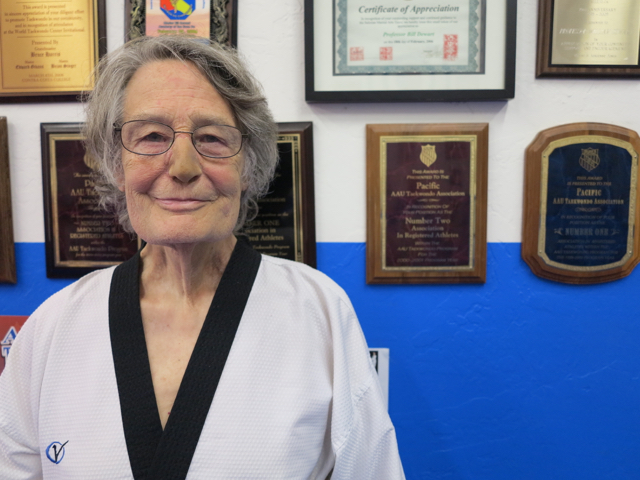 For the past year, Academy of Tae Kwon Do has been sharing its facility with Stella Kids Yoga, a nonprofit run by Stella Xujia Niu that teaches yoga to kids aged 3-11. Niu told us that she plans to stick around until the retrofit begins, but is unsure where she'll go after that. Neither she nor Dewart could say how long the retrofit will take. 

If you'd like to know more about Grand Master Dewart and the Academy's history, check out our mini-documentary about them: