After several reports of dangerous conditions in Oakland housing regarding fire safety and pollution, Oakland City Council is considering new, proactive code inspections in neighborhoods likely to contain rental housing contaminated with mold and lead paint.
The new program under discussion at Tuesday's meeting of the City Council Economic Development Committee would address health issues like lead poisoning and asthma. A highly publicized Reuters report in December found that Oakland neighborhoods had some of the highest childhood lead levels in the nation.
Deadly fires in December and March in buildings with known safety issues drew attention to Oakland's inspection process, but the city began a proactive fire inspection program in October 2015 called the Safe Housing Inspection Program (SHIP). According to city documents, the program inspected 1,197 units in its first year and found 795 fire deficiencies.
But fire inspectors aren't trained to look for problems like lead paint or black mold, so inspecting for those complaints would require increased staffing and training. Similar programs have existed for some time in cities like Los Angeles, San Jose and Sacramento.
As with fire inspections, a major concern in implementing proactive code inspections will be to avoid displacing tenants. In 2011, the US Census American Housing Survey estimated that 1,200 units in Oakland were in severely inadequate condition. The city estimates that 25 percent of those residents would need relocation at a cost of $3.7 million.
While the city recently boosted relocation assistance for tenants displaced due to code enforcement issues, in doing so it made itself responsible for paying tenants who are unable to collect from negligent landlords. In the case of the March fire at 2551 San Pablo Ave., the city allocated $700,000 to help displaced tenants.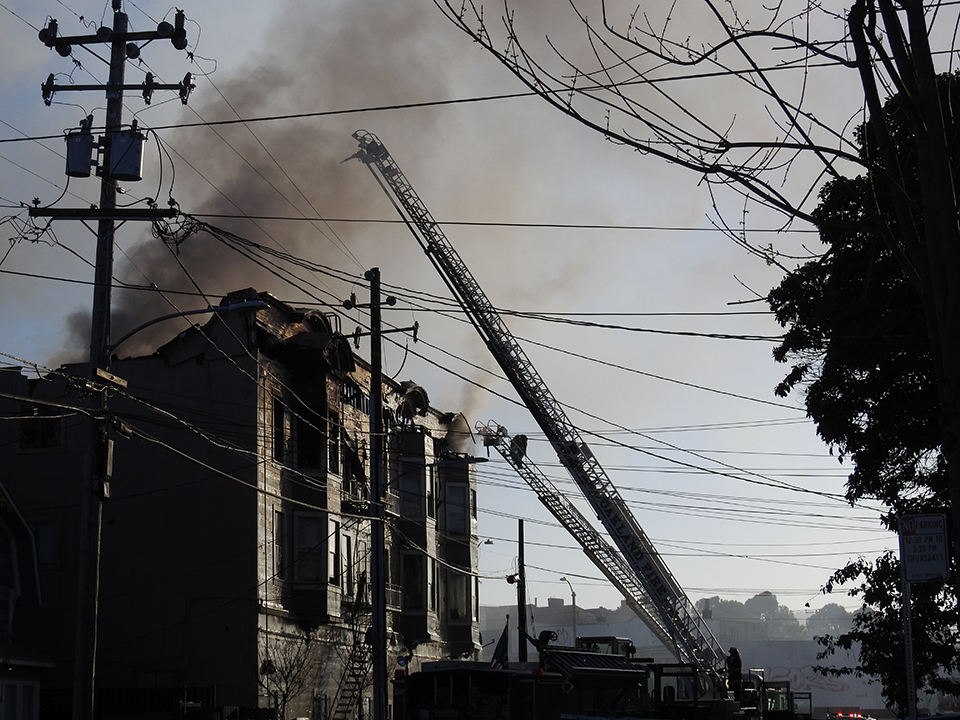 Even getting that funding is no guarantee that any displaced tenants would be able to stay in Oakland. "That in itself seems a monumental task in this climate to find other places for people to move into," City Councilmember Annie Campbell Washington said.
But the council and the community largely saw that as a crucial aspect. Former Deputy City Administrator Margaretta Lin, now a principal at the Dellums Institute for Social Justice, advocated for a "proactive rental inspection policy that's well thought out is so critical to include as its core anti-displacement strategies."
"Without that intention it's only going to result in further pushout of very vulnerable residents," she said. Lin had previously worked on a proactive inspection program in 2011, but the idea fizzled out.
The city's highest rates of habitability issues like lead and mold are believed to be in smaller properties in the Fruitvale, San Antonio, Castlemont, Havenscourt, and Hoover/Foster neighborhoods. To start, the city is seeking to inspect properties 10 percent of the properties in seven zip codes in East and West Oakland that had elevated lead levels in children in a 2012 study.
If mandated, new inspections would begin in 2018 and likely only cover 10 percent in the first two years as inspecting all homes in that zip code would be over 70,000 units — a substantial portion of the 95,402 rental units in the city. And with a tight budget discussion looming, there just doesn't seem to be money for a faster inspection process.