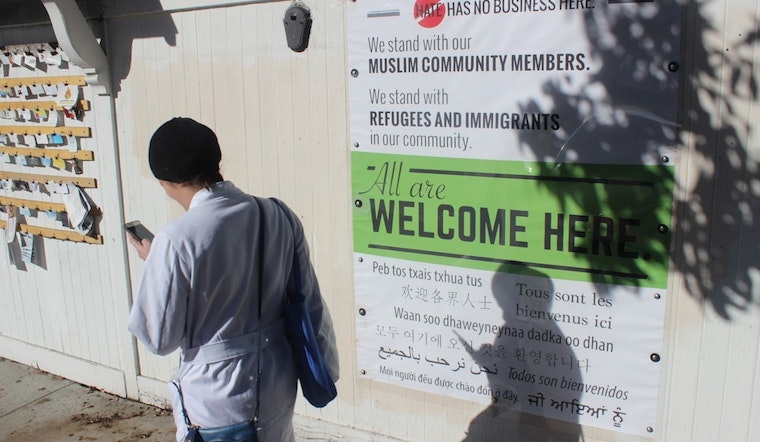 Published on April 25, 2017
A federal judge in San Francisco issued a temporary ruling today to block an executive order that would have withheld funds from cities that don't cooperate with immigration authorities.
Today's ruling was in Santa Clara County v. Trump, a lawsuit that was joined by more than 30 other cities. San Francisco filed its own lawsuit separately, but the decision by US District Judge William Orrick found that the president's order would likely be found unconstitutional.
"Sanctuary city" isn't an official designation, but San Francisco, Oakland and several other Bay Area municipalities generally refuse to use public resources to enforce federal immigration laws. In practice, that can mean anything from preventing police from asking about someone's immigration status to refusing to cooperate with raids conducted by federal agencies.
Santa Clara County, San Francisco and other cities sought to block President Trump's January 25 executive order on grounds that it was unconstitutional. According to The Chronicle, $478 million of the city's $9.6 billion budget comes from the federal government.
#sanctuarycity funding https://t.co/234bWqCOxH

— Mayor Ed Lee (@mayoredlee) April 25, 2017
Reuters reported that government officials said Trump's order only blocked funds related to law enforcement and Homeland Security, but Orrick said the president's description of the order as a "weapon" indicated that the ban was broader.
"Federal funding that bears no meaningful relationship to immigration enforcement cannot be threatened merely because a jurisdiction chooses an immigration enforcement strategy of which the President disapproves," Orrick wrote in his decision.
"What this does for us is to allow us to move forward," said Mayor Ed Lee in a press statement. "All the usual things that budgets do — we weren't able to do that with any certainty until this threat which was hanging over us was clarified."