Since November 2014, the Sunset Tunnel, which ferries N-Judah riders between Duboce Park and Cole Valley, has shut down on a number of weekends for a seismic retrofit.
Now, the Sunset Tunnel Trackway Improvement Project is returning for one last weekend shutdown—if everything goes as planned. (Update, 4:21pm: The shutdown has been pushed to later in the year; see more info below.) 
The tunnel repair project was originally set to take nine months, but has ballooned into a two-and-a-half-year affair. As we reported last year, costs increased from $13 million to $16 million after a contractor discovered that the tunnel's walls, structural supports and electrical conduits were in worse shape than expected.
The tunnel will be closed for repairs from 8pm on Friday, April 14th, until 3:30am the following Monday, April 17th. 
Bus shuttles will cover the N-Judah route between Ocean Beach and Church & Duboce from approximately 7pm on Friday until the end of Sunday service.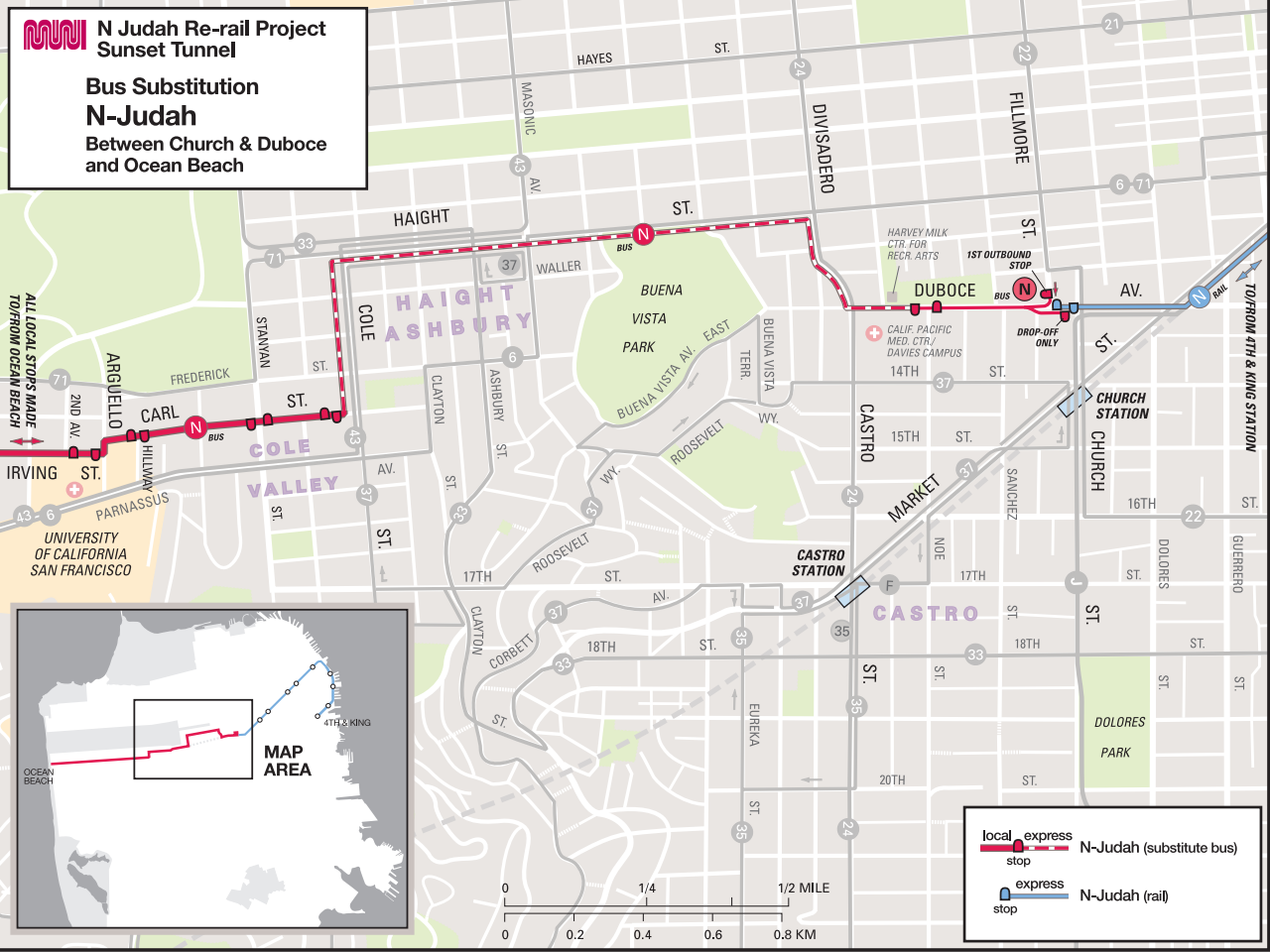 Transit Signal Priority system upgrades will also take place that weekend, with work set for the intersections of Judah Street with Sunset Boulevard and 18th Avenue. All streets are set to remain open, but there will be lane closures, and traffic will be diverted.
Work hours will be from 8-10pm Friday, and 8am-5pm Saturday and Sunday. 
After that, tunnel work will continue, but the SFMTA says it will only take place overnight, so Muni service won't be affected. If construction unexpectedly requires more Sunset Tunnel shutdowns, it will continue to be coordinated with other projects like the transit signal effort.

The Sunset Tunnel has also gotten some exterior upgrades: after four separate incidents earlier this year in which drivers inadvertently entered the tunnel, snarling train service, new signage and road markings have been added.
Update, 4:21pm: After announcing that the final tunnel shutdown would take place this month, the SFMTA has now decided to push it to later in the year, to minimize closures on the N-Judah line with the coming Inner Sunset Streetscape Improvement Project. Here's what spokesperson Paul Rose had to say: 
Since the last shutdown in April 2016, the Sunset Tunnel project has been continuing to work after-hours to complete some of the work related to the replacement of the cable that powers the overhead lines.

Another project, the Inner Sunset Streetscape Improvement project, will be scheduling N-Line weekend shutdowns in late summer/early fall 2017.

In order to minimize impact to transit service, the Sunset Tunnel project will take advantage of these shutdowns to complete the remaining work.