By
Susan Xu
- Published on May 01, 2017.
Arthur Mac's Tap & Snack has made its Longfellow debut, beckoning foodies with pizza-by-the-slice and beer on tap. The new beer garden and restaurant from Bay Area-based consulting and management team Farm League Restaurant Group celebrated its grand opening on April 15. 
"We wanted to create a neighborhood focused concept that was affordable and approachable to everyone who currently calls Longfellow home," said food industry veteran Joel DiGiorgio, who co-founded Farm League with partner Adam Stemmler in 2013.
The same company is also behind the design of Drake's Dealership in Oakland, as well as Tigerlily, the East Bay Spice Company, Pacific Standard Taproom and Westbrae Biergarten in Berkeley. 
DiGiorgio, who still has fond memories of neighborhood pizza joints in Oakland and Berkeley, said Arthur Mac's Tap & Snack is the company's attempt at a "nostalgic model," just with the current design standards of the Bay Area. It's part of the MacArthur Annex mixed-use development, which also houses work studios and various retail businesses.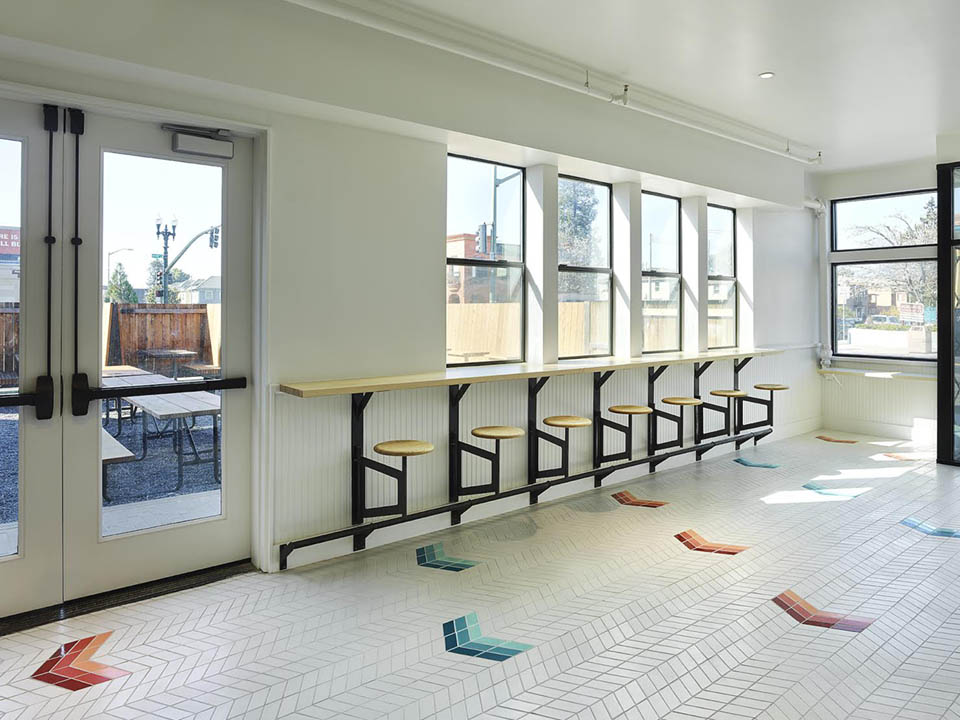 Because DiGiorgio grew up less than three miles from the restaurant's location and two other owner-operators live just two blocks away, "we already feel like we're part of the ... community," he said. The area is "extremely diverse, with multiple socio-economic demographics, as well as a lot of young families."
The restaurant's design is parent-focused, yet fun for kids. "We have an urban beer garden that's very Oakland." DiGiorgio added. "If we can provide a venue that allows parents to let loose a little without having to hire a babysitter, we'll save these customers $15-$20 per hour."
The communal space contains picnic tables, a kids' play area, seating booths and an outdoor patio that comes with a retractable awning and custom fire pits, all fabricated in Oakland. Custom furniture was crafted by Ben Frombgen of Bcooperative and Eric Peterson of EP Building, and the fence mural was painted by acclaimed local artist Rich Jacobs.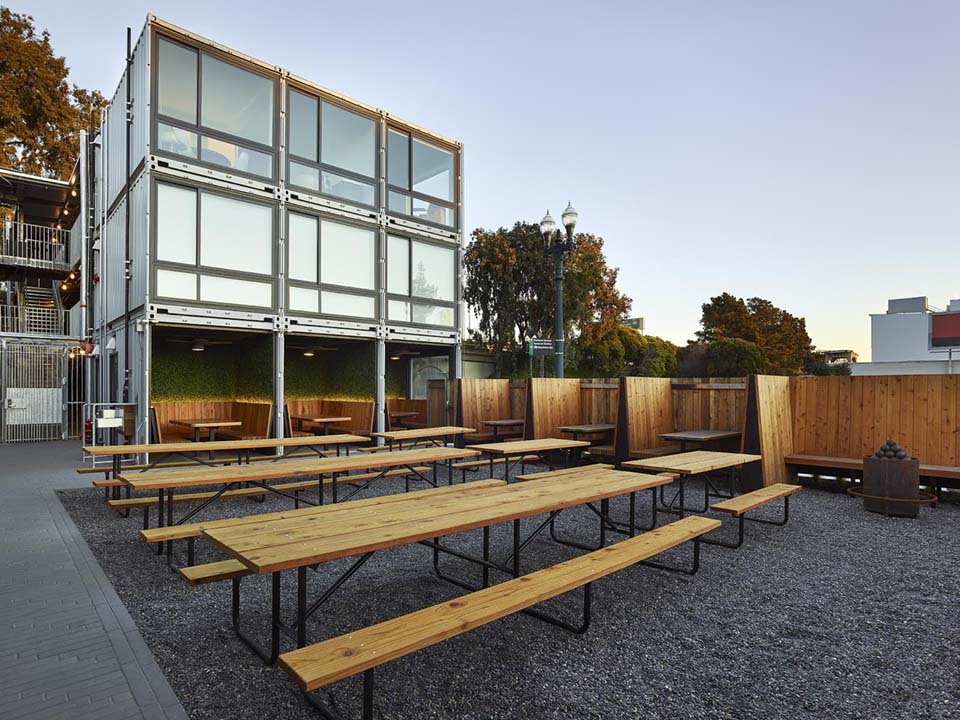 Another noticeable feature is a stacked shipping container complex that serves as a backdrop to the restaurant. The design is patterned after the iconic shipping containers stacked along the Oakland shoreline. "This was our way of being modern and contemporary while still being authentically Oakland and East Bay," DiGiorgio said. 
As for the menu, it's "equal parts classic East Coast pizzeria and West Coast beer garden," said DiGiorgio. Chef consultant Michael Williams has a fine dining background, but grew up on the East Coast "where pizza is king." Arthur Mac's Tap & Snack, as a result, offers a focused pizza and wing menu, in addition to salads, veggie-based offerings and bar snacks like mixed olives and fried garlic bombs.
Arthur Mac's offers 16 craft beers, two ciders and five wines on tap, including a house-kegged vermouth spritzer (Lillet Rose, peach bitters, grapefruit zest, soda). According to beverage director Mateen Habib, the draught list will rotate daily, but will always be craft-focused and local.

Arthur Mac's Tap & Snack (4006 MLK Jr. Way) is open Sunday to Thursday from 11am–10pm, and Friday to Sunday from 11am–11pm.