Golden State Warriors star Kevin Durant took some time off from the team's dominant playoff run yesterday to break in four new basketball courts for Oakland kids in the Chinatown neighborhood.
Durant ran passing and shooting drills, demonstrated the fundamentals and showed off with a few dunks. The kids were all smiles as they tried out the refurbished courts, including one inside the Lincoln Square Recreation Center and three more in the park outside.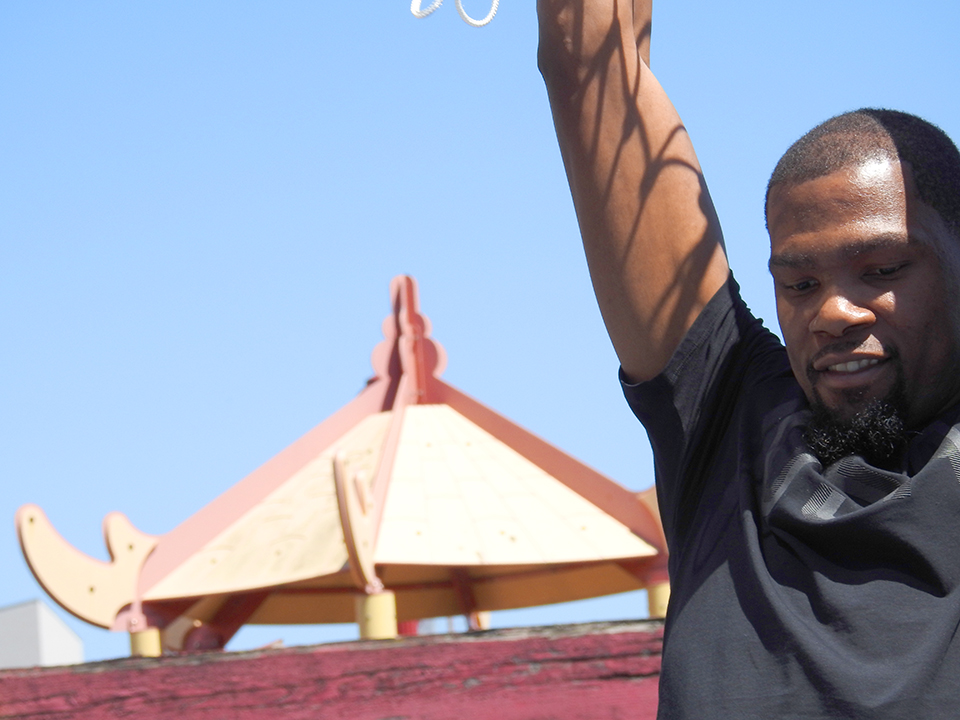 Before taking to the court, Durant spoke to a group of about 200 Oakland youth in a closed event at the recreation center and shared that Oakland reminds him of the Washington, DC area where he grew up. He thanked Oakland for embracing him after he came to the Warriors as a free agent in the last offseason.
"The dream is always alive, it's always real, so always believe in yourself," he said. "This is a dream come true, really for me, and hopefully you guys will enjoy it for years to come."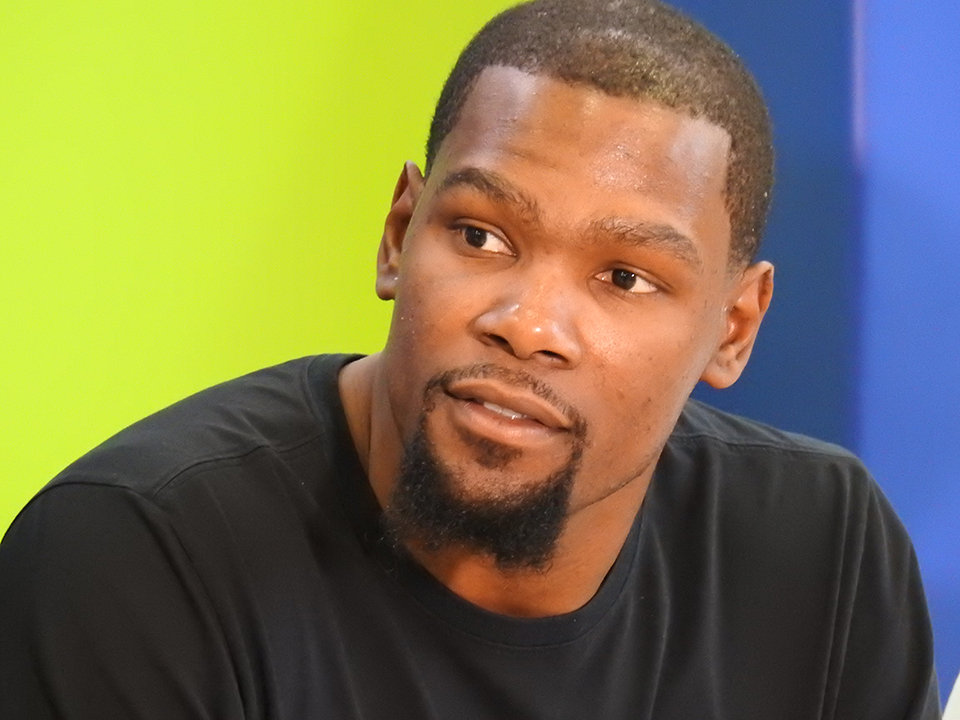 Durant's charitable work through the Kevin Durant Charity Foundation, has already completed court renovations around the world, now adding Oakland to a list that includes Oklahoma City, Seattle and Austin, Texas, as well as China and Germany.
Renovations on courts in his hometown of Seat Pleasant, MD were finished this week and future renovations are planned in the Bay Area, New York and India.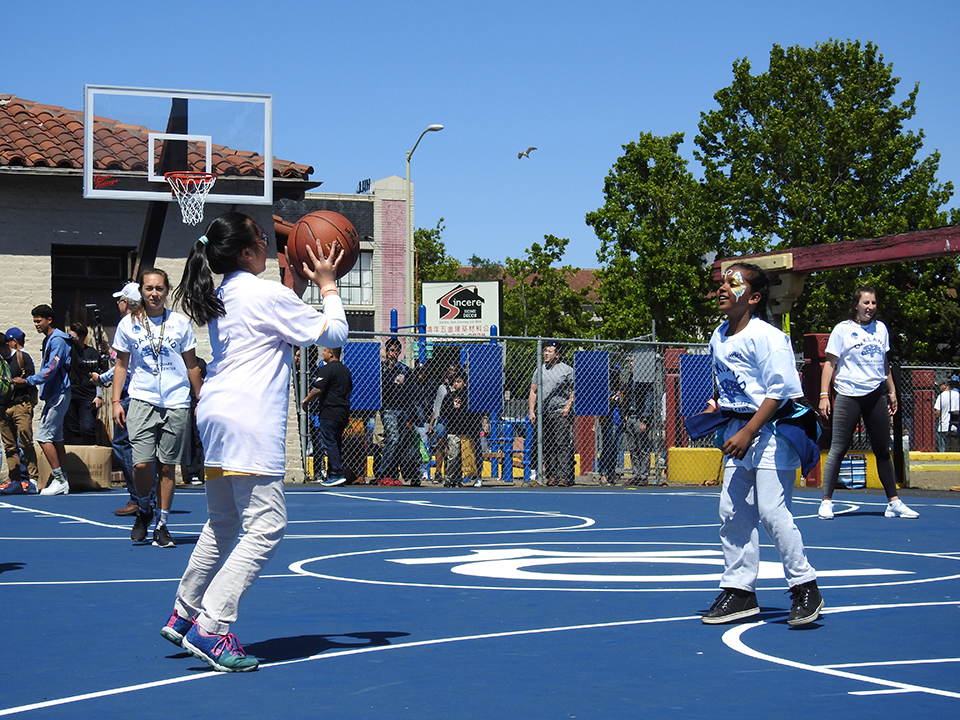 The Warriors have been refurbishing local basketball courts for years, working with the Good Tidings Foundation since 2000.
Larry Harper with Good Tidings said the four courts unveiled today is the 74th court that his group had built with the Warriors. He praised Durant, calling the All-Star forward "a better person than he is an athlete."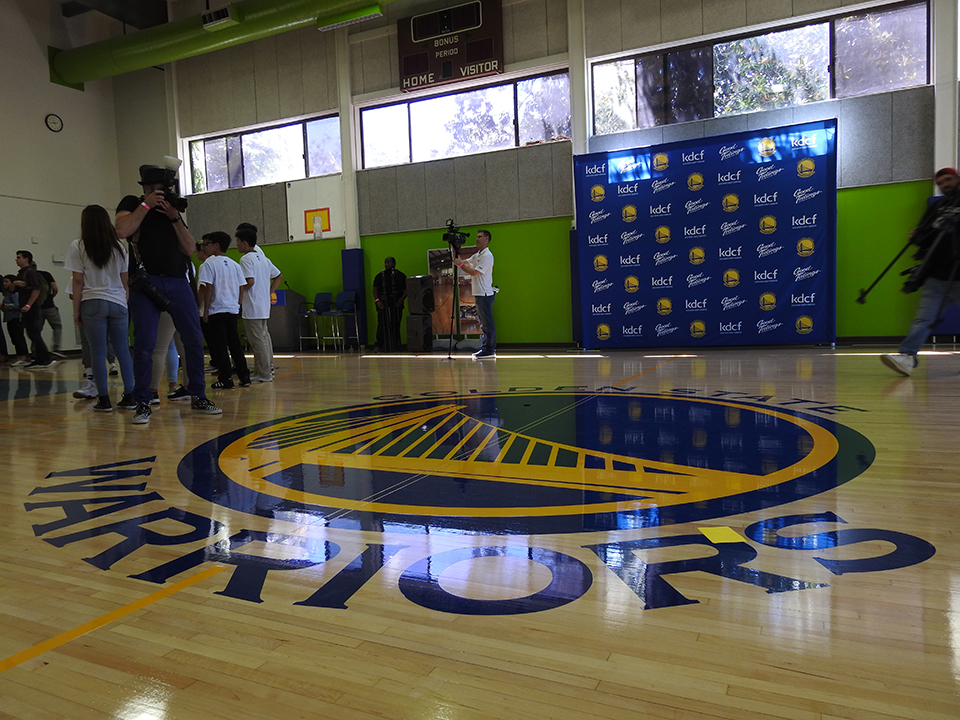 Meanwhile, Durant has played a key role in the Warriors' drive toward a third straight championship appearance. The team has won 10 games in a row since the playoffs started, sweeping the Portland Trailblazers and the Utah Jazz and taking the first two games against the San Antonio Spurs.
Durant and the Warriors play the Spurs again on Saturday in Texas.
City Councilmember Abel Guillén, who represents the Chinatown area, also appeared with Durant and recalled the Warriors 2015 championship season, which ended with a celebration just a few blocks away from the renovated courts.
"I don't know about you, but I'm ready for another parade," he said.