After announcing plans to replace Lucky 13 with a five-story apartment building, the property's owners visited City Hall today seeking a variance that would let them reclaim land they say neighbors are using illegally.
The bar, which is owned separately from the land it occupies, is set to be demolished to make way for new housing. But according to the project's architects, Boynton Court— a residence located at the rear of its parking lot—has encroached onto their clients' property.
Ferdilyn Ramirez and Warner Schmulz of Ankrom Moisan Architects asked SF Planning to include the encroachment area in its calculation for rear-yard compliance. Under zoning requirements, residences in commercial districts must have a rear yard that's "typically" 25 percent of the lot depth.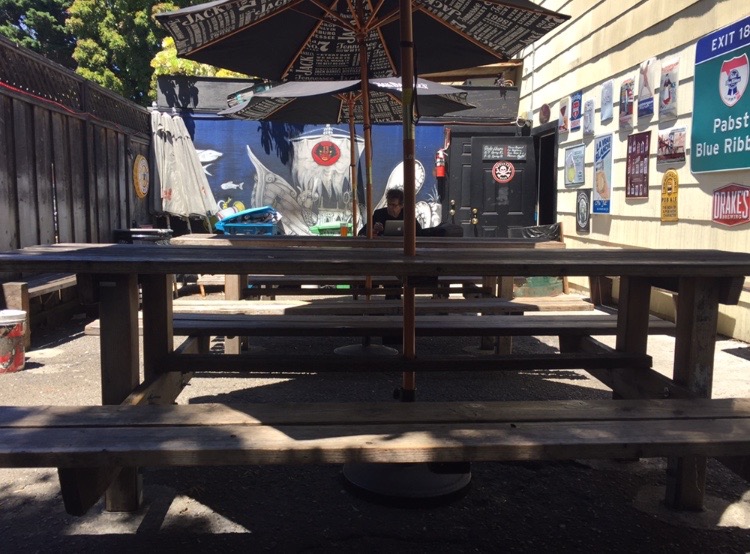 Ramirez said developers are in the process of remapping and drawing up agreements with neighbors from Boynton Court. Schmulz presented plans indicating that early in the 2000s, the fence was moved seven feet into their clients' rear yard.
Developers intend to demolish Lucky 13 and its patio to build a 27-unit, five-story apartment building with 1,600 square feet of ground-floor commercial space. The structure would have a basement and a 2,257 square-foot common area roof deck, but no off-street parking. Updated planning docs can be accessed here. 
Neighbor Evan Rose, who doesn't live at Boynton Court, spoke in opposition to the variance on grounds that the lot for the proposed project is already large. Given the shape of the block and surrounding buildings, Rose said any expansion would negatively impact nearby residents.
"All of our neighbors currently enjoy light and open air in their rear yards," he said, urging zoning administrator Scott F. Sanchez to reject the variance request.
"In general, the project is disrespectful," Rose told Hoodline after the hearing. 
"We aren't saying they shouldn't develop," he added. "It's already a huge, massive building, which is out of character for the neighborhood as it is, so any extension beyond that just impacts everyone even more. "
Rose expressed concerns about chopping down trees, as well as the impact the variance would have on light, air, privacy, and aesthetics.
The developers could comply with the building code without getting the variance and still build a profitable development, said Rose. "Ultimately, the variance just allows them to make some of their units bigger. It's just more for profit for them."
We'l update this story with new information after Planning issues its written decision.