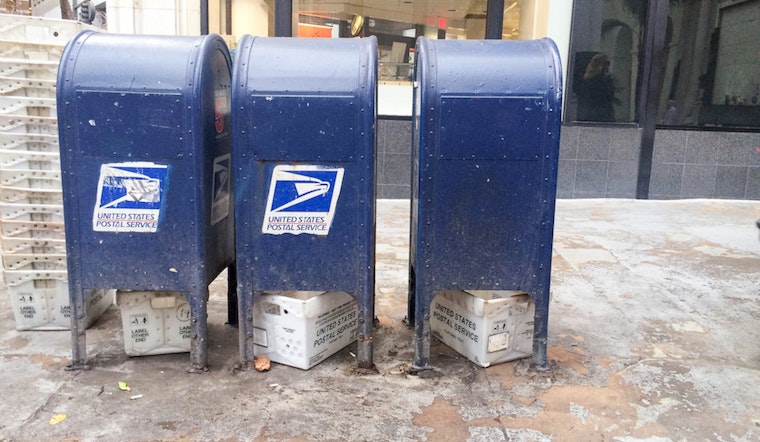 Published on May 30, 2017
In what may be an indicator of snail mail's general decline, the US Postal Service removed nearly 40 mailboxes from San Francisco on April 19. Tipster Troy B. first brought this to our attention back in March when he saw the notice pictured below at his go to drop-off spot.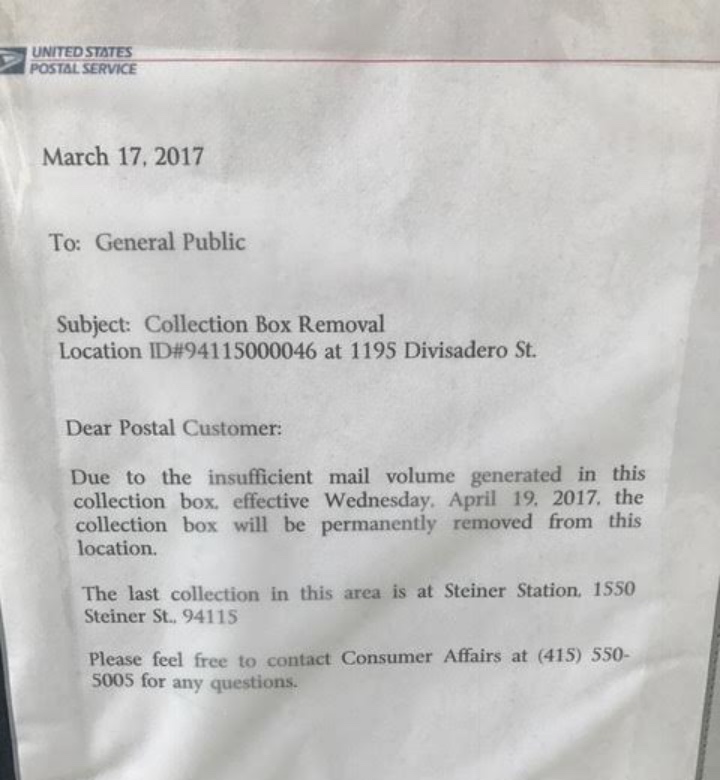 A 30-day notice was placed on all the mailboxes slated for removal. According to Augustine Ruiz of USPS' Corporate Communications department, receptacles were removed due to underuse. 
Postal service rules dictate that each box must receive at least 25 pieces of mail each day, but "the boxes listed fell well short of that threshold," said Ruiz via email, adding that "none of them had more than 25 pieces in them on any given day."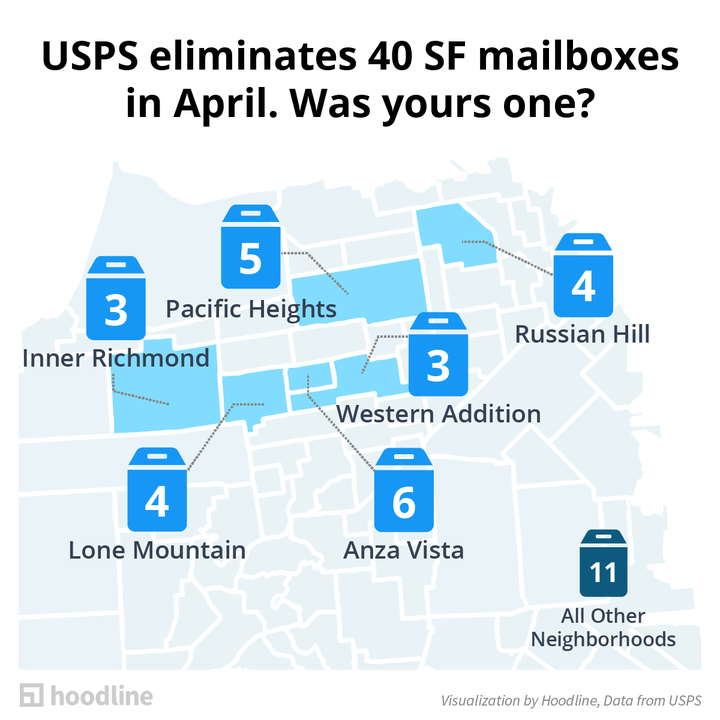 By removing them, USPS hopes to concentrate higher volumes of mail at boxes in higher-traffic areas, especially in front of existing post offices. To determine where customers are depositing mail, postal workers perform ongoing density checks, said Ruiz.
"This allows us to streamline our collection runs where we can collect the largest volume in strategically placed boxes in a more economical manner," said Ruiz.
Changing consumer habits have dramatically impacted planning and logistics at the Postal Service, Ruiz said. "For the past few years, we have seen double-digit increases in package volume, largely driven by online shopping. We also continue to see incremental growth in marketing mail, the mail that advertisers rely on to attract buyers of their products and services." 
San Franciscans are receiving so many home deliveries, waste management firm Recology hopes for a bump in monthly fees so it can recycle more cardboard boxes. In an SFGate article, a Recology spokesperson described the phenomenon as the "Amazon effect."
Here's a complete list of all the mailboxes removed last month:
2400 OCTAVIA ST
2400 LAGUNA ST
1801 PACIFIC AVE
1114 SUTTER ST
1099 JONES ST
1700 TURK ST
2201 WASHINGTON ST
2598 DIVISADERO ST
1400 BAKER ST
1251 TURK ST
251 ANZAVISTA AVE
1195 DIVISADERO ST
2099 GEARY BLVD
1 FORTUNA AVE
1001 BRODERICK ST
95 BARCELONA AVE
2999 BUSH ST
3500 RIVERA ST
3500 VICENTE ST
70 LUPINE AVE
3401 JACKSON ST
3500 WASHINGTON ST
101 ANZA ST
198 STANYAN ST
602 FUNSTON AVE
6 CHABOT TER
2844 FULTON ST
691 PARKER AVE
590 11TH AVE
270 MASONIC AVE
2 CASA WAY
2501 GREEN ST
798 FRANCISCO ST
1098 FILBERT ST
898 CHESTNUT ST
1098 UNION ST
Is your neighborhood mailbox on the map? Do you think this is a good strategy? Let us know in the comments.