The CEO of an Oakland-based contracting firm woke up to a protest outside her Montclair home this morning in response to reports that her firm was interested in learning about the construction of President Donald Trump's proposed border wall.
Protesters constructed a mock wall from painted cardboard boxes in front of the home of Abbigail Brown, CEO of CPM Logistics, a firm that has worked on California's high-speed rail project and the Presidio Parkway project in San Francisco.
Brown came outside and spoke to the protesters, eventually signing a pledge they prepared vowing to retract any bid on the border wall.
Update: While Brown signed the pledge document, she crossed out the section of the pledge that read 'to retract any bid on the border wall' because, as she told the East Bay Times, she had never planned to submit a bid.
"We will not work on the wall in any capacity, will not seek contracts with [the U.S. Department of Homeland Security] on this project, and will not seek to consult or sub-contract for other firms contracted directly by DHS on this project," read the statement.
Protesters arrived at about 7am, started building the wall out front and unfurled large banners that said, "Resist hate, racism, corporate greed." They blocked traffic until disbanding shortly after 9am.
Our press release from today's protest. pic.twitter.com/RooDciSzgx

— CPM Logistics, LLC (@cpm_logistics) July 19, 2017
Next time give us a call before your stage a protest based on libel & misinformation. We are always happy to sit down and provide the facts. https://t.co/VQD0w0YgTr

— CPM Logistics, LLC (@cpm_logistics) July 19, 2017
CPM released a statement shortly after the protest, saying the company had no interest in building the wall and was just tracking its progress. It characterized a San Francisco Chronicle report that the company had bid on the border wall as inaccurate.
In a series of posts on CPM's Twitter page after the confrontation, the company said the protest was based on "libel and minformation," adding, "we already are an example for communities and do not require Gestapo tactics and mobs gathering to protest false information."
Brown did not immediately return a call seeking clarification on exactly what communication her company has had with U.S. Customs and Border Protection, which solicited proposals for the wall in March.
This is false information and is perpetuating what you are fighting against. Check your facts please (before you victimize another family). https://t.co/tUHzB2zXP3

— CPM Logistics, LLC (@cpm_logistics) July 19, 2017
"It's nice when people take courage and do the right thing at the right moment," protest spokesman Pete Woiwode said.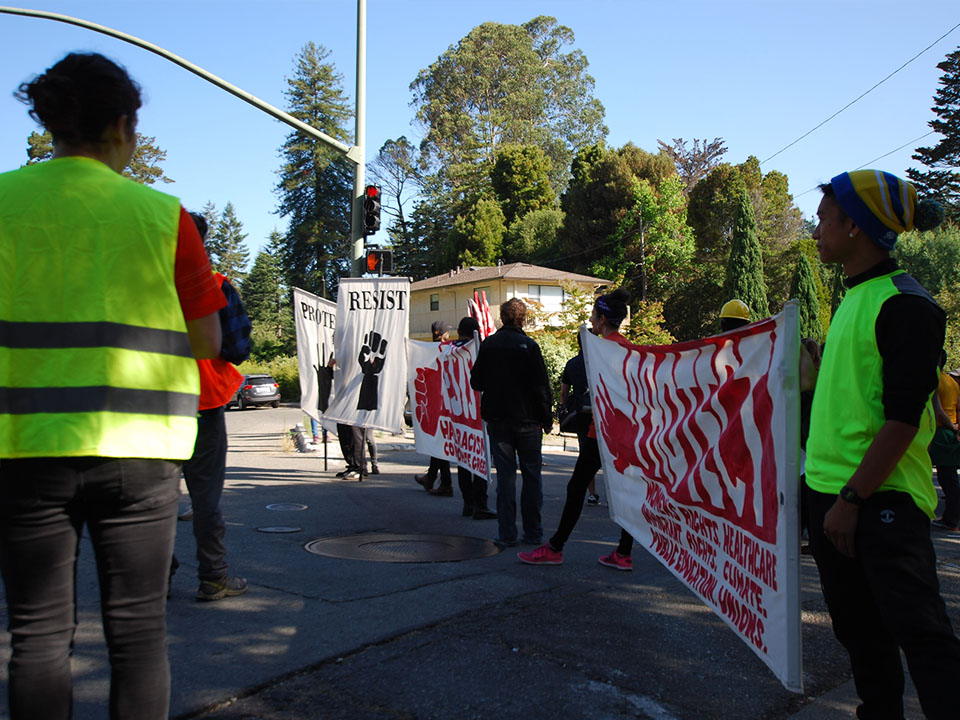 Activists said today's gathering is the first action in a planned series that targets other Bay Area contractors who've expressed interest in building the wall. As many as 19 Bay Area companies have reportedly submitted bids to help construct the barrier.
Companies interested in building the wall have faced backlash from city governments as well. Oakland and Berkeley have both passed laws prohibiting the city from doing business with companies bidding on the wall. Similar legislation has also been proposed in San Francisco and statewide. 
Researchers at Massachusetts Institute of Technology have estimated that the wall could cost up to $38 billion. Trump has recently made allusions to the wall being built using solar panels, therefore providing green energy, or being transparent, to prevent people near the wall from being hurt by falling 60-pound bags of drugs.