Popular frozen yogurt spot Loving Cup, best known for its custom-made flavors and rice pudding, now has a new location at 2201 Union St. (and Fillmore) in the Marina. 
The new joint opened last Saturday, and it joins the two other locations in San Francisco: the flagship at 2356 Polk St. in Russian Hill, and another location in at 535 Octavia St. in Hayes Valley. Outside of the city, there's also another location in Greenbrae in Marin, which opened last year.
Loving Cup is a family-owned business. It started when Liz Fiedler—who owns the business with her husband, Dez Fiedler—opened the Polk St. location with her mother in 2008, "and then grew from there," she said. 
Oh my. Spotted at the corner of Fillmore and Union. Saying goodbye to my fit life pic.twitter.com/AZfYVX2q3u

— Molly Babbington (@MollyBabbington) July 20, 2017
"I'm happy to be back in [the Marina] and support it and other small businesses," she told Hoodline. "I love Union Street. It's weird because I used to hang out in the neighborhood in my 20s and go out to the bars a lot at night. Going into it was a little bit nostalgic." 
Fiedler said the Loving Cup concept is unique, with each customer's experience personally crafted each time they visit. "Basically, we make our own plain frozen yogurt, and then we freeze it and use it as a base," she explained.
"Folks can pick whatever ingredients on site with each order and make their own flavor," she continued. "You can take peanut butter and chocolate chips, for example, and we blend it together with our own machine and it comes out smooth, just like soft-serve."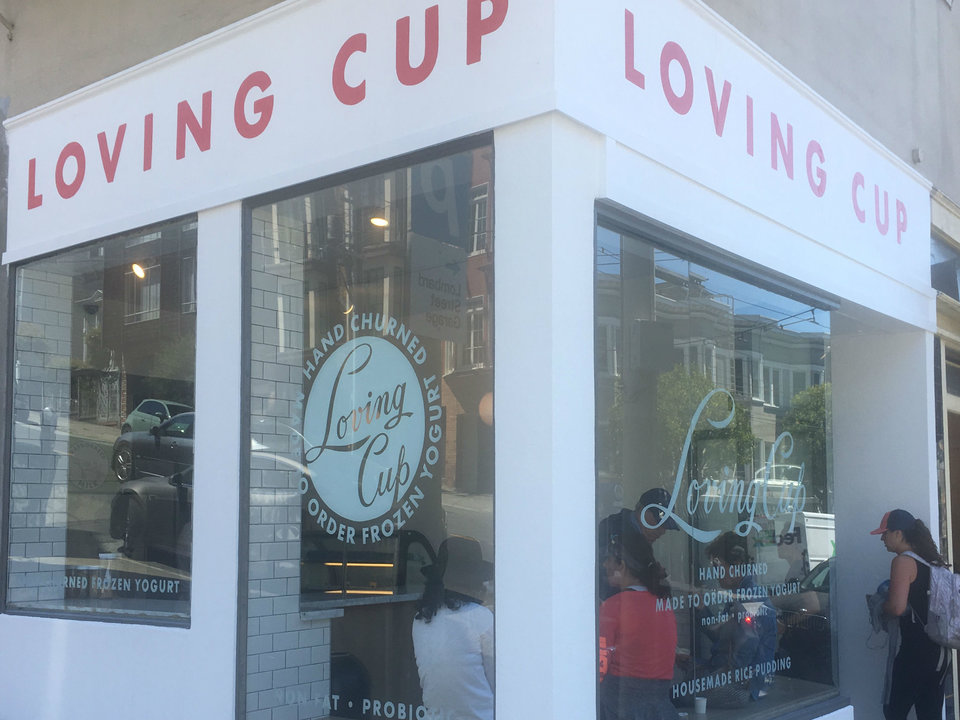 Fiedler, who originally hails from New Jersey, said, "We also sell rice pudding, which is kind of unique. I'm from the east coast and it is much more popular out there. It's my mom's recipe and we have kind of a cult following, so it's kind of fun."
It's important to note, Fiedler said, the frozen yogurt Loving Cup creates is non-fat, non-GMO, probiotic, and only uses grass-grazed milk. She believes that grass-grazed milk is potentially better milk than what others bill as organic.
"We work with small farms to source our product," she explained. "By only using milk from grass-grazed cows, it ensures a better life for the cows and their living circumstances." 
Fiedler also tries to use as many products local to each store as possible. "We use Saint Frank's espresso for the Polk Street store, for example."
There are also options for the non-dairy and vegan folks. "We use frozen bananas as a base," she said, "and then mix them in our machine with whatever toppings you want. It actually comes out looking like soft-serve ice-cream as well."  
Fiedler also told us that she's introducing a new way to get customers engaged with product development on social media by using the hashtag #mylovingcup. "We wanted to try to do something a little different that we think is kind of cool," she explained.
Customers who use the hashtag can submit their own frozen yogurt concoctions, with a winner announced each month. Menus at all four locations will then feature the winning creation, and the winner will receive 50 cents for each one sold during the month. 
Loving Cup at 2201 Union Street is open Monday to Thursday, noon – 9:30pm, and Friday through Sunday, noon – 11pm. 
Thanks to tipster Kira M.! If you have a question about a new business, send a tip and a photo to 415-200-3233, and we'll see what we can find out.