What initially began as attempt by the GLBT Historical Society to solicit volunteers for the upcoming 34th annual Folsom Street Fair, the world's biggest leather fetish event, has turned into a big headache.
According to a message shared with Hoodline, Facebook rejected the organization's proposed ad on the grounds that its ad policies don't permit excessive amounts of skin, suggestive content, images or cleavage, even if said photos are "portrayed for artistic or educational reasons."

The GLBT Historical Society subsequently took to Facebook to highlight the perceived injustice.
Here's the full advertisement in question: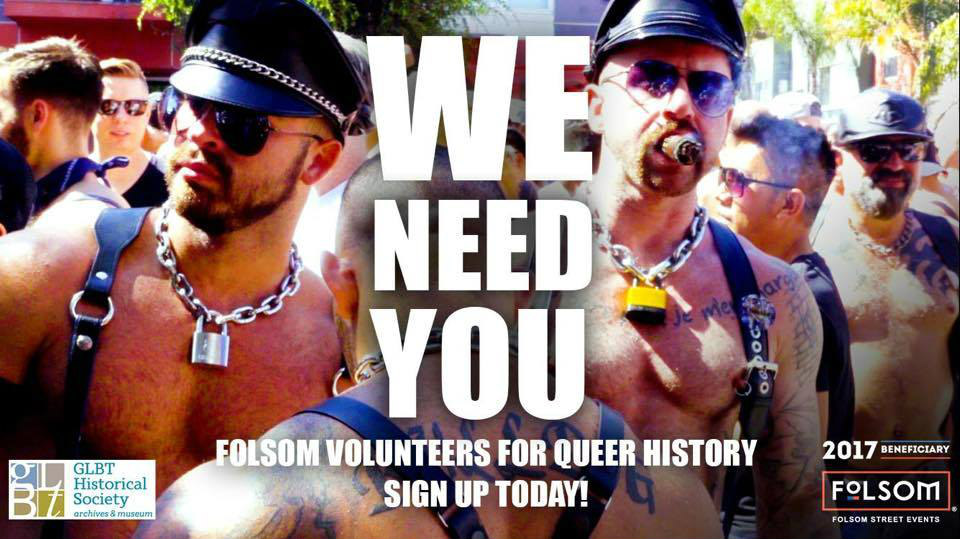 The society's executive director, Terry Beswick, responded to the social networking giant with this appeal:

"This is an ad for a world famous street fair and charity event. There is no sex in this ad. Blocking this ad is absurd and discriminatory. Are we living in the 1800s?"
This isn't the first time Facebook has found itself at odds with members of the LGBTQ community. In 2014, the tech company demanded that drag queens use their legal names on their accounts. 

Under the leadership of Sister Roma, The #MyNameIs Coalition, a group of queens, burlesque performers and transgender individuals, pushed back, protested and eventually got Facebook to reverse its policy.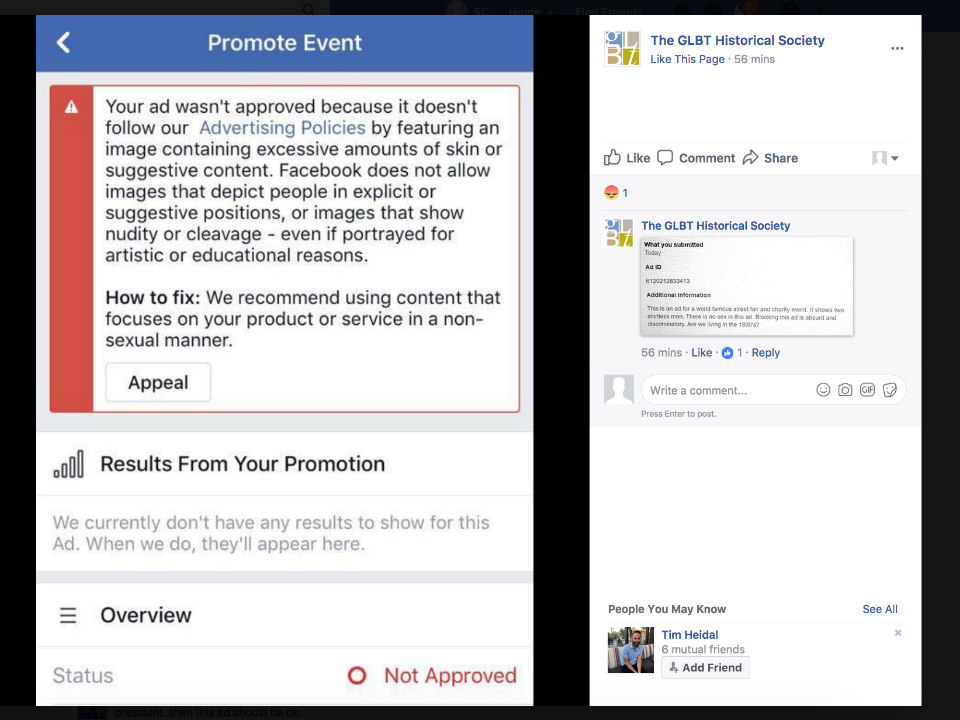 It's unclear whether the social media giant's anti-skin policy extends to all events listings, or just promoted ones that require approval from company administrators.
This event listing published by the festival's organizer, Folsom Street Events, clearly shows more acreage:

We found other user-created Facebook events that promote the expansive BDSM-oriented street festival show more skin than the GLBT Historical Society's rejected ad.
We reached out to Facebook for a comment and will post an update if we receive a response.
[Update, 4:32pm] Via email, GLBT Historical Society executive director Terry Beswick said this is the first time the society has ever had difficulty posting an advertisement on the social media platform.
Although Beswick hasn't promoted Folsom Street Fair in past years, the GLBT Historical Society ran a Facebook ad in July to recruit volunteers for the Up Your Alley Street Fair, Folsom Street's "dirty little brother."
That advertisement "was actually much more explicit than the one that got blocked for Folsom," wrote Beswick, "but it was a cartoon drawing of a couple shirtless leather men kissing, rather than a photo."
As of this update, neither Beswick nor Hoodline has heard back from Facebook.
[Update, September 18th, 10:13am] Over the weekend, GLBT Historical Society communications director Gerard Koskovich notified us that Facebook (and Instagram) reversed its decision on the Folsom Street Fair volunteer-recruiting ad, something the tech giant confirmed.
"Upon closer review we've decided that the ad doesn't violate our policies and it's been approved," one Facebook employee told Hoodline. "We apologize for this error."
Although the GLBT Historical Society's executive director, Terry Beswick, was pleased with Facebook's change of heart, he still has concerns.
Here's what Beswick had to say in a press release:
"In the last couple days, Facebook censors rejected the GLBT Historical Society's Folsom Street Fair volunteer-recruitment ad. When we appealed, they confirmed the rejection based on their assertion that the ad contained 'excessive amounts of skin or suggestive content.' Meanwhile, Facebook subsidiary Instagram initially approved a similar ad, then rejected it as well.
After many of our supporters complained, Facebook/Instagram has now reversed both decisions and has allowed the ads to run. I am gratified by this apparent change of heart, but remain concerned by this global media monopoly's inconsistent and baffling standards of decency and fair play and its failure to actively learn about and respect queer culture.
We're going to go ahead and run these ads this week because we're a small cultural nonprofit and we urgently need to recruit volunteers for Folsom Street Fair — both to raise funds for our vital work and to support this fantastic celebration of sexual diversity and consensual adult kink.
For me, this incident is just the latest sign of the arrogance of the tech companies that have disrupted our city, disrespecting our culture and values while giving back so little in return. Now is the time for Facebook to change not only its advertising policies and practices, but also to step up with genuine and concrete resources to help support and preserve queer history in San Francisco."