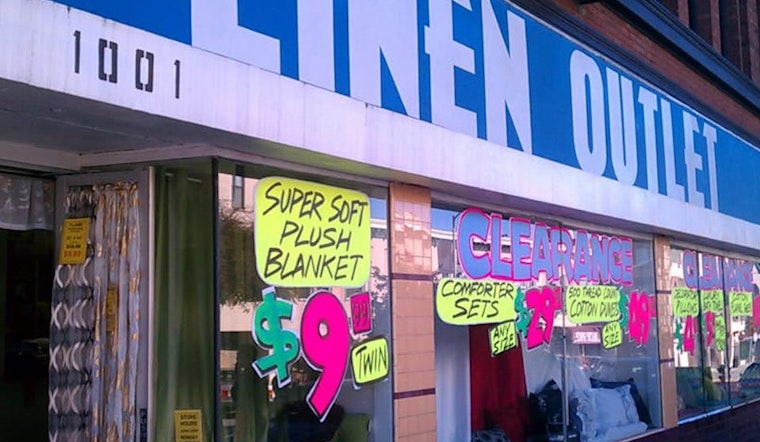 Published on September 05, 2017
Linen Outlet Folds
Linen Outlet in the Inner Richmond is reportedly closing soon after 24 years in business.
An email from the shop on 1001 Clement St. (and 11th Ave.) said it was liquidating its inventory and that everything was 30 to 60 percent off. An employee told Hoodline that the building which houses Linen Outlet was sold.
Eric Press—a Mission resident who lived in the Richmond District until 2009— said Linen Outlet has had a "going out of business sale" sign up for years.
Similarly, Felix X.—a former Linen Outlet employee—wrote in 2013 that the store "constantly" shutters suddenly and relocates. A previous outlet located in Stonestown closed in 2011.
"They build up a client listing, only to blow it out when they happen to move," wrote the former employee. 
However, this looks like it could be Linen Outlet's last days. 
According to Loopnet, the property has been available for lease at $4.50 per square foot since July 2017. Another Loopnet listing revealed that the building offers 5,000 sq. ft. of ground floor retail; it also includes 14 SRO units and an apartment unit on the second floor. 
Men Oh Tokushima Ramen, Shabuway Close

Two shops at 5120 Geary Blvd. (between 15th and 16th avenues)—Men Oh Tokushima Ramen and Shabuway—called it quits on August 21, a tipster told Hoodline.
Shabuway is a Bay Area Japanese-style hot pot chain with locations in San Mateo, Mountain View and San Jose.
Its location on Geary was its only one in San Francisco, according to Shabuway's website. The others should remain open, noted a Yelper, who recently spotted a sign on the restaurant.
"This [location had] service and [had it] for a while, but I attribute it to high turn-over of clients and wait staff," wrote the Yelper, Loren H.
City records show both Shabuway and the ramen eatery shared the same address and opened in 2012.
A request to Shabuway's media relations team was not returned. Calls to Men Oh Tokushima Ramen were not answered, and no answering machine picked up the calls.