There's a new destination for Inner Richmond book lovers—the neighborhood has sprouted its second Little Free library.
Joining a previous installation at 18th Ave. and Anza, the newest sidewalk spot for bibliophiles is just outside Peter's Place Nursery School at 227 Balboa St.  
Last fall, Alec Hawley, a landscape architect and Peter's Place parent, began envisioning the new community hub. He hoped to build something in front of the school that was "impactful for the kids, and also impactful for the neighborhood."
After gathering support and ideas from school staff and other parents, the Little Free Library idea won out as a feature that would both bring in the community, while also enhancing the educational goals of the nursery school.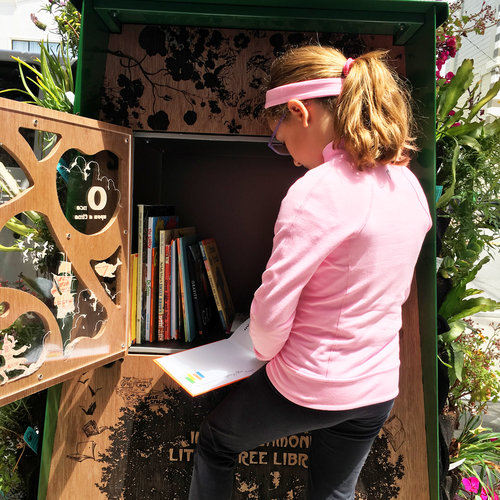 Noelle Rich, the nursery's program director, said "children love it and look forward to coming in and seeing new books." It has also led to more community gatherings in front of the school.
Peter's Place is on the same block as a bar and a massage parlor, so Hawley's created a design he hoped would make the block more open and friendly to families.
After several iterations, he settled on a storage unit with more stability than other Little Free Libraries around the city, which are usually designed more like mailboxes. It's also designed at a height that is accessible for three to six-year-olds.
Because Hawley's speciality is landscape design, the library also acts as a vertical garden, with edible plants on the top and sensory plants—chosen to appeal to the senses— along the sides.
It includes laser-cut designs of the alphabet, numbers, and shapes on both sides so that the library itself acts as a learning tool. There's also a "little free bench" for readers.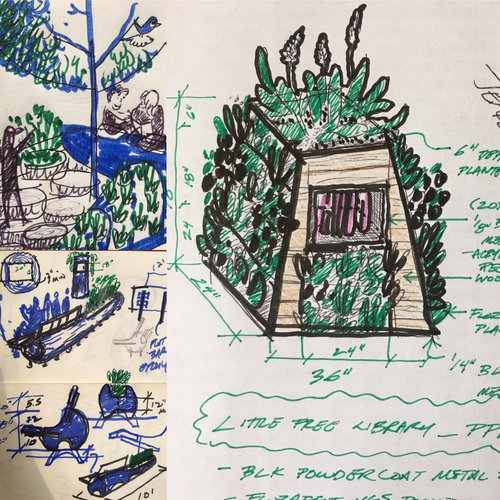 The library was unveiled on June 12th, the last day of the 2016-2017 school year. Peter's Place held a kickoff event where neighborhood parents could bring their kids to pick up books for the summer months.
Since then, the books have been stolen once, but neighbors quickly donated replacements. Other than assessing the legality of building on a public sidewalk, the largest challenge for the library has been making sure that plants are watered.
While Hawley led the design and acted as project lead, he worked with other local businesses to craft the library.
It was a neighborhood effort: plants came from Clement Nursery, Florafelt donated plant pockets, and Pagoda Arts took care of the laser engraving. Other residents also chipped in: Michael Tinna provided design support, while Richard Walker fabricated the metal. 
New lighting to extend its hours is coming soon. 
"[The Library] is making more street life," said Hawley, "and it's a positive space for residents that is geared towards something educational and free."
The Little Free Library is free and open to the public every day. 
Thanks to Malcolm C. for the tip!
(Correction: An earlier version of this article misstated Alec Hawley's surname as Huxley. We regret the error.)