By
Fiona Lee
- Published on October 12, 2017.
As wildfires in multiple North Bay counties devastate communities and displace thousands of residents, air quality in San Francisco and Oakland continues to deteriorate.
According to the Bay Area Air Quality Management District, wildfires have already caused "unprecedented levels of air pollution" throughout the Bay Area. 

SF Air Quality is Red(unhealthy). Close windows/limit outdoor activities/keep pets indoors. For more tips visit https://t.co/RCnsfS203o pic.twitter.com/GEuC2kmO9M

— San Francisco DEM (@SF_emergency) October 12, 2017
Yesterday, saying that it was "imperative that Bay Area residents protect their health," the agency extended a health advisory and Spare the Air Alert throughout the weekend. It also warned residents to monitor air quality as conditions could change quickly. 
People with heart and lung conditions, the elderly, and children are especially at vulnerable and should avoid prolonged or heavy exertion outdoors. Others should reduce their outdoor activities and take more breaks.
#SF air quality is poor today. We're asking residents to limit time outdoors & avoid any prolonged exertions. https://t.co/BN2izyVoRu pic.twitter.com/gI47MQ6aIq

— Mayor Ed Lee (@mayoredlee) October 12, 2017
"We're at Delhi level of air quality the last few days," said Dr. John Balmes, professor of medicine at UCSF and professor of environmental sciences at UC Berkeley. 
He recommended that even healthy people not exercise heavily. "When you exercise, you have to breathe more per minute and increase the doses of smoke," he explained. "You also tend to breathe through your mouth and bypass the filtration system in the nose."
Unhealthy air lingers through weekend into next week. Take weeks to contain #napafire & #sonomafire - this likely extended.#sparetheair pic.twitter.com/r5HU5VgqiM

— Mike Nicco (@MikeNiccoABC7) October 11, 2017
In Oakland, the school district is offering students who wish to stay at home an excused absence. The district is also cancelling outdoor gym classes and recesses, including outdoor sports practices and games. However, school is not cancelled.
Many hardware stores across San Francisco and Oakland were sold out of the recommended N95 respirator masks — not to be confused with surgical masks, which are ineffective against smoke particles — and air purifiers. 

An employee at Papenhausen Hardware in West Portal said the shop had sold out of respirator masks, but they were in the process of restocking. They should be back in stock today.
The situation was similar at Cole Hardware, across all of its locations in San Francisco and Oakland, CEO Rick Karp told us. "As of earlier [Wednesday] morning, we were 100 percent sold out," he said. "We sold 700-800 units." 
Cole Hardware is replenishing its stock in San Francisco and Oakland as of this morning. 
"Needless to say, they're very popular," Karp told us. "Air purifiers were also sold through."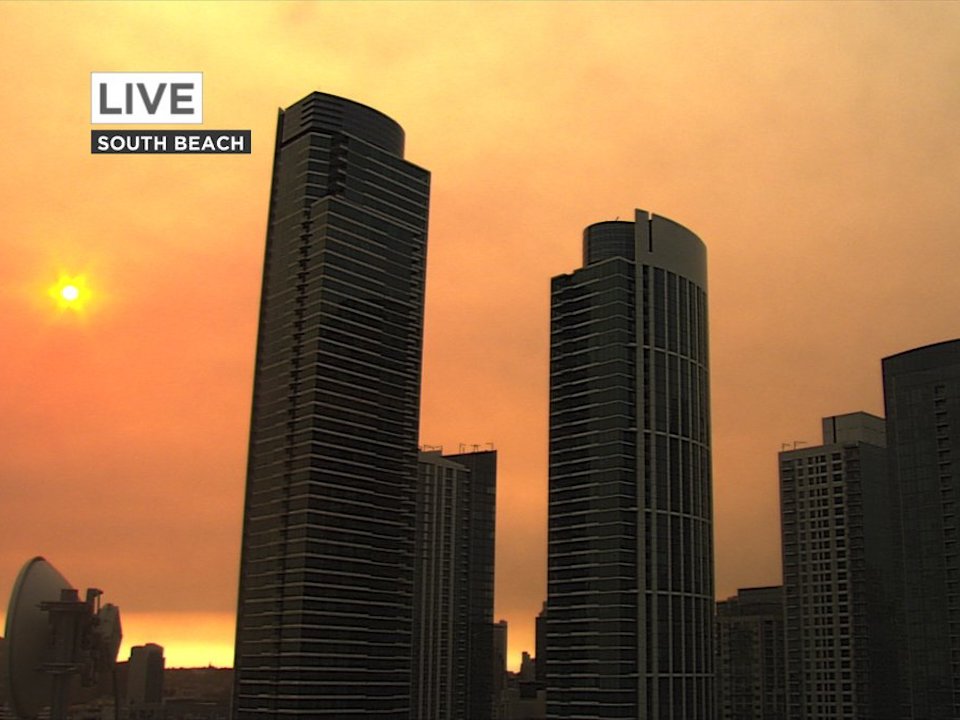 Karl Aguilar, the store manager at Papenhausen, recommended that residents run their central heating system—if they have one—as fan only, and to change the filter out for a micro-allergenic one that filters air at 80 or 90 percent. 
"It will filter the air and act as an air purifier," he said. 
San Francisco has seen a slight increase in ER visits with respiratory complaints, Rachael Kagan, spokesperson for the San Francisco Department of Public Health, told us via email. As of yesterday, it was less than 10 people. 
She said the Homeless Outreach Team has been conducting wellness checks and offering transport to shelter for unhoused people seeking relief.

If you are experiencing smoky conditions in your area, here are some recommendations:
- Stay indoors
- Avoid outdoor activities and any strenuous exercises
- Keep doors and windows closed
- Run air conditioners on recycled air so that smoke is not drawn in

— NWS Bay Area (@NWSBayArea) October 11, 2017
Residents of San Francisco can also go to these local libraries, which have air filters:
San Francisco Main Library, 100 Larkin St., 9:00 am to 8:00 pm 

Chinatown Branch Library, 1135 Powell Street, 10:00 am to 9:00 pm 
Mission Bay Branch Library, 960 Fourth Street, 10:00 am to 6:00 pm 
Glen Park Branch Library, 2825 Diamond Street, 12:00 pm to 7:00 pm
Southeast Community Facility/City College of San Francisco Library, 1800 Oakdale Avenue, 9:00 am to 5:00 pm 
Despite the smoke, most residents will not need to worry about chronic effects from the haze, Balmes said, noting that people who are heavily exposed in the fire zone are most at risk.