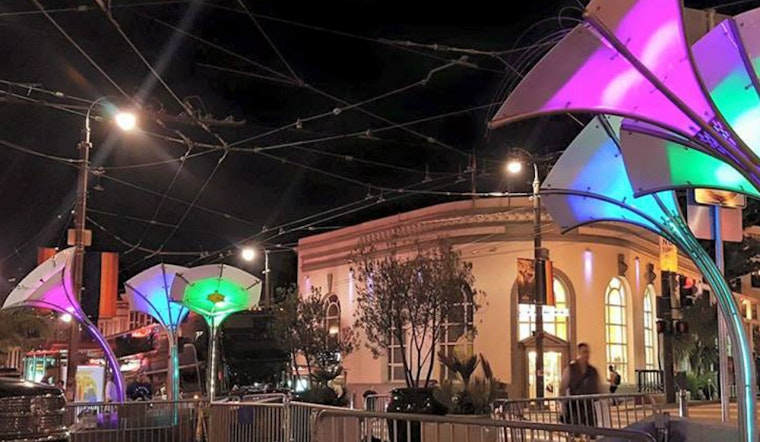 Published on October 25, 2017
This week, the Castro officially welcomes its newest public art installation.
"The Seed," a collection of six abstract LED dandelions that tower 13 feet over Jane Warner Plaza, will be illuminated on Friday evening. Construction on the installation began last month. 
As we previously reported, the project was spearheaded by the Castro Community Benefit District in 2016 and funded through a grant from the SF Office of Economic and Workforce Development.
Friday's ceremony will take place at 8pm; however, beginning at 7:30pm, the Daphne Gooch String Quartet will perform music.

In a press release, Aphidoidea, the Los Angeles-based art, design and architecture collective behind the installation said the "work draws from the many wishes many people had, to be able to freely love and to be able to be themselves."
With lighting elements shaped like stylized dandelions, "our artwork is a symbol that represents how a single wish that is blown away can carry enough weight to inspire a movement."
Andrea Aiello, the CBD's executive director, said she's "thrilled" with the installation.
"It is a beautiful work of art," she wrote in a press release. "This new nighttime destination spot will draw people from around the world to the Castro."