Yesterday, chef and restaurateur Dominique Crenn invited customers and neighbors of her Hayes Valley restaurant to come together to feed victims of North Bay wildfires. This morning, approximately 50 volunteers heeded her call, turning up at Petit Crenn with food and labor.
Donations came from other restaurants and food shops, but scores of Crenn's customers turned out to help, along with others who wanted to assist victims of fires that have destroyed 2,000 homes and killed 15 people in the last two days.
One volunteer, a visitor from New York, said she was happy to donate because her trip to wine country had been canceled.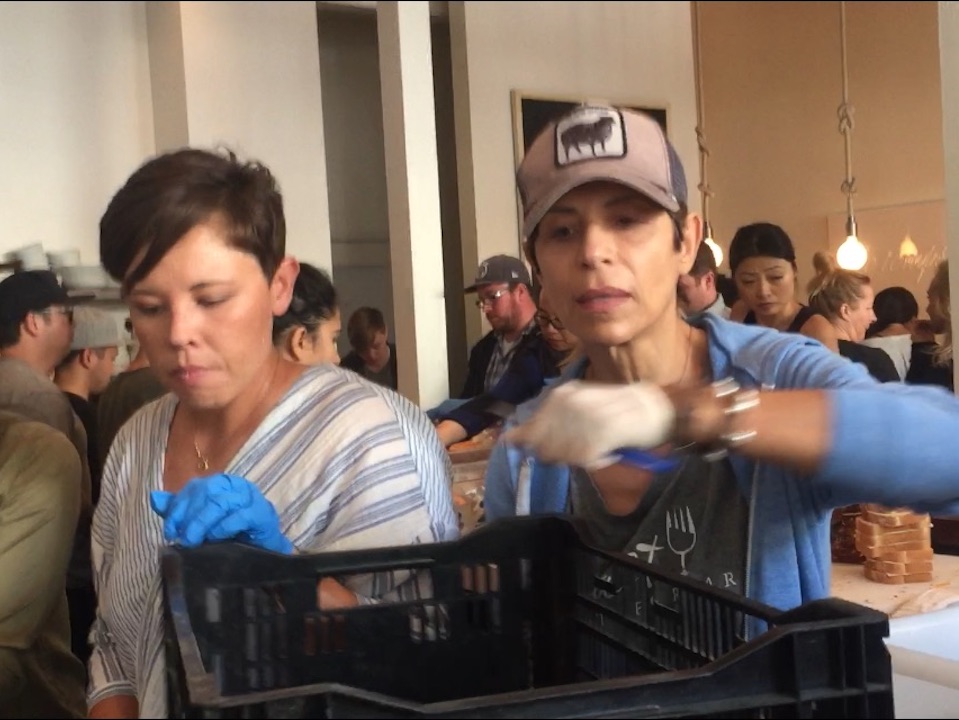 Starting at 10am, workers were assigned to different stations set up around the restaurant space. A few well-meaning souls showed up with salami and charcuterie, but Crenn deemed that all sandwiches would consist of bread and cheese alone. (One volunteer said the two ingredients posed the lowest possible food safety risk.)
Working for an hour straight, volunteers assembled more than 1,000 sandwiches, each of which was wrapped in paper before sealed in a plastic bag. Once they were packed for shipping, they were loaded into a single vehicle for the drive to Napa/Sonoma.
After the work party, Crenn took to Instagram to post a photo of the packed sandwiches and thank the "many big & heavy hearts [who] showed up to make 1000 plus sandwiches to feed our brothers & sisters in wine country devastated by the fires."
Thanks very much to tipster Cynthia V. for the photos!
If you know of other San Franciscans who are helping Napa fire victims, text a tip to 415-200-3233. If we use your info in a story, we'll give you credit.