This morning, the Planning Department is hosting its first public hearing regarding plans to demolish 1145 Polk St. to construct a new 54-unit, mixed use building in its place.
We reported in 2015 that the entire block—between Hemlock, Polk, and Sutter streets—was being sold to developers Dolman Property Group, which plans to turn it into apartments. 
Those plans were officially filed in early November, and include a 6-story building with 54 residential units and four ground-floor and basement retail spaces totaling 7,515 square feet. 
If approved, the plans would mark the end of Hemlock Tavern, although its current lease runs through 2021.
A representative of the developer, doing business 1145 Polk LLC, asked whether the bar could hang on to its liquor license and move back into its same location in the new building. Because the building will be voluntarily demolished, any new business would need a new conditional use permit, Planning responded.
The property is in the Lower Polk Street Alcohol Restricted Use District, which disallows the issuance of new alcohol permits; whenever a bar or restaurant has stopped using its license for a year or more, it is considered abandoned.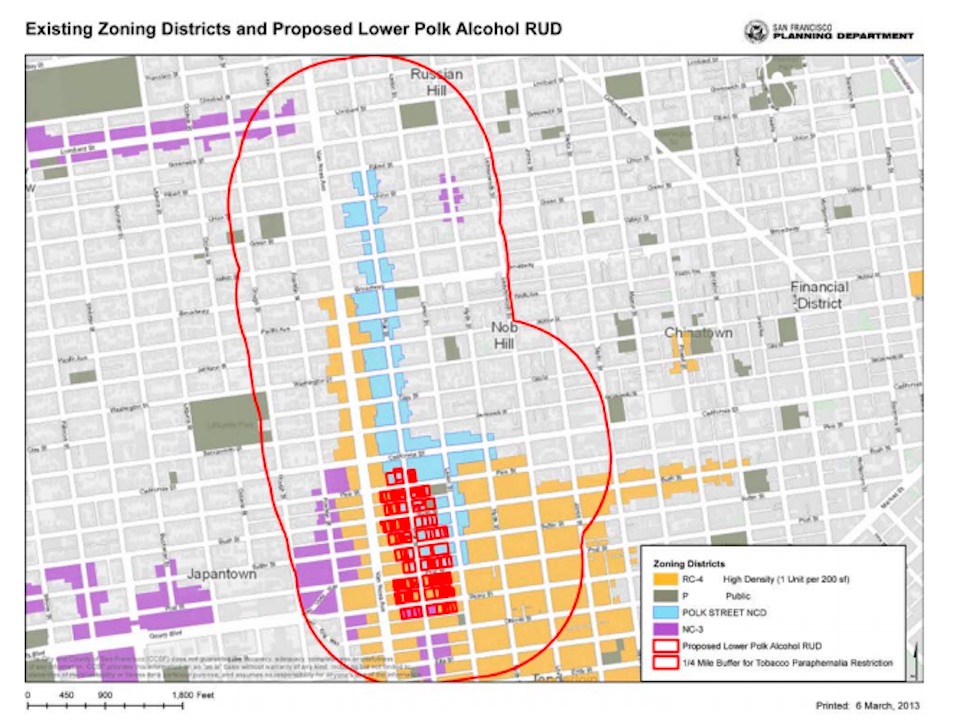 "To prevent abandonment of the bar, it must relocate in the same location without an increase to the amount of square footage used for the sale of alcoholic beverages, in less than one year," according to the zoning administrator.
The proposed development is expected to take at least 18 months to construct, according to documents filed with Planning. These requirements would not apply if the music venue and bar were a bona fide eating place that served meals during typical business hours.
Today's meeting will focus on the development's application for an exemption from the typical size requirements for its rear yard, an effort to comply with guidance it received by the Planning Department.
In comments provided to the project's initial planning application, Planning asked developers to have the maximum amount of store frontage available on all three sides of the building to maximize retail access. 
"If the standard 25 percent rear yard were to be designed at the north or south end of the project, then urban street frontage would not be accomplished on all frontages, as the Planning Department requested," said David Sternberg, an architect who's acting as the agent and representative of the owner, Pacific Realty Exchange.
According to documents filed with Planning, the building will also have a 5,465-square-foot roof terrace for all residents. It would also include a 16-foot tall elevator penthouse and two 10-foot-tall stair penthouses on the roof, with the tallest point 80 feet above street level.
Hemlock Tavern isn't the only tenant that may lose its current home. Café Zitouna, Skylight Grocery & Produce, Sudachi Sushi Bar and The Natural Mattress Store also call the block home, as does Masjid Al-Tawheed, a Sunni mosque run by the Yemeni Association of San Francisco.
The project was found to be exempt from California's state environmental review process in October, but would still need a demolition permit and a building permit if it receives the rear yard variance it is seeking.