Gateway Park, a new waterfront recreation area, is coming to to the foot of the Bay Bridge's east span, officials have announced. The park, which will also serve as a direct link to the bridge's pedestrian and bike paths, is expected to be completed in about a decade.
On Friday, Caltrans and East Bay Regional Park District officials moved the project forward by signing a ten‑year lease for the historic, newly-renovated Bridge Yard Building, a former Caltrans repair facility for railroad cars.
"The building will serve as a great activity hub for the future Gateway Park with recreational programs, educational programs, concessionaires, and space for public events," said Beverly Lane, Board President of the East Bay Regional Park District.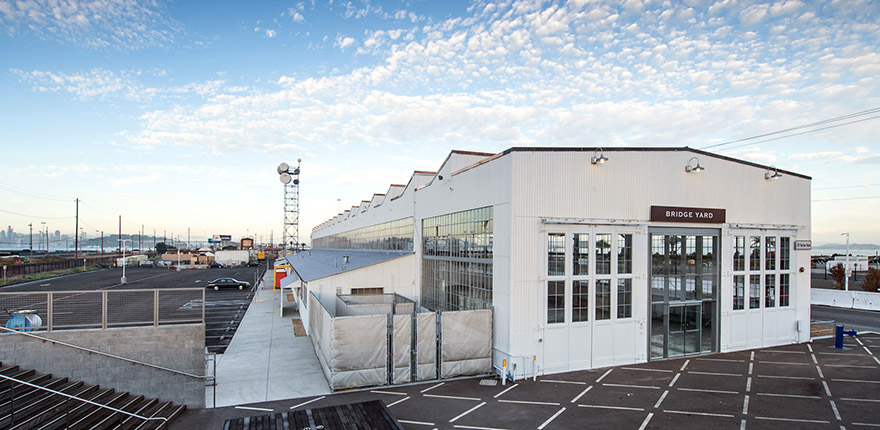 Gateway Park will be built on a commercial and industrial zone that was formerly used by the Army and the Port of Oakland. The 170-acre site will also provide new shoreline access.
According to the park's website, it stretches from the waterfront near the touchdown of the Bay Bridge to Mandela Parkway in West Oakland and will offer a long list of different amenities.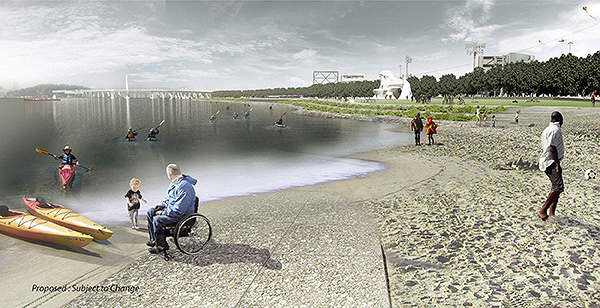 As part of the project, a port playground is set to become a destination for recreation along the shoreline that includes play areas for children, teenagers and adults. There will also be a kayak launch and storage area along with a beach and a boardwalk with picnic and observation areas.
The west end of the park will be called the Key Point and is planned as a landing spot for bicycle and pedestrian traffic from the Bay Bridge. Plans call for cultivating tide pools and adding lawns, restoration planting, and an outdoor classroom.
Another area where visitors will get a chance to fish and view the Bay may also include a fish-cleaning station, officials said. Radio Beach will be a restoration and preservation area with interpretive walking trails and sandy beaches, as well as fencing to protect wildlife.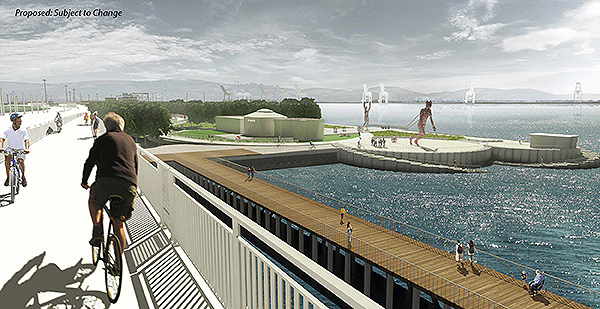 Hoodline content partner ABC7 adds that officials are in talks about using the piers that once supported the now-demolished eastern span of the Bay Bridge as part of the project.
"It's one of the few places you can get on San Francisco Bay, look at the birds, watch the port ships come in, have a lunch, go for a walk, go for a bike ride. So it really is a huge opportunity," Robert E. Doyle, General Manager of the Park District told ABC7.
Gateway Park will cost between $30 and $100 million to construct, according to officials.