The Center for Urban Education about Sustainable Agriculture (CUESA)—the nonprofit that operates the Ferry Plaza Farmers Market and Farmers Market at Jack London Square—is taking over the Mission Community Market (MCM) in April. 
"We're grateful to support Mission Community Market in this next phase of growth," said Marcy Coburn, executive director of CUESA in a statement.
"CUESA and MCM are closely aligned in our commitment to creating beautiful and welcoming spaces to support Bay Area residents, while building community around healthy food," she continued. 
"With CUESA operating Thursday nights, MCM can serve the Mission District better than ever," said Jeremy Shaw, board chair. 
The Mission Community Market (between Mission and Valencia Streets at 22nd Street) was founded in 2010 as a public marketplace that created a platform for local small businesses. In addition to offering access to healthy food, it doubles as a venue for artists, musicians, and community groups. 
The reason for the change in operational management stems from CUESA's 25-year mission of cultivating sustainable food systems. The nonprofit also brings "marketing power, operational expertise, educational programming, and customer service to help ensure the farmers market's long-term viability and success," according to a statement.
Until now, MCM has relied on the support of volunteers. 
The transition for participants in the Mission Community Farmers Market should be quite seamless, according to CUESA. There are already a number of MCM vendors who already participate in the nonprofit's other markets, including Marla Bakery, RoliRoti, Twin Girls Farm, City Bees, Root Down Farm, and Reem's.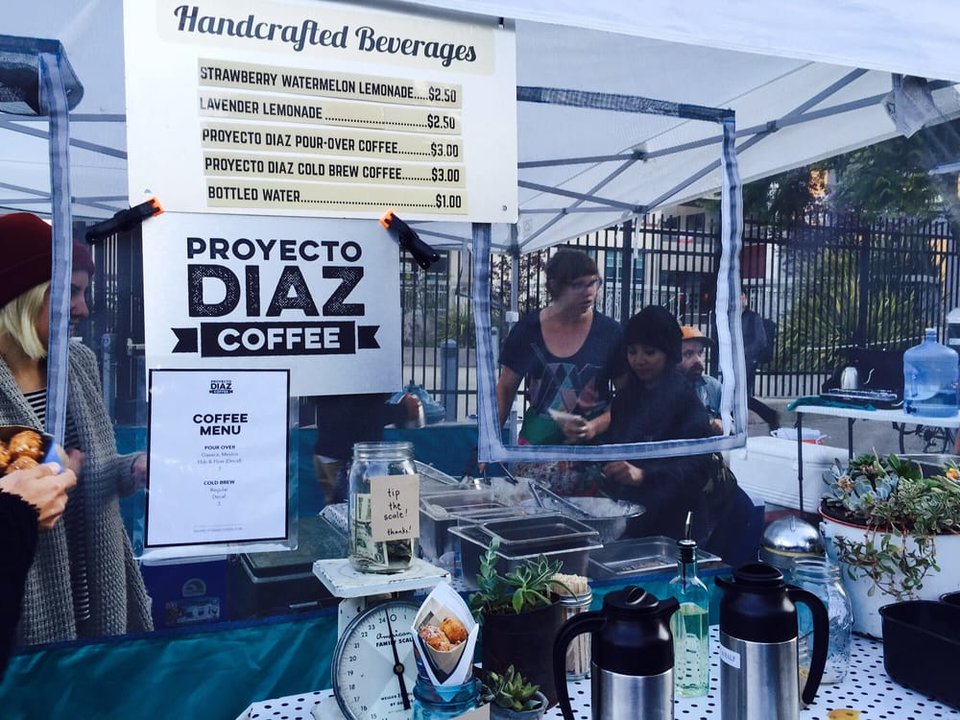 All of MCM's current sellers will be invited to continue participating under CUESA's management when it returns on April 5th after the winter hiatus concludes. Over time, CUESA plans to add more farms, producers, and prepared food sellers to the lineup.
"Mission Community Market is a special market for us, it's a family-type market," said farmer Apolinar 'Poli' Yerena of Yerena Farms.
"CUESA will be a good addition, bringing support like outreach to chefs, new shoppers, and community involvement," said Yerena, who's been a vendor at the Ferry Plaza Famers Market as well as MCM since its early days. 
Events at La Placita—a public space on Bartlett Street between 21st and 22nd Streets that was launched last year by MCM—will continue to be an integral part of the neighborhood.
Current MCM staff and board members are leading an effort to create a Community Benefit District to provide additional programing, small business promotion and street maintenance. Support for mural work in the neighborhood will also continue. On February 21st, the organization plans to unveil a new public work by local artist Alberto Ybarra. 
Mission Community Market is set to reopen on Thursday, April 5th at 4pm.
All of CUESA's farmers markets accept EBT (CalFresh/food stamps). EBT shoppers can double their fruits and vegetables dollars up to $10 per market day at CUESA markets through the Market Match program.