As of June 2017, there were 4,415 restaurants in San Francisco, according to one estimate. With so much happening in the city's culinary scene, here's another edition of SF Eats.
This week: the debut of a bakery's second brick-and-mortar outpost, a new taqueria takes over a long-vacant North Beach space, two Polk Street restaurants shutter suddenly, and more food news from around the city.
Openings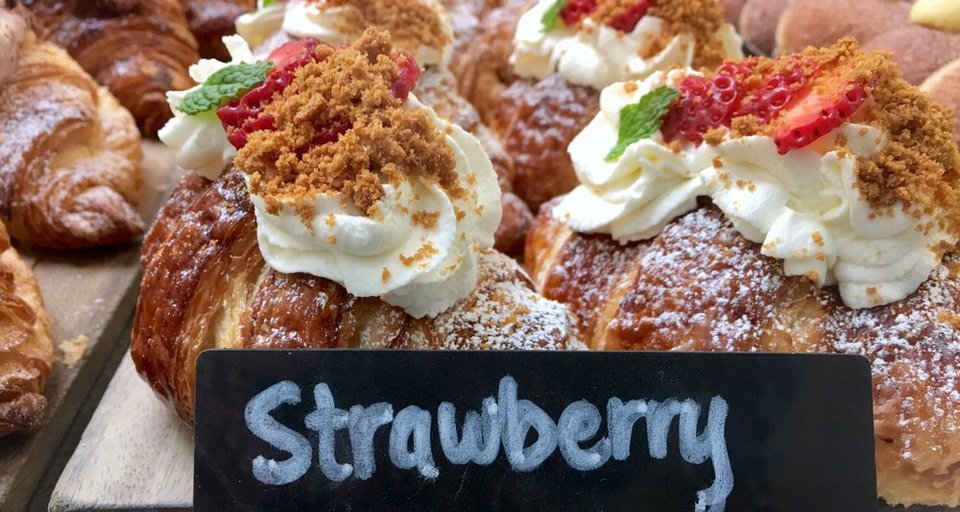 Vive la Tarte (One Ferry Building, San Francisco, CA)
Vive la Tarte—which we reported in December would debut its second outpost at the Ferry Building—is now poised for a January 19th soft opening, said tipster Extraordinaire Al M.
The menu will be a streamlined version of the selections available at its SoMa location, with items like artisan sandwiches with house-made sourdough bread, and smashed avocado toast with poached egg. The full menu is available here.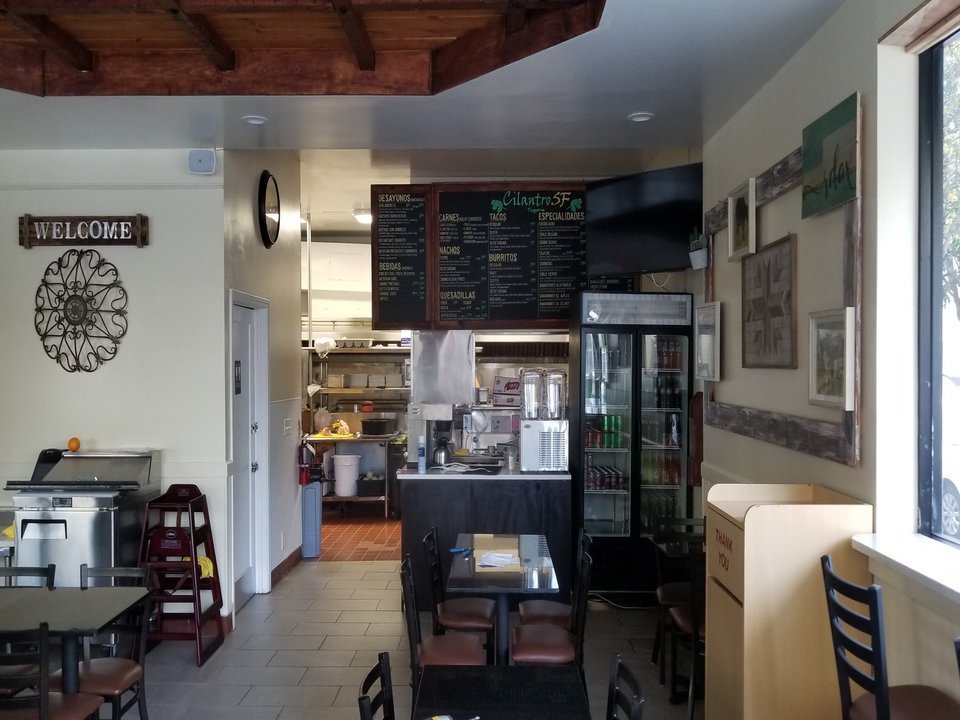 Cilantro Taqueria (2257 Mason St.)
North Beach newcomer Cilantro Taqueria takes over at the former Taqueria San Jose No. 3 space, which has been vacant since early 2017 when the business suddenly closed for repairs but never reopened. 
Tipster Al reports that the new restaurant has softly opened and "will only have the basics until they're settled in."
The menu offers a variety of standbys like nachos, quesadillas, tacos, burritos, and specialty plates such as enchiladas, fajitas, and chile verde.
Breakfast items will be joining the lineup as well, with dishes like huevos rancheros and a Mexican breakfast sandwich.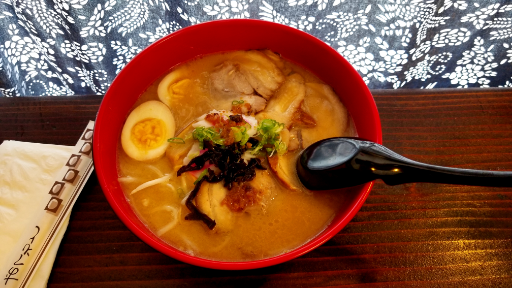 Japanese House (480 6th St.)
Over at the former Grab 'n Go Vietnamese restaurant in SoMa, a new Japanese eatery called Japanese House has opened, Al reports.
The menu is extensive, he said, with 87 items to choose from, including a selection of nigiri sushi, sashimi, sushi rolls, and more.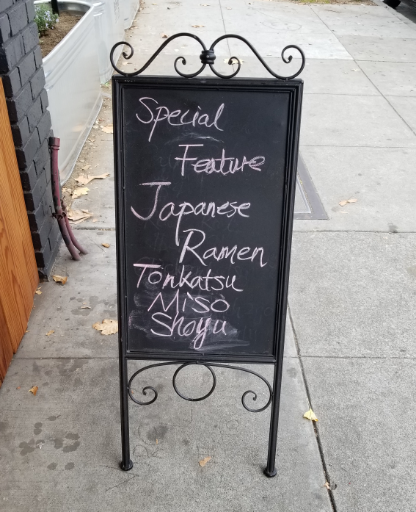 There are three different types of ramen on offer, too—shio, miso and tonkotsu—with prices averaging $10.50 a bowl, "a steal for SoMa prices," Al added. 
Updates
Nara Sushi (1515 Polk St.)
Al reports that Nara Sushi on Polk Street has closed with a message posted to the door that indicates changes are afoot.
"Sorry for the inconvenience, please don't miss us too much!" reads part of the note. The restaurant will be closed until sometime in February for remodeling, the message continues.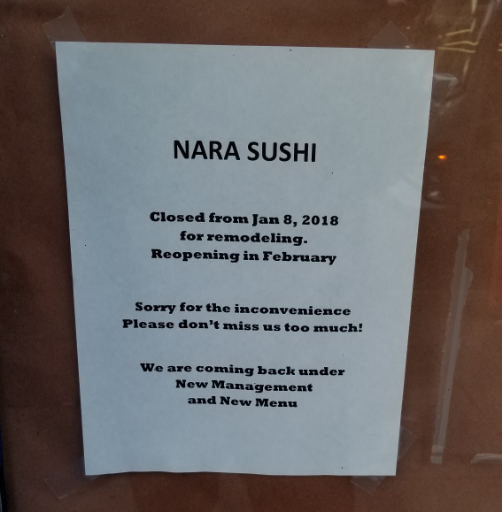 If all goes to plan, the eatery will return under new management with a revamped menu. We'll keep an eye on this location in the coming month to see what comes of the former sushi spot.
Closures
Myconos Greek Restaurant (1431 Polk St.)
Several readers have written in about the closure of Polk Street eatery Myconos, including tipster Al.
"The closure caught me by surprise," he said. "I initially wanted to get their six-dollar pita special only to find them closed with a for lease sign."
We stopped by to check out the space and found an indefinite suspension notice from the State Department of Alcoholic Beverage Control issued on September, 25th of last year. 
A hand-written notice on the door indicates that the restaurant is closed until December 5th, but a window contains a prominent "For Lease" sign posted by Tri Commercial Properties.
We reached out the brokerage firm for additional information, but have not heard back. The company's website also does not list the property as available.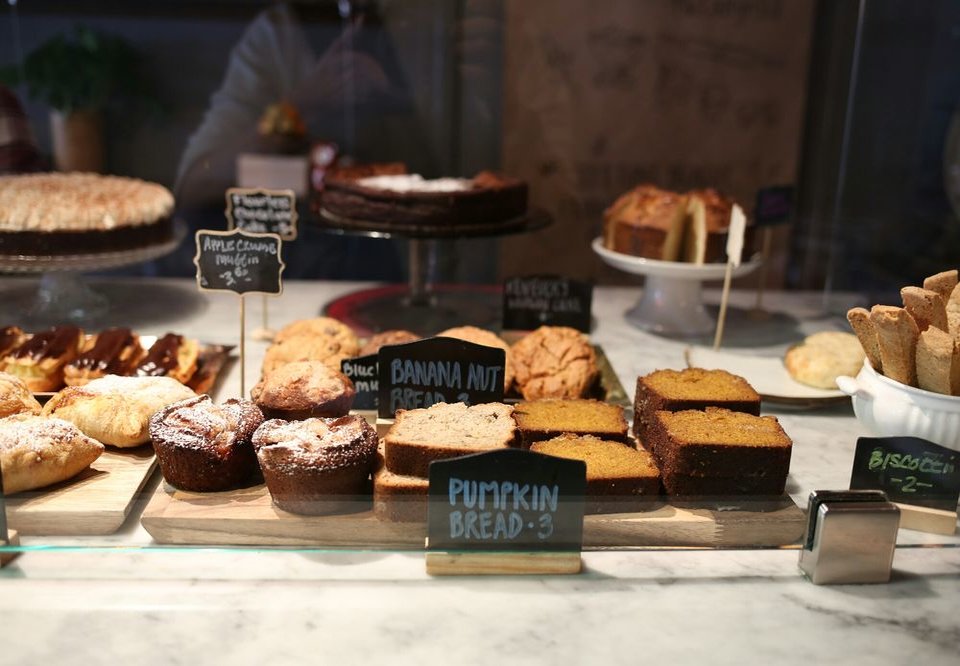 Heartbaker (1408 Clement St.)
In a Facebook message posted December 29th, owner Sybil Johnson wrote that after four and a half years, Heartbaker was closing. 
"It is with deep sadness that we announce that after this weekend Heartbaker will close its doors," read the statement. "We had a good run but we can no longer sustain it."
Johnson cited "factors beyond our control and the prolonged stress" as reasons to "call it quits."
"We are indebted to our dedicated employees, friends and family that have helped us over the years and are proud to have shared this experience and so many wonderful memories with them," said Johnson.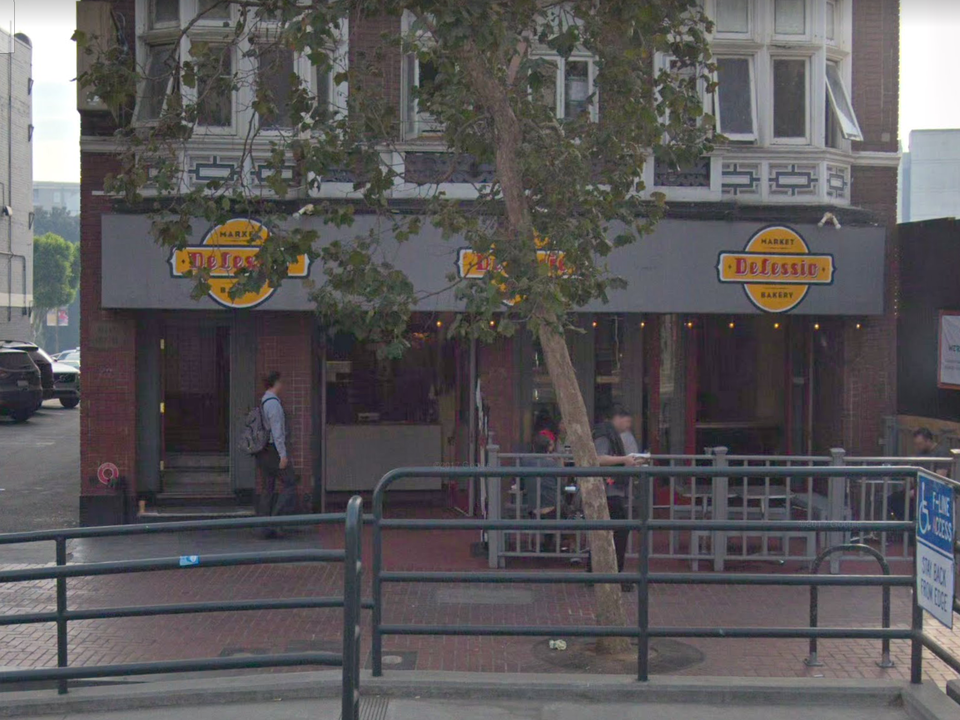 DeLessio Market & Bakery(1695 Market St.)
Lastly, an anonymous tipster wrote in to let us us know that DeLessio Market & Bakery has closed and is now "boarded up." Yelpers have also confirmed that the eatery is no more and the business' website appears to be down.
A consumer alert notice on Yelp flags attention to the fact that the restaurant reportedly received a score of 65 out of 100 on a recent health inspection. No word yet on whether this is a temporary closure or if another business is taking over the space.
If we missed an opening or closing in your neighborhood, email [email protected] or send a quick text to 415-200-3233 and we'll give you credit for the tip.