Published on February 05, 2018
Walking into Smith Clock Co. (2799 Bush St. at Baker) is akin to time travel: dozens of stately timepieces tick the moments away in a front room, many dinging and chiming on the quarter-hour.
Banjo clocks vie for space with dignified grandfather clocks, and in a back room, nearly every flat surface is covered with chronometers in various states of repair.
An electric Art Moderne clock from the 1930s with a green dial lies next to a gold-embossed Rococo mantel clock; an ornate cuckoo perches next to a wooden farm wall clock from the early 1900s. Walls and a staircase leading to a basement workspace are lined with more clocks, some ticking, others silent.  
A glimpse of a computer and a telephone, however, reminds visitors that the year is 2018.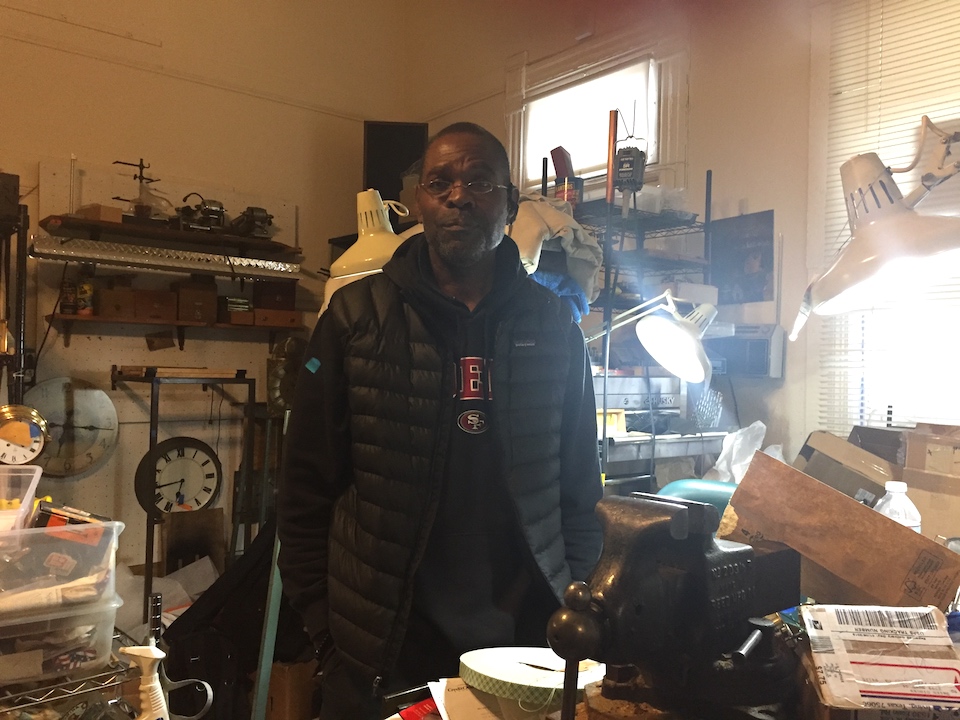 For the last 12 years, this has been David Charles Smith's storefront and workshop, but he's been working on clocks nearly his entire life.
As a child, he loved anything electrical, but at eight years old, he discovered his love of horology. Forty-two years later, he's still taking apart clocks, but now he puts them back together for paying customers.
After apprenticing at Washington Clocks, Smith attended the watch and clock-repair program at San Francisco City College, which is no longer offered. To broaden his skill set, he took a machinist course at Laney College, which is helpful for working with clock casings, he said.
In all, he estimated that it takes about 3 years to learn clock repair, and about a decade to become truly capable.
From his shop in the Western Addition, Smith repairs antique clocks by American, French, English, German, Dutch, and Austrian manufacturers. 
"Clocks are intricate and complicated," said Smith. "Their features are even called 'complications,' but fixing them is easier than diagnosing the problem. Often customers come in thinking one thing is wrong or broken and it turns out to be something else."
His oldest commission was an astronomical clock from the 1600s that displayed the phases of the sun and moon and played 8 melodies. Another client brought in a clock that had a mechanism with flying birds and tiny plants that grew with the passage of time, while a Dutch antique included miniature boats that moved within a tiny harbor.
Clocks and their owners come from all over the Bay Area to visit the Western Addition craftsman, which keeps the space active with pick-ups, drop-offs and people seeking estimates.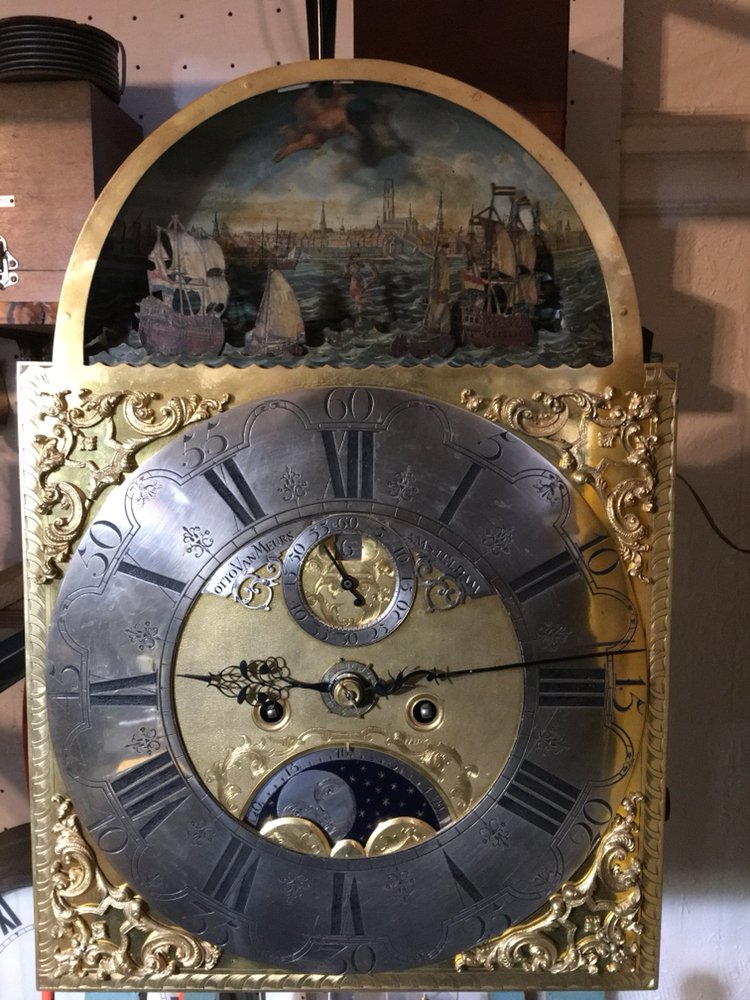 "I'm in heaven!" exclaimed a customer who was soaking in the atmosphere.
"People are cold when it comes to clocks," said Smith, who added that keeping them lubricated is a top priority. "They run 'em, but they don't take care of 'em. Clocks are like a car, and they need care, except unlike a car, you never turn them off! You got to make the clock happy."
Clock repair moves at its own pace—just tracking down the required parts can take anywhere from a week to a year. Prices for a simple repair can be as low as nine dollars, but Smith could charge as much as $5,000 to bring an antique back to life.
"I don't work for people," said Smith, "the clocks are my clients." 
Smith Clock Co. is located at 2799 Bush St and is open Tuesday to Friday from 11:30am to 6pm. For more information, call 415-921-1267 or email [email protected].