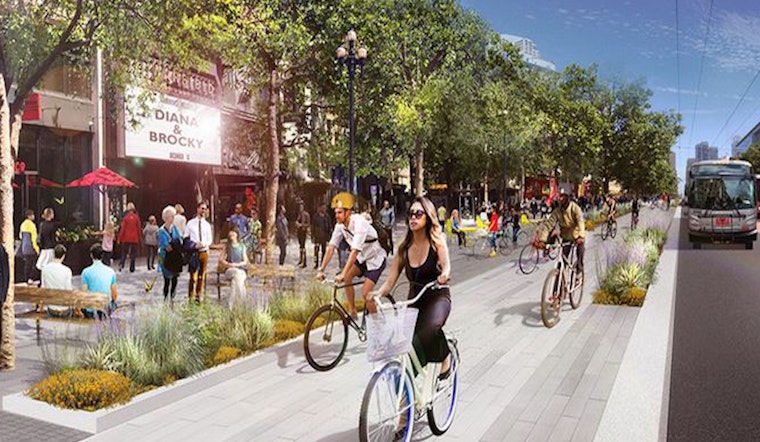 Published on March 09, 2018
Two city agencies are hosting public meetings to gather feedback on plans to reconstruct Market Street between Octavia Boulevard near the Castro and  Steuart Street, just west of the Embarcadero.
Public outreach and planning for the Better Market Street project started in 2011, with Public Works and SF Planning gathering information about existing conditions and input from community members regarding their priorities for improving the 2.2-mile stretch.
Three initial design options were narrowed to one that focuses solely on Market Street and aims to maximize public transit while improving safety for pedestrians and bicyclists.

According to Public Works, the last significant makeover for one of the city's busiest thoroughfares occurred 50 years ago when BART came online.
The infrastructure that was installed then is nearing the end of its useful lifespan, and the city wants to ensure any upgrades and changes meet the current needs of residents and commuters. 
Public Works and SF Planning are hosting two public meetings—one tomorrow, Saturday, March 10th and one on Wednesday, March 14th, both at UC Hastings. 
The city will present new detailed renderings and proposals for the project at upcoming meetings. For anyone unable to attend, a presentation detailing the proposed plans and a public survey will be posted on Public Work's website on March 19th.
As we previously reported, the Better Market Street plan includes protected bike lanes and further restrictions on private traffic, including ride-hailing cars from Uber and Lyft. 
The project is currently in environmental review, and Public Works hopes to receive approval to launch construction of the first segment of the project by 2020.
Segment one will be between 6th and 8th streets on Market and includes adding an F Market Loop at McAllister Street at Charles J. Brenham Place to allow for additional daytime service between Powell and Fisherman's Wharf, where ridership is highest, DPW spokesperson Jennifer Blot told us.
The added service will be provided with the historic streetcars that currently service the F Market line, Blot added.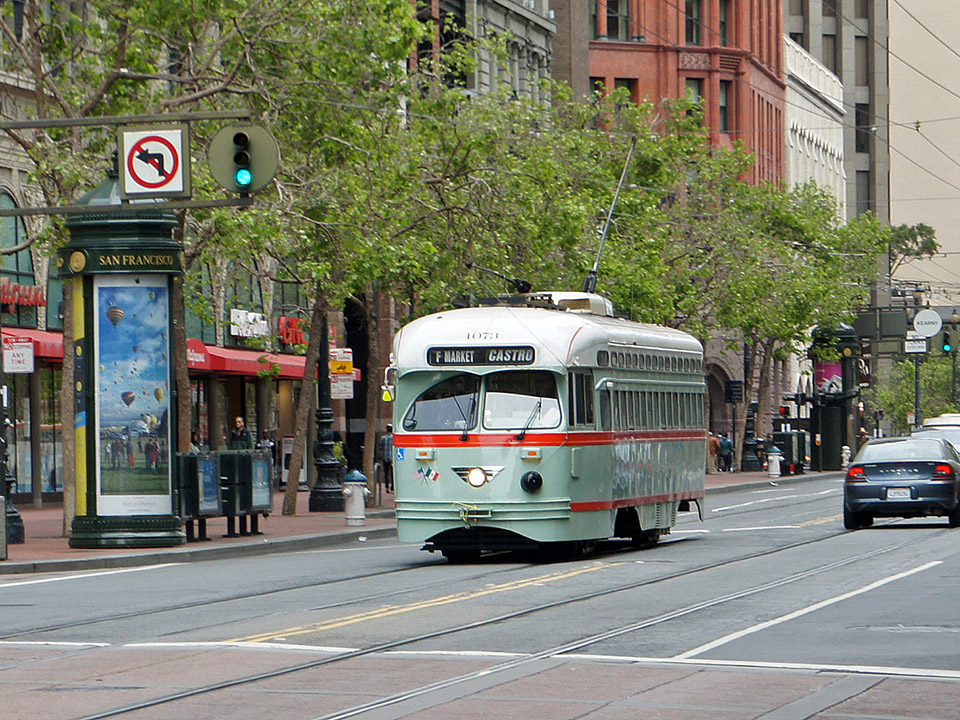 Better Market Street Timeline:
2011 - 2015:  Public visioning, existing conditions studies and conceptual planning.
2015 - 2019:  Environmental review.
2017 - 2020:  Design and engineering.
2020:  Begin construction on first segment of Better Market Street
The first segment of the project has multiple funding sources, including the 2014 Transportation and Roadway Improvement Bond, the One Bay Area Grant, the city's general fund, and San Francisco Public Utilities Commission's capital funding, Blot said. 
The city has "identified a number of local, state, and federal funding sources we will be applying for as the project progresses," Blot added.
Several city agencies are partnering with Public Works on the project, include SFMTA, the San Francisco County Transportation Authority, and the San Francisco Public Utilities Commission.