Reporters with the East Bay Times and San Jose Mercury News rallied in Oakland today to protest Alden Global Capital, the hedge fund that owns their newspapers. According to the journalists, the investment firm has made devastating cuts to newsrooms as it seeks higher returns.
Both newspapers are part of regional chain Bay Area News Group, which is owned by Digital First Media; Alden Global Capital owns a majority state in Digital First Media.
Nationwide, local newspapers have been hit hard by plummeting circulation and shifts in advertising from print to digital. As media companies continue to reduce staff and move more resources online, a variety of investors are picking up regional publishers at discounted prices.
The industry's trouble's have been very visible in California; last month, media conglomerate Tronc announced plans to sell the Los Angeles Times to billionaire investor Patrick Soon-Shiong for $500 million. In November 2017, DNAInfo (owned by billionaire investor Joe Ricketts) shuttered its Gothamist network of city blogs after its writers attempted to unionize, including local site SFist.
A lawsuit filed in Delaware on Monday by Digital First Media's largest minority shareholder accuses Alden of diverting profits from its newspaper holdings to other companies and seeks access to the company's financial records.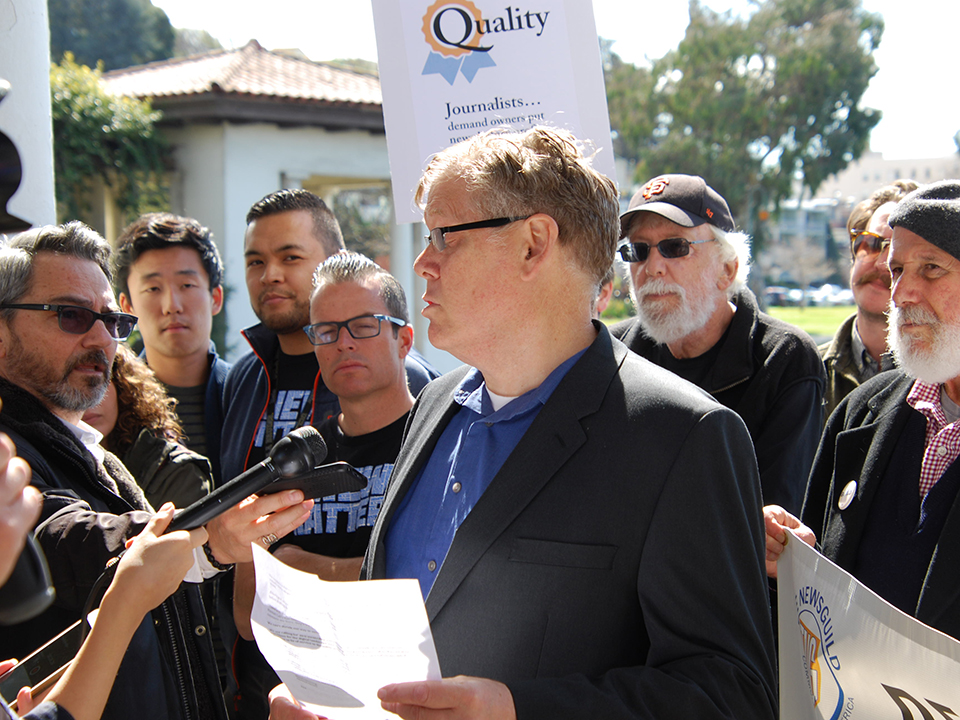 "Alden clearly doesn't care about journalism at all. And it should," said Thomas Peele, an investigative reporter with the East Bay Times and co-chair of the newspaper's unit of the Pacific Media Workers Guild Local 39521.
He and other reporters gathered near Lake Merritt today to call on Alden to sell the paper. Last year, staff of the East Bay Times won a Pulitzer Prize for its coverage of the deadly Ghost Ship fire. But within days of winning, the paper was subjected to yet another round of layoffs.
More layoffs were announced last month. Union representatives say the staff at 12 of Digital First Media's newspapers have been cut more than 40 percent in the last two years.
Peele pointed out that many important local government meetings, such as supervisors meetings in Contra Costa and Alameda County, often don't have reporters present. Additionally, Bay Area News Group no longer has a reporter assigned full time to cover education issues.
"We've lost so many reporters. Cities are not covered the way they once were," Peele said.
The news staff called on Alden to sell its newspapers to local buyers.
"Nobody is here for the great pay and benefits," Peele said, referring to the roughly 20 newsroom workers who attended the rally. "They're here because they want to serve the public."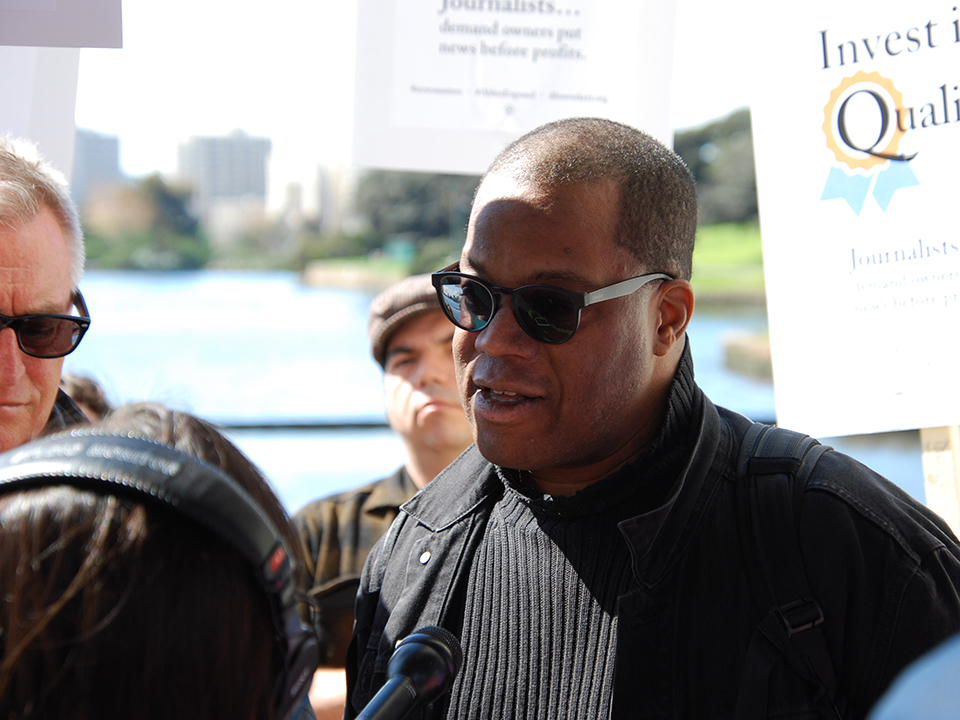 George Kelly, a breaking news reporter for the East Bay Times, said he wonders if even the breaking news beat will be covered in the future. But he pointed out that there are other financial models that are sustaining local newsrooms and news reporting still can be a viable business.
"We're willing to look at and try anything," said Kelly.
We reached out to Bay Area News Group, Digital First Media and Alden Global Capital for comment, but no one was available at the time of this writing.
[Update: 3/9/18, 8:20am]
Neil Chase, the executive editor of the East Bay Times and the Mercury News, told Hoodline that the guild members made some good points, but also pointed out that circulation and advertising revenue are down for print publications everywhere.
Publishing local news will require a reinvention of the business model, Chase said, as more readers get their news online.
The company has been trying new approaches, such as selling digital subscriptions, but Chase said other companies are pursuing digital publication more aggressively right now. Still, buyers for print publications are few, and there's no guarantee a different owner would spend redirect resources to local newsrooms.
"You have to have a buyer who comes in and says, 'I want to do something different with this organization and I'm willing to pay what the current owners want,'" Chase said.
Disclosure: BANG is a Hoodline syndication partner.