By
Hoodline
- Published on April 18, 2018.
Between check-in lines, luggage limits and TSA screenings, airline travel can, at times, cause headaches. Lucky for Bay Area travelers, however, the San Francisco International Airport takes pride in offering cutting-edge airport amenities. And one of local and international travelers' favorite amenities at SFO—the Wag Brigade—is surprisingly cute and cuddly.
The Wag Brigade is a fleet of specially trained therapy animals who volunteer to bring joy to airline travelers. SFO launched the Wag Brigade in partnership with the San Francisco SPCA back in December 2013 to help ease the stress of holiday travel.
Clearly a hit among travelers, the Wag Brigade has been growing strong ever since. The crew now includes 20 kind-hearted animals who wear "Pet Me" vests and roam the halls of SFO with their handlers, distributing kisses, nuzzles and tail wags just to put smiles on travelers' faces.
The members of SFO's Wag Brigade are all volunteers and graduates of the SF SPCA's Animal Assisted Therapy. Each member has been handpicked to ensure they posses the proper temperament for large crowds and the busy airport environment.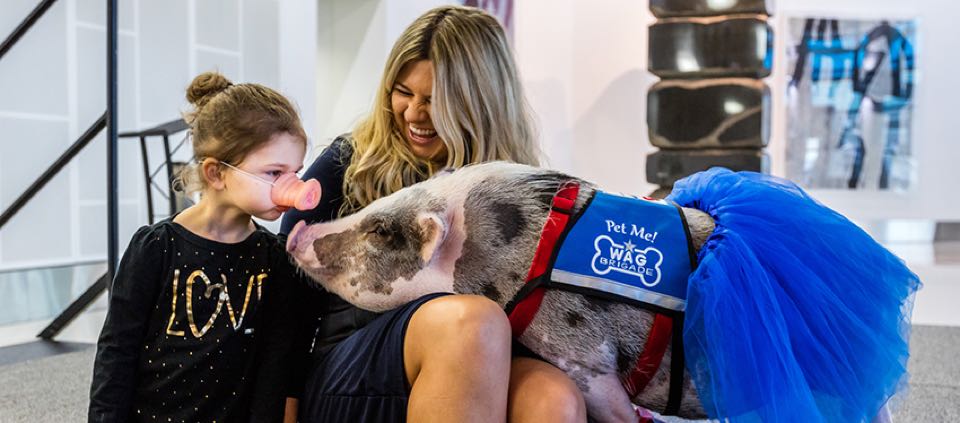 Like the Bay Area's own human population, the Wag Brigade is highly diverse and driven. While heading to the check-in counter, you could run into Chedda Cheese, a fox red labrador who works 9-5 as the pack leader for her humans' professional dog-walking business.
At your gate, you may meet Poquito, a rescue from Mexico who was born to herd crowds. Or roaming the Departures Level you might find India, a goldendoodle and East Coast transplant who also works at the Salvation Army's Kroc Center in the Tenderloin through the Puppy Dog Tales reading program.
You'll also want to keep your eyes peeled for a local celebrity: Lilou, a Juliana-breed, hypoallergenic pig who proudly touts painted nails, fancy tricks and the honor of being the nation's first-known airport therapy pig.
De-stressing in the face of travel delays is one key to happy travels, but it's also important to avoid unnecessary headaches en route to and from the airport.
That's where BART's airport connections can help. BART runs to and from both SFO and Oakland International Airport, helping airline travelers avoid missing final boarding due to unexpected traffic jams. BART riders also spend less on travel to and from the airport than cab hailers and ride-share users—that's money better spent at your final destination anyway.
Now that you have a plan for keeping travel stress at bay to, from and within the airport, it's time to choose a destination. Check out BARTable's handy guides to temptingly affordable getaways from SFO and OAK this spring. Then, be sure to enter BARTable's current giveaway for the chance to win a holiday for two in Fiji—worth more than $5,000.