By
Hoodline
- Published on May 11, 2018.
Dallas has a home-grown crop of innovative chefs trying out new ideas based on classic American food — check out our list to see where you can try their latest creations. 
Smithy
2927 N. Henderson Ave., Knox-Henderson
Smithy is a breakfast and brunch spot bringing modern American fare to Knox-Henderson. 
The eatery offers a variety of dining options, including wings, nachos, soba bowls, zoodles, salads and more. Its drink menu includes cocktails, like Lost At Sea, That's My Jam, The Healer and others, along with options for beer, wine and champagne. 
Then round out your meal with some dessert, like an ice cream sundae, a grilled pound cake, a bacon crunch bar or a bundt cake.
Yelp users are excited about Smithy, which currently holds 4.5 stars out of 24 reviews on the site.
Veronica K., who was among the first Yelpers to review the new spot on April 11, said, "Yummy! Has an awesome menu, and don't expect routine... they have their groove on for a full taste bud experience! We had chicken quesadillas, a Veggie Naan sandwich and a burger. All were excellent, fresh with flavor!"
Yelper Corey S. added: "Fun, delicious, and happening spot! I went with a group of four and everything we ordered was spot-on yum! Highly recommend the steak bruschetta. The complimentary valet was also a great perk. Oh, and the decor is so cool."
Smithy is open from 4 p.m.–midnight on Tuesday-Thursday and 4 p.m.–2 a.m. on Friday and Saturday. (It's closed on Monday and Sunday.)
PL8 Bistro
2533 McKinney Ave., Uptown
PL8 Bistro is an art gallery and bistro-style restaurant recently debuted in Uptown. 
Its extensive menu includes casual but classy items like warm Brussel sprouts, grilled salmon, lasagna and more. Live music plays during Sunday brunch, and both a private patio and dining room are available for special events. (Look for the full menu here.)
There's also an art collection to enjoy as you dine.
With a four-star Yelp rating out of 19 reviews on Yelp, PL8 Bistro has been getting positive attention.
Yelper Craig F., who was one of the first users to visit PL8 Bistro on March 16, wrote: "The Old Fat Rabbit space — very cool spot, very different from before.  Atmosphere is well-designed, food was eclectic, and local Dallas artists adorn the walls. Just what our neighborhood needed!"
"Loved the atmosphere," echoed Taylor B. "Felt like we were in a nice restaurant, as opposed to a bar with a restaurant (which is what most of the Uptown spots are). Chandeliers, tablecloths, great service and we loved the menu — eclectic with a little bit of everything, which was nice for a change. Great patio by the sidewalk. We will be back!
PL8 Bistro is open from 11 a.m.–11 p.m. on Sunday–Thursday and 11 a.m.–midnight on Friday and Saturday.
Grassroots Kitchen
2109 S. Edgefield Ave., North Oak Cliff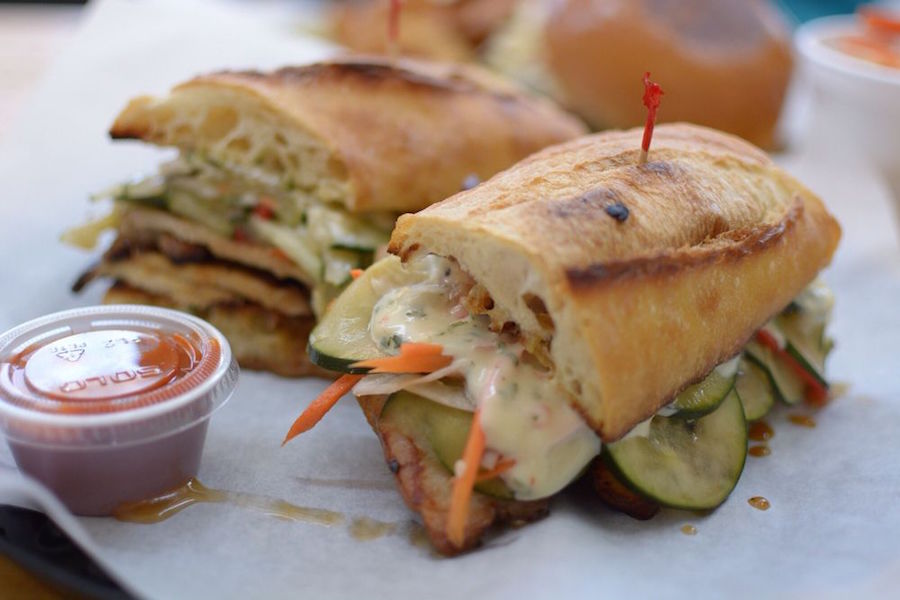 Grassroots Kitchen is a small mom-and-pop restaurant in Oak Cliff serving up stylish sandwiches, salads and appetizers at affordable prices. 
"Adam Loew, who co-owns Grassroots with his wife Thania, took a true grass-roots approach to his startup by first introducing his food via a neighborhood street-corner pop-up," Culturemap Dallas reports. 
Menu offerings include a Bahn Mi "Sammiche" on a baguette with ginger butter, cilantro mayo, pickled Asian veggies and your choice of sesame soy chicken or Asian pork loin. Main plates such as Jamaican jerk chicken, fried shrimp and more are also available.
Yelp users are excited about Grassroots Kitchen, which currently holds 4.5 stars out of 33 reviews on the site.
Yelper Angela B., who reviewed Grassroots Kitchen on April 29, wrote: "Word is that everything is good at Grassroots Kitchen, so I stopped by this li'l gem last night and chowed down on the Jamaican Jerk Chicken. It was smack, bam, pow, boom, full of flavor; incredible!"
Alec C. noted: "Just finished getting stuffed on the hummus plate, Caesar salad and brisket sandwich. Everything was excellent."
Grassroots Kitchen is open from 11 a.m.–9 p.m. on Monday-Saturday. (It's closed on Sunday.)
Trick Pony
2823 Main St., Deep Ellum
Trick Pony is a cocktail bar and New American spot that serves classic cocktails, frozen drinks and house wines. 
At this joint, you don't have to go far to travel around the world.  For a limited time, Trick Pony is offering a themed drink menu with 80 cocktails representing various cities, countries and regions, reports the Dallas Observer. 
Trick Pony's current Yelp rating of 3.5 stars out of three reviews indicates the newcomer is finding its way, but it's still early days.
Yelper Jane L., who reviewed Trick Pony on January 22, wrote: "We wanted to catch the Bill Murray cocktails, but apparently this bar rotates themed menus every month! We both enjoyed drinks from the '80s themed menu. I'm not the biggest fan of piña coladas, but The Miami Vice was AMAZING. It was such a treat!"
Yelper Megan C. wrote: "This place is sublime, transformative, and so choice. Hip, now, and totally wow! Chris G is alright."
Trick Pony is open from 6 p.m.–2 a.m. on Tuesday-Sunday. (It's closed on Monday.)