This morning, the city of Oakland began the first phase of clearing out a homeless encampment on Northgate Avenue, a move that was met with protests by activists and residents.
The encampment is located on 27th Street between the north and southbound lanes of Northgate Avenue on the border of the Hoover Foster and Pill Hill neighborhoods. Several groups, including The Village, Feed the People, and the Anti Police-Terror Project, came out to monitor and protest, and to offer food and supplies to residents.
In accordance with notices to vacate posted on May 4th, city workers arrived to clear shelters and residents from the south side of 27th Street, but information spread on social media led some protestors to believe the entire encampment might be removed.
"Advocates have not been able to get a clear timeline on what their plans on," said Boots, an activist from the Oakland Homeless Advocacy Working Group. "Also, folks who are living in this encampment are unclear, which we find to be a real big problem that folks don't even know what the plan is and it's impacting their homes."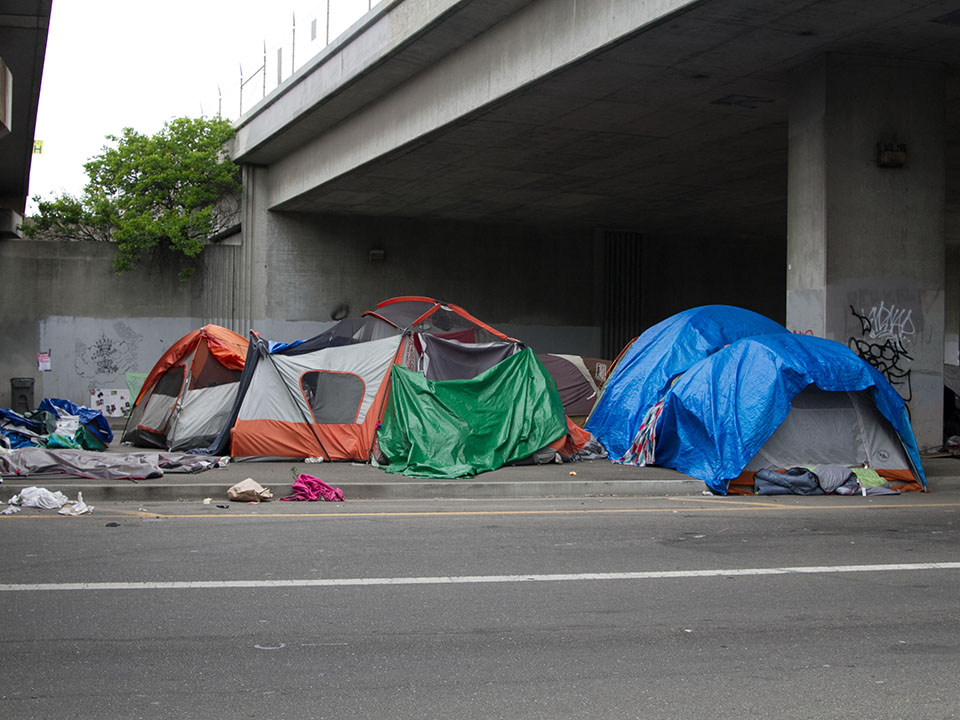 There are multiple homeless encampments under Oakland's freeway overpasses, but with approximately one hundred residents, Northgate's is among the largest.
Makeshift shelters fill sidewalks on both sides of 27th Street as the roadway passes below BART and the John B .Williams Freeway. Tents have also been set up on the periphery car lanes and in the median.
Because sidewalks are obstructed, pedestrians and residents walk in the roadway, creating safety concerns. Sanitation has also been a problem at the encampment, along with illegal burning. In February, a fire killed one resident.
In clearing the south side of 27th Street, city crews planned to create a parking zone for mobile shower service Lava Mae. The nonprofit offers free hygiene services out of converted buses in both San Francisco and Los Angeles. The Northgate encampment will be their first station in Oakland, with service beginning Thursday, May 10th.
The city has also installed twenty Tuff Sheds, utility sheds converted to human habitation, in a fenced enclosure adjacent to the street encampment. The  installation is part of an effort to ensure that as portions of the encampment are cleared, they are not replaced by new tents and shelters.
The Northgate Tuff Shed encampment includes space for forty residents inside a securely fenced area, with health and sanitation services provided by the city. This would be the second  encampment established by the city, after an earlier installation at 6th and Castro in December.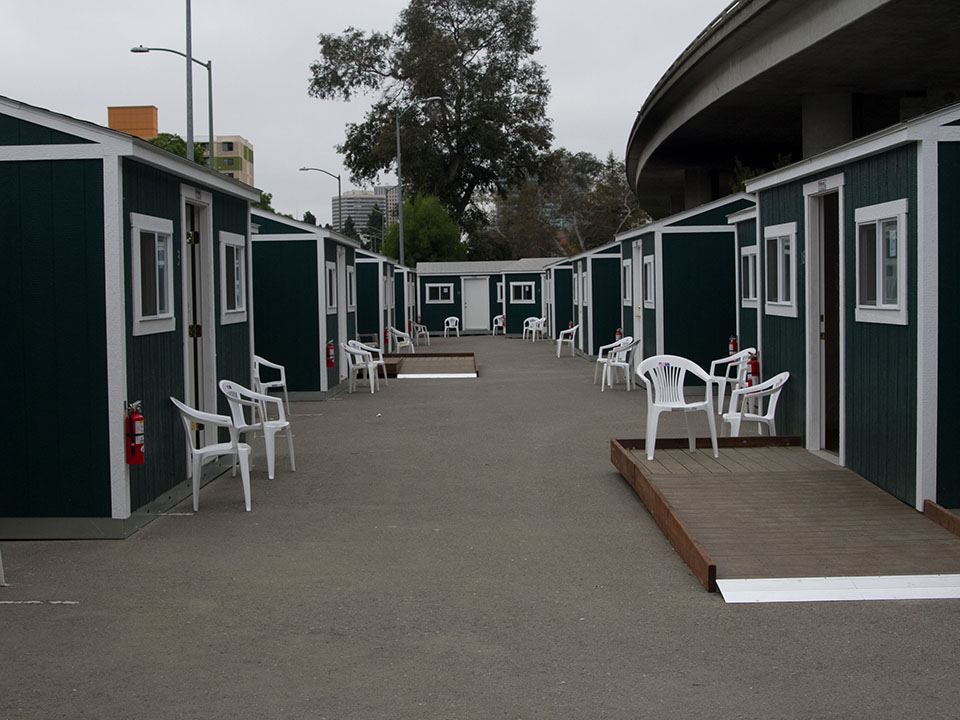 "We don't want it to just fill back up," said Joe DeVries, an assistant to the City Administrator who was on the scene this morning. "There's been a lot of safety problems here and this is our attempt to resolve that."
DeVries visited the site with Talia Rubin, a licensed clinical social worker with the city's human services department. The duo intended to address residents and activists in a joint presentation, but as they stood at the entrance to the new Tuff Shed encampment, Rubin didn't get far before residents spoke out against the changes.
"You ought to be ashamed of your goddamn self," said Etta Johnson, a resident of the Northgate encampment. "I want you to go live in one of them goddamn things. Live in there with them rats before you try to put people in them," she said.
Boots said the order to vacate and Tuff Shed installations are evidence of the city's inability to serve Oakland's homeless population.
"They're spending their time, their energy, and the money for staffing to help 40 people when we have thousands of unsheltered people living in the streets," she said, gesturing to a phalanx of police officers standing at attention.
"They have six police cars currently out here," she said. "We're spending thousands of dollars for a whole bunch of officers to stand around doing nothing. All of that money could be going to pay for port-a-potties and sanitation for our people in the streets."
Boots said she's not convinced the Tuff Sheds are an improvement.
"We have major concerns about the human rights of people who are in the Tuff Sheds based on what we know is going on at 6th and Castro," she said, referring to the city's other sanctioned encampment.
"People do not have consistent access to water, to drinking water, to food, the generators are constantly down,"said Boots. "We have people who need the generators, not only for cell phones but as an actual lifeline. People who have cancer who need it for their chemo machines."
Boots said she's concerned both about living conditions inside the sheds, noting that each unit will be shared between two residents. "Not necessarily somebody that you choose or that you know," she said, "which is a setup for all kinds of exciting drama."
"There's been a great deal of misinformation about what we're doing today," said Rubin, the social worker. "About two thirds of the tents here are abandoned. Nobody lives in them. I spoke with everybody myself when I posted them on Friday. Nobody is surprised or unknowing about what we're doing and the intention."
DeVries said clearing the encampment as a necessary city concern, and the installation of the Tuff Sheds is a humane alternative to sleeping in close proximity to traffic. 
"They're taking their anger and frustration out on this operation about the general larger problem of homelessness and income inequality in the Bay Area," said DeVries. "We're going to be providing showers and medical services and health care and case work for people. To protest this feels a little misplaced."
"I agree with most of what people have to say about their frustration about the homeless situation in Oakland," he said. "We don't have enough resources to handle it. I get people's anger, but I also feel that we can work together."