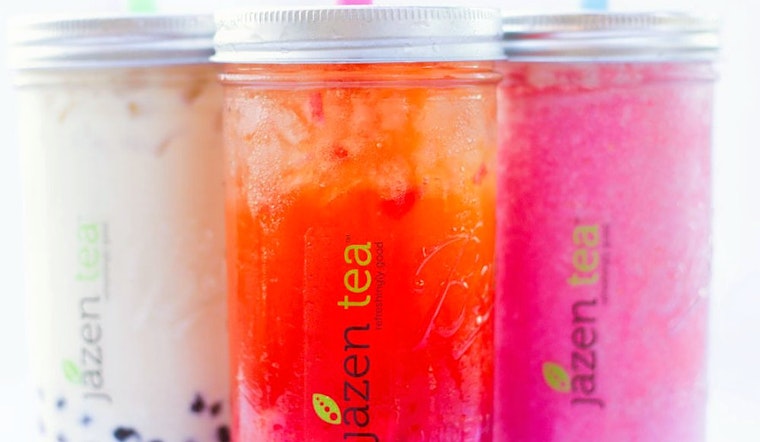 Published on May 02, 2018
A new tea room, offering refreshing drinks has debuted in the neighborhood. The newcomer to North Dallas, called Jazen Tea, is located at 11613 N. Central Expy, Ste. 106A.
Offering bubble tea, smoothies and more, this new spot uses real whole fruits and high-quality ingredients to make all its fruit teas and drinks, the company explains on its website. 
Menu items include a variety of milk and fruit teas such as a Calamansi mango tea with chia seeds and mango fruit bits; the Honey Delight made with honey jasmine green tea, chia seeds, strawberry fruit bits and aloe vera; and a coconut thai milk tea with honey boba.
A selection of smoothies and slushies are also available. Try the Avocado Overload blended with fresh real avocado or the Treat-N-Sip — a blend of caramel iced frappe with honey boba and egg pudding. (You can check out the full menu here.)
The fresh addition has proven popular so far, with a five-star rating out of six reviews on Yelp.
JaPanda B., who was among the first Yelpers to review the new spot on April 29, said: "This place has the MOST AMAZING options for drinks. Mojito Tea is so refreshing. Come and try this place. You won't regret it!"
"I tried their coconut thai tea with honey boba and boy was it tasty!" said Yelper Ysabelle S. "I love coconut milk — REAL coconut milk. The mix of flavors was perfection."
And Kan C. said: "I went there yesterday for their soft opening. The interior was so nice and bright and the drinks were amazing!"
Intrigued? Stop in to try it for yourself. Jazen Tea is open from 10 a.m.–10 p.m. daily.