Pedestrians walking in Temescal near one of the nation's oldest continuously operated LGBTQ bars may soon have a more colorful way of crossing the street.
To commemorate its history, White Horse Bar (6551 Telegraph Ave at 66th St.) has launched a petition with Friends of Upper Telegraph to install rainbow designs in the intersection near the corner bar.
"The idea came up last year among residents who were looking for ways to highlight the Upper Telegraph area," said Tom Murphy, a resident and co-founder of Friends of Upper Telegraph. "Having rainbow crosswalks at the White Horse was one of them."
Similar crosswalks have been installed in different cities in recent years to symbolize inclusion. In San Francisco's Castro, rainbow crosswalks were added in 2014 as part of a local beautification effort.
"It is only fitting that the intersection of 66th and Telegraph bear a similar commemoration as the White Horse Inn is a significant historical mark for the LGBT community and is a gateway to the City of Oakland, the most diverse city in America," White Horse wrote on its Facebook page.
White Horse has been a popular LGBTQ+ hangout since 1933, though its history as an all inclusive space may go back even further, as the bar didn't keep records during Prohibition.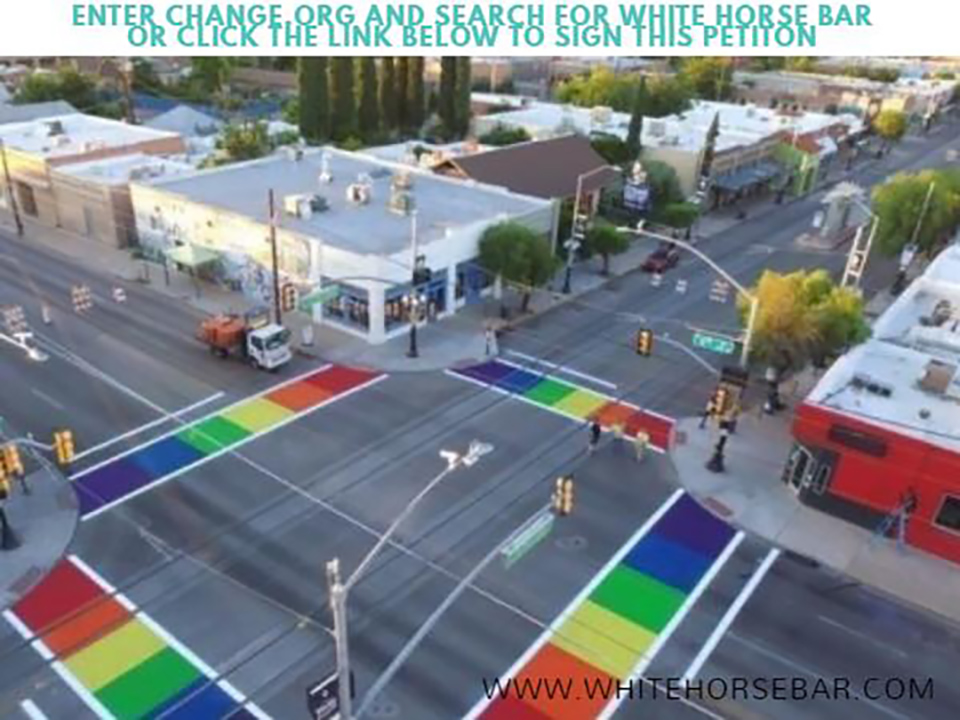 The project has the general support of the mayor's office, office of District 1 Councilmember Dan Kalb and the Temescal Telegraph Business Improvement District. Supporters must still secure at least 1,500 signatures to proceed to the next steps of design, approval, permitting, and fundraising. As of this writing, the petition has just over 1,000 signatures.
"It's important to note that we're still at the very beginning stages of this," said Murphy. "We haven't started the process yet. It's just an idea at this moment with a lot of support."
"Rainbow crosswalks have generated buzz in communities across the country — and plenty of Instagram pictures," wrote White Horse. "And now is the time to bring that awareness to Oakland, The White Horse Inn, and 66th and Telegraph."