After a six-month battle with lung cancer, West Oakland resident Paul Brown,  aka "Tall Paul," died early in the morning on Saturday, May 26. He was 62 years old.
Brown, known for his neighborhood charity and custom-made bikes, lived out of an RV parked outside Central Concrete Supply on the 2400 block of Peralta Street. He was often seen in the neighborhood cruising several feet above the ground on a double-stacked bike spray-painted glittery gold.
"He broke his first bike down completely," said nephew Tyrone Stephenson, Jr.
According to Stephenson, his grandmother saved for a year to buy bicycles for Brown and his three brothers when they were children. After receiving his gift on Christmas morning, he took it to the basement and took it apart, trying to figure out how it worked.
"He always loved bikes, and bikes were his calling," said Stephenson. "He said it was freedom for him, a gateway for him to free his mind."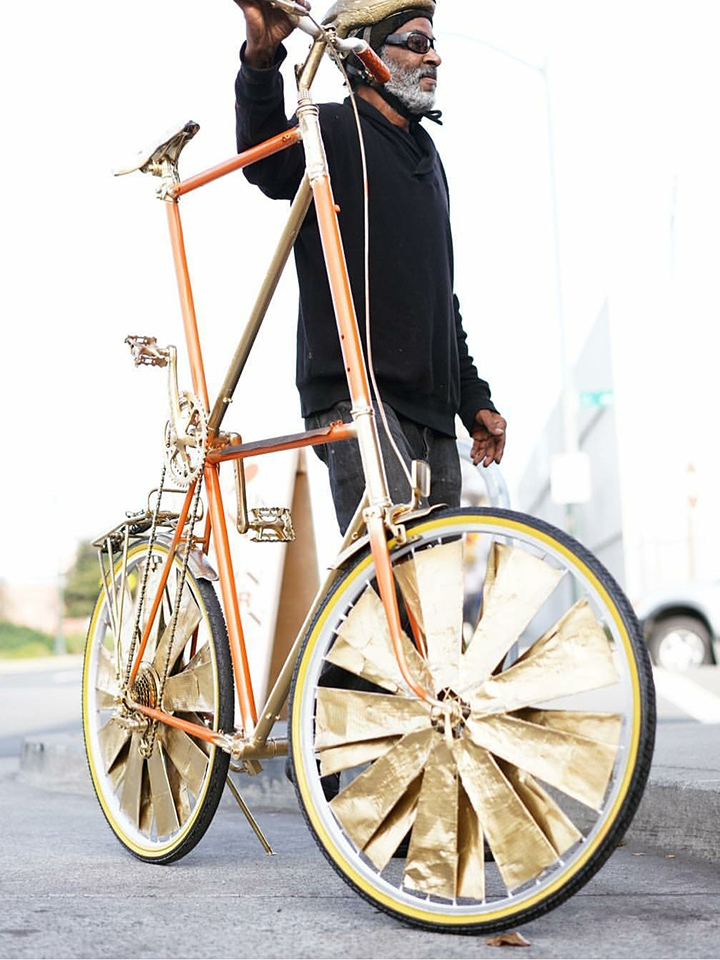 More than just an distinctive cyclist, Brown also ran a bike shop out of his mobile home, using donated bicycles and parts to create new bikes. For years, he offered a free pair of wheels to young students who'd earned at least three A's and a B on their report card.
"He was really teaching the kids that education was first and then came bikes," said Stephenson, who now serves as executive director of The Original Scraper Bike Team, a group that promotes youth entrepreneurship and self-expression.
"Three As and a B will get you in the door," said Stephenson. "That's something that he really emphasized and I've implemented into the Scraper Bike Team."
In turn, Brown incorporated some of his nephew's style — such as duct-taped spokes — into his bikes. One of his last wishes was to stage a parade of tall bikes and open a mentoring center that teaches kids how to customize their own wheels.
To honor his uncle's memory, Stephenson said he intends to host a memorial ride on Monday August 13th, which would have been Brown's 63rd birthday. Details are yet to be determined.
"He just motivated me and really got me to focus on the next generation," said Stephenson.
A funeral for Tall Paul will be held on Tuesday, June 12th at 10:30 a.m. at First Morning Star Baptist Church (1509 90th Ave.). Brown's family has launched a GoFundMe Page with a goal of raising $8,500 to help pay for services. As of this writing, donors have contributed $4,790.