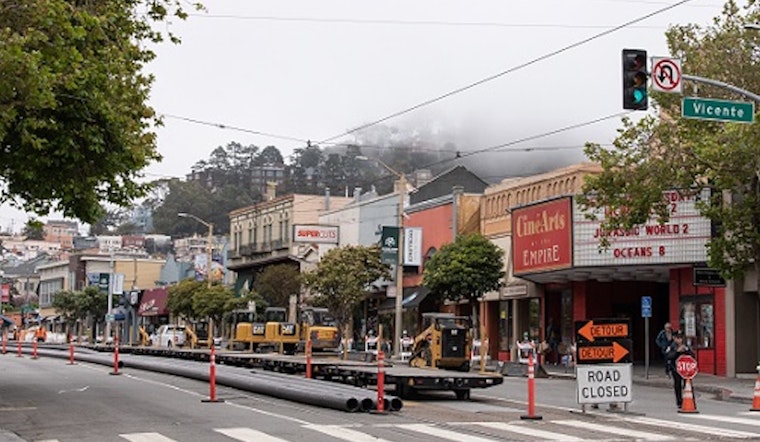 Published on June 27, 2018
A two-month long closure of the Twin Peaks Tunnel for repairs and upgrades has some area businesses worried that construction will undercut their bottom line, the Examiner has reported. 
As we've previously covered, the 100-year-old tube closed yesterday so the San Francisco Municipal Transportation Agency (SFMTA) can perform $40 million on work that will enable trains to travel faster through the passage.
According to the Examiner, nearly half of the parking spots fronting businesses along West Portal Avenue near the Muni station will be occupied by construction vehicles instead of would-be-patrons.
The spaces will be used as a staging area, with street closures expected to end in the next few months. The project in its entirety is expect to be completed in late 2019. 
During the project, West Portal Avenue's northbound lanes between Vicente and Ulloa Streets will be closed. The southbound side of the street will remain open for traffic. 
"My business is going to die. That's it," Roti Shah, owner of Roti Indian Bistro told the paper. "I know it has to happen, but 60 days is too long." 
Many area businesses rely on food delivery services as well as customers who pick up to-go orders, which will be increasingly difficult with ongoing construction.
The transit agency has installed barriers topped with clear plexiglass between sidewalk and street that allow passersby to see that businesses are still open. Workers will also post signs throughout the project's duration announcing that merchants are doing business as usual.
On Tuesday afternoon, SFMTA announced that despite the tunnel improvements, "we wanted to make sure everyone knows that West Portal businesses are still open." 
"There are a lot of fun things to do there even if you have to take a shuttle instead of your usual train," the message read. "Complete with the fog and glimpses of the ocean, this stretch of shops and restaurants represent the essence of classic San Francisco." 
The project includes replacing the tunnel's drainage system and tracks, making seismic upgrades, and improving the fire suppression system at the West Portal Station. Once completed, SFMTA says speed restrictions will be lifted, whereas trains through the tunnel are currently capped at 40 miles per hour. 
During construction, temporary buses will replace the M-Ocean View and L-Taraval train lines, and K-Ingleside trains will have a shorter route between Sloat/St. Francis and Balboa Park.
K-Ingleside, L-Taraval and M-Ocean View trains won't be in service in the Muni Metro, according to SFMTA. Nx buses will also be shelved during construction, however, but N-Judah trains are expected to be in service. 
"It's going to be interesting to see what happens," said Pedro Galletti, owner of Mozzarella Di Bufala Pizzeria. "My business is going to suffer no matter what."