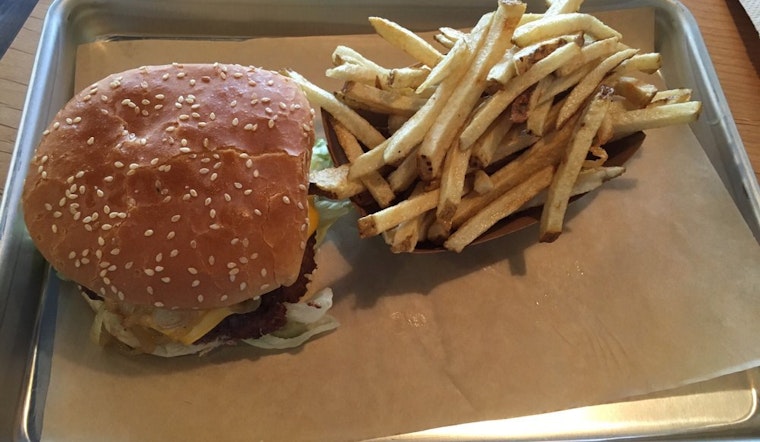 Published on July 06, 2018
At Noe Valley's new Hi-Way Burger & Fry (3853 24th St.), every day is fry-day.
As we reported, the new burger shop on 24th Street between Sanchez and Vicksburg streets, took over the space once held by Caskhouse. 
The menu offers seven burgers, including a hamburger and a vegan option, a fried chicken sandwich, hot dogs, a salad and several sides, like french fries, broccoli crowns and sweet potato fries.
Wash it all down with your choice of soda, beer, wine or a milkshake, which come in chocolate, vanilla, or fresh strawberry. (Check out the full menu here.)
With a 4.5-star rating out of 19 Yelp reviews so far, Hi-Way Burger & Fry seems to be a welcome addition.
Josh P., among the first Yelpers to review the new spot on June 22, wrote, "My friend and I were so excited to see this place open on our way home today! We just had to stop in and try it, and it did not disappoint. We both got the double burger with cheese, and it was fantastic."
And Steve F. wrote, "We ordered cheeseburgers, double burger and a vegan burger (The Beyond Burger), beer and fries. It was quite a long wait to receive food but this just opened up so I'm sure they'll become more efficient as time goes on."
Hi-Way Burger & Fry is open from 11 a.m.–9 p.m. on Monday, Tuesday, Wednesday, Thursday, and Sunday and 11 a.m.–10 p.m. on Friday and Saturday.