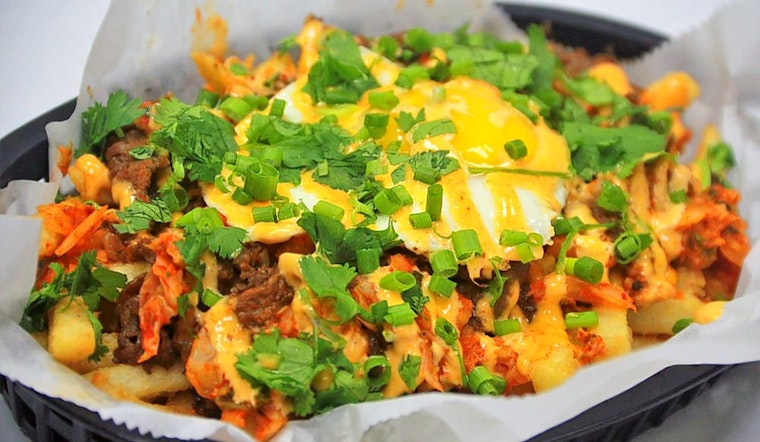 Published on July 23, 2018
Craving good Vietnamese food on the cheap?
Hoodline crunched the numbers to find the best affordable Vietnamese restaurants around Metairie, using both Yelp data and our own secret sauce to produce a ranked list of the best spots to satisfy your cravings.
1. Banh Mi Boys
Topping the list is Banh Mi Boys. Located at 5001 Airline Drive, Suite B, the sandwich shop is the highest rated affordable Vietnamese restaurant in Metairie, boasting 4.5 stars out of 187 reviews on Yelp. 
On the menu, look for banh mi options — which are dressed with pickled carrots, daikon, jalapeños, cilantro, cucumber and house spread — like the Bang Bang Shrimp (Gulf shrimp tossed in Thai chile glaze), the Xiu Mai (pork meatballs braised in tomato broth) and smoked brisket topped with a spicy Asian barbecue sauce.
Besides banh mi sandwiches, you can also score rice plates, vermicelli, salads, wings and po'boys. (See the full menu here.)
Jessica W., who reviewed it on June 6, wrote, "Probably the best banh mi I've had in a while, and that's saying something considering how often I get these. Unique flavors and combinations. Unassuming shop attached to a Texaco that packs a burst of flavor."
2. Phở NOLA
Next up is Phở NOLA, situated at 3320 Transcontinental Drive. With four stars out of 172 reviews on Yelp, the Vietnamese spot has proven to be a local favorite for those looking for a budget-friendly option.
The menu, which offers phở, noodle soups, banh mi, rice dishes, boba teas and more, has options like Phở NOLA (rare steak, brisket, beef tendon and tripe, garnished with white onions, scallions and cilantro and served alongside bean sprouts, basil, lime and jalapeño), the grilled pork rice plate served with a pan-fried egg and the spicy beef noodle soup with brisket, pork, Vietnamese ham and tendon. (See the full menu here.)
Alexander W. wrote, "Bun bo hue, spicy beef noodle soup, was incredible. Flavorful and the perfect amount of spicy. I finished the whole bowl of soup. And they give you large amounts of bean sprouts, cabbage, mint, lime, etc. to put into your soup. Friendly service, good price."
3. Frosty's Caffe
Frosty's Caffe, located at 3400 Cleary Ave., Suite A, is another top choice, with Yelpers giving the inexpensive Vietnamese and Asian fusion spot, which offers bubble tea and more, four stars out of 87 reviews.
On the menu, you'll see dishes like the Bun Chay rice vermicelli (stir-fried tofu, shredded lettuce, diced cucumber and pickled carrots sprinkled with roasted peanuts), the Phở Ga (white meat chicken and rice noodles sprinkled with shallots and cilantro) and the Banh Xeo (Vietnamese crepe stuffed with shrimp, pork and sprouts).
Jessica D. said, "I love the Vietnamese crepes here! It's one of my comfort foods. The crepe is yellow, buttery, crispy and filled with flavorful shrimp and pork. The phở is very good as well. The flavor is mild, and there are many different options. The prices are more than reasonable."
4. Chez Pierre
Chez Pierre, a French bakery that also serves up Vietnamese fare, is another inexpensive go-to, with four stars out of 86 Yelp reviews. Head over to 3208 Clearview Parkway to see for yourself.
If you're there for Vietnamese, go for lunch. You'll see the Nem Nuong vermicelli bowl (grilled pork sausage with lettuce, pickled carrots, cucumbers and fish sauce on the side), the Bo Luc Lac rice dish (flanked cubed beef with steamed rice, lettuce, tomato and cucumbers) and the Xui Mai banh mi (minced pork meatballs dressed in mayo, pickled carrots, cucumber, cilantro and jalapeños). (See the full lunch menu here.)
Besides its Vietnamese fare, you can score breakfast plates and French baked goods including pastries, cakes, croissants, cookies and more.
Yelper Morgan F., who reviewed it on July 18, said, "If you're looking for tasty, affordable Vietnamese or some fancy French pastries, you can find them here at this wonderful mash-up in Metairie."
5. Pho Orchid Express
Then there's Pho Orchid Express, which has earned four stars out of 55 reviews on Yelp. Dig in at the Vietnamese spot by heading over to 1401 Airline Drive.
On the menu, check out options like the Orchid Tacos served with cucumbers, pickled carrots and house sauce, plus your choice of protein (roasted duck, pork belly, Korean beef), the phở noodle soup with brisket, meatball or tendon or the banh mi sandwiches (such as Vietnamese ham, barbecue pork or meatball). (See the full menu here.)
Katie L. noted, "This is our go-to spot for phở. We usually get the dine-in special with phở and banh mi, then order spring rolls to go with it. They are fast and cheaper than the other phở restaurants around Metairie."