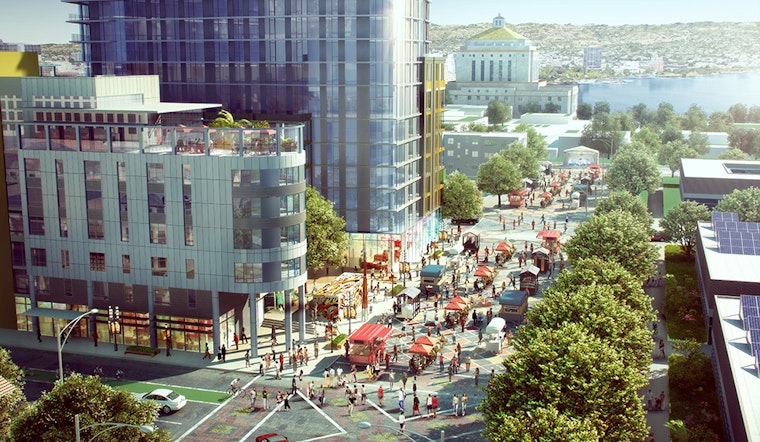 Published on September 14, 2018
BART is seeking to build a massive new housing, office and retail complex around its Lake Merritt station in Oakland.
This week, the transit agency's Board of Directors approved an exclusive negotiating agreement with two developers to construct four new buildings on BART-owned lots above the station.
As proposed, the buildings would include 519 units of housing — 44 percent of them designated as affordable — and 517,000 square feet of office and retail space.
20 percent of the office and retail space would be offered at below-market-rate prices for "community-serving organizations and small businesses," according to a statement from affordable housing developer East Bay Asian Local Development Corporation (EBALDC).
The proposal is a partnership between EBALDC, an Oakland nonprofit, and Strada Investment Group, a real -estate equity firm based in San Francisco.
After receiving proposals from four finalists, the BART Board of Directors voted on Thursday to move ahead with the proposal by Strada and EBALDC 
"We've worked closely with community partners and residents for the last 10 years to incorporate their vision into our proposal," said EBALDC executive director Joshua Simon.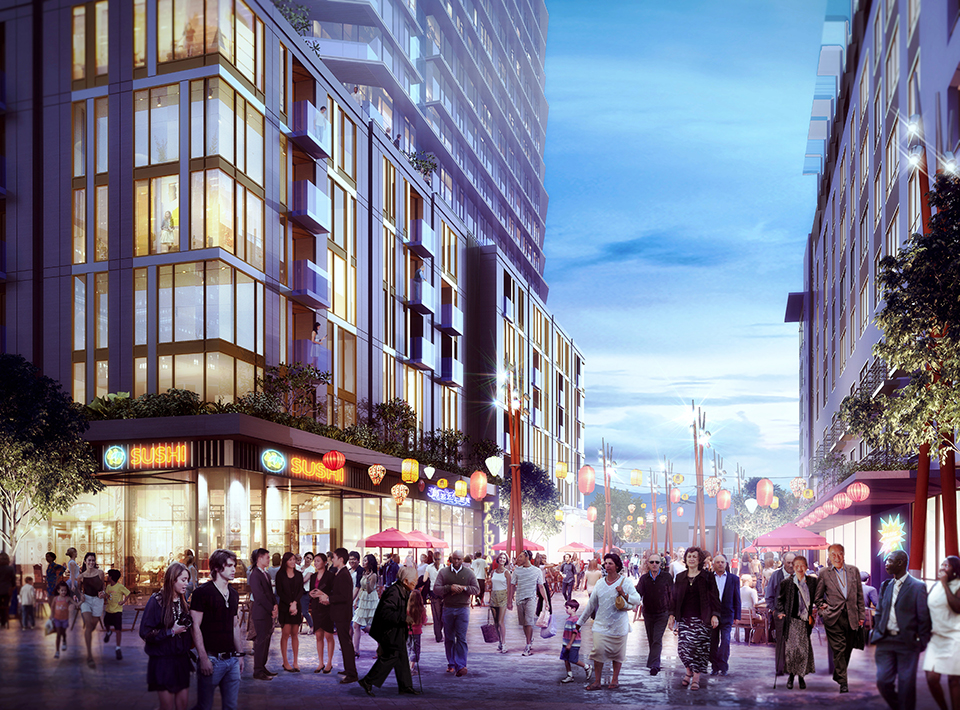 Though the project has been in the works for years, BART still anticipates a further two years of work ahead refining the proposal and getting feedback. There's no timeline yet for construction to begin or for the project to be completed.
"We're looking for a development that has it all: affordable housing, space for local services, job centers encouraging a reverse commute, and support for regional and state climate goals," said BART board President Robert Raburn.
The planned buildings are the latest step in BART's transit-oriented development strategy to develop the land around its stations.
For most of the 45 stations in the system, BART either has a development project either completed, planned or underway.
A 260-foot housing tower at Oakland's MacArthur station that will broke ground earlier this year, and a developer has been working on a concept for the West Oakland station that would add 1.1 million square feet of office space and 180 units of housing.
Another project is under construction at the Oakland Coliseum, with 112 units of affordable housing.
BART has emphasized affordable housing in its developments, passing a policy in 2016 requiring 20 percent affordable housing in all station developments with a housing component. It's also set a goal of 35 percent affordable housing systemwide.