By
Hoodline
- Published on September 13, 2018.
Craving Thai food?
Hoodline crunched the numbers to find the top Thai restaurants around Dallas, using both Yelp data and our own secret sauce to produce a ranked list of where to fill the bill.
1. Crushcraft
Topping the list is Crushcraft. Located at 2800 Routh St., Suite 150, in Oak Lawn, the Thai and Asian fusion spot is the highest-rated Thai restaurant in Dallas, boasting four stars out of 947 reviews on Yelp. It has one other location in Frisco.
On the menu, you'll see options like the kra pao (ground pork, jasmine rice, basil, bell peppers, onions, mortared chili and fried egg), the phat ke mao drunken noodles (chicken, wide rice noodles, basil, bell peppers, onions, tomatoes and chiles) and the khao soi (chicken, egg noodles, curry, shallots, mustard greens, boiled egg, crispy noodles and a side of chili oil). (See the full menu here.)
Yelper Filipa F., who reviewed it on Sep. 1, wrote, "The food is great, fresh and it's super fast and affordable. Our favorites are the drunken noodles and the khao soi. The fresh roll is also a good starter."
2. Thai Opal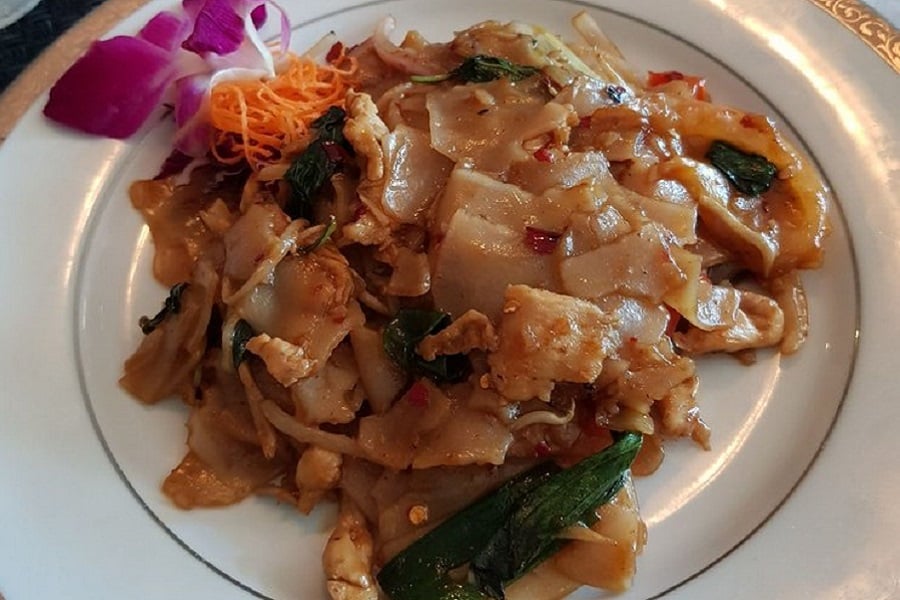 Next up is Lake Highlands' Thai Opal, situated at 6300 Skillman St., Suite 156. With 4.5 stars out of 283 reviews on Yelp, the Thai spot has proven to be a local favorite.
The menu includes dishes such as panang curry, tamarind duck and lard na (choice of protein with flat noodles, broccoli, carrots, cabbage, onion, baby corn, bean sprouts and cilantro). Finish off your meal with desserts like green tea ice cream, sticky rice and mango or fried banana with ice cream. (See the full menu here.)
David F. said, "The food is just plain yummy! Every order we've gotten from them has been correct, and the mix/blend of flavors is perfect. The restaurant is a quiet, quaint, neighborhood-type place. Perfect for a date or just a family dinner."
3. Malai Kitchen
Oak Lawn's Malai Kitchen, located at 3699 McKinney Ave., Suite 319, is another top choice, with Yelpers giving the business four stars out of 870 reviews. Owned by married couple Braden and Yasmin Wages, the restaurant was inspired by their travels through Thailand and Vietnam, per its website.
On the menu, look for Thai dishes like the pad see ew (flat noodles, chicken, broccoli, bean sprouts, cherry tomatoes and sweet soy sauce) and the peek gai nam daeng (jumbo whole wings, Thai chili garlic glaze and toasted sesame seeds). Pair your meal with house-brewed Asian-style beers, craft cocktails or wine. (See the full menu here.) 
Yelper Steve K. wrote, "The best Thai restaurant. The chicken wings appetizer was very well seasoned and crunchy. The basil fried rice was my favorite. My kids were devouring the lemongrass chicken. The food wasn't 100 percent authentic Thai food, but good and well worth the money. The atmosphere was also cozy."
4. Asian Mint
Asian Mint, a Thai and Asian fusion spot with sushi and more in North Dallas, is another go-to, with four stars out of 645 Yelp reviews. Head over to 11617 N. Central Expressway, Suite 135, to see for yourself.
Look for menu options like the pad thai woon sen (clear noodles, shrimp, chicken, tofu, tamarind sauce, egg, green onion, bean sprouts and peanuts), the Sriracha chicken and the Thai chicken wrap with spicy lime sauce, cilantro and mint. It also serves brunch. (See the full menu here.) 
Amber M., who reviewed it on May 21, wrote, "This is hands down the best Thai food in Dallas! It's really good food at a reasonable price. The service was excellent and I liked the interior of the restaurant. Super cute!"
5. Royal Thai
Finally, over in Upper Greenville, check out Royal Thai, which has earned four stars out of 551 reviews on Yelp. You can find the Thai restaurant at 5500 Greenville Ave., Suite 608.
Look for dishes like the lemongrass chicken with eggplant, bell peppers, jalapeños and basil, and the yahm nuah salad made with charbroiled flank steak mixed with tomatoes, red onion, Thai herbs, hot peppers and lime juice. (See the full menu here.)
Yelp reviewer Robert G. wrote, "A lovely gem of Thai cuisine in north Dallas. Their menu is made up of all of the Thai classics you would expect. Service is usually spot on and even with consistent crowds it is usually easy to get a table. If you are in the mood for Thai, this is a solid option."