By
Hoodline
- Published on October 23, 2018.
If you wanted to be taken out to the ball game but couldn't score tickets, all is not lost. There are plenty of top-notch sports bars in Boston to catch the World Series, all of which have more to offer than your typical stadium hot dog, nachos and overpriced beer.
Using Yelp data and our own methodology, Hoodline crunched the numbers to come up with the best sports bars where you can view baseball's biggest series.
1. Bleacher Bar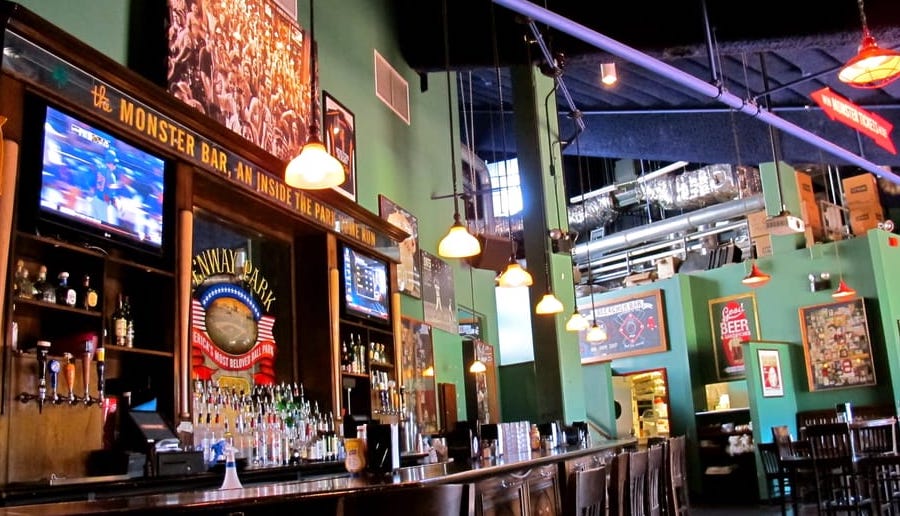 Topping the list is Bleacher Bar. Located at 82 Lansdowne St. in Fenway Park, it is the highest rated sports bar in Boston, boasting four stars out of 416 reviews on Yelp.
The unique bar is located beneath the bleachers in Fenway Park's center field. For many years, it was used as field storage and as the batting cage for the visiting team before opening its doors as a bar in 2008, per its website. Bleacher Bar serves a mix of salads, soups, snacks, sandwiches and beer. Look for the beef brisket with horseradish sauce on light rye or the tuna salad.
On Aug. 21, Yelper Jim J. wrote, "Bleacher Bar is your way into Fenway without a ticket or tour pass. This awesome bar in right field is open on off days and gives you an opportunity to view the field and enjoy the Fenway ambiance. The staff was friendly and helped keep tourists from getting too rowdy. We had an awesome seat, right in front of the fence to the warning track."
2. Lulu's Allston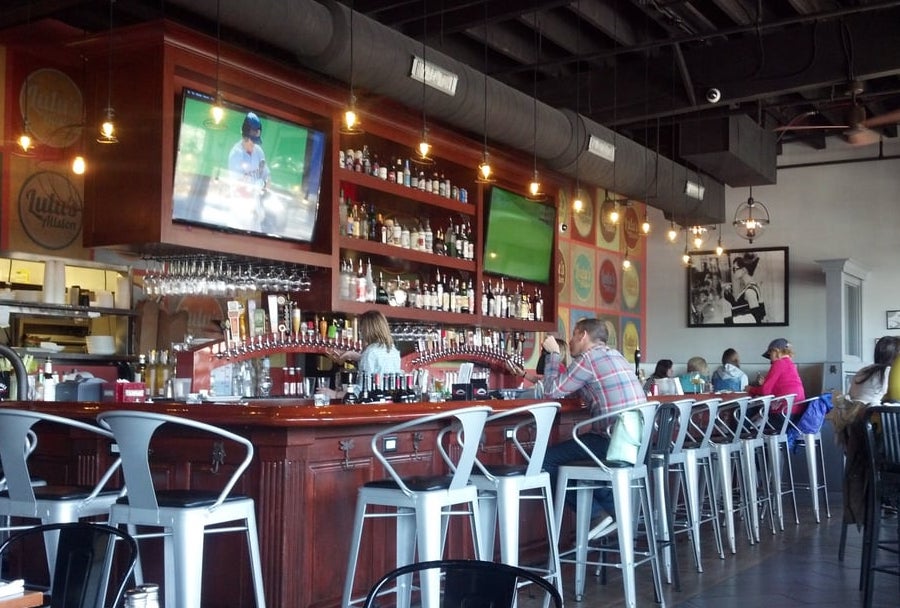 Next up is Lulu's Allston, situated at 421 Cambridge St. (between Rugg and Denby roads). With four stars out of 399 reviews on Yelp, the sports bar and New American spot has proven to be a local favorite.
Menu offerings include warm pretzel rolls, beer cheese soup and the quinoa black bean burger with Thai red curry and coconut milk, Vermont cheese and Lulu's secret sauce, served on a brioche roll with hand-cut fries. There's also an extensive list of craft beers along with ciders and cocktails. 
3. Kings Dining & Entertainment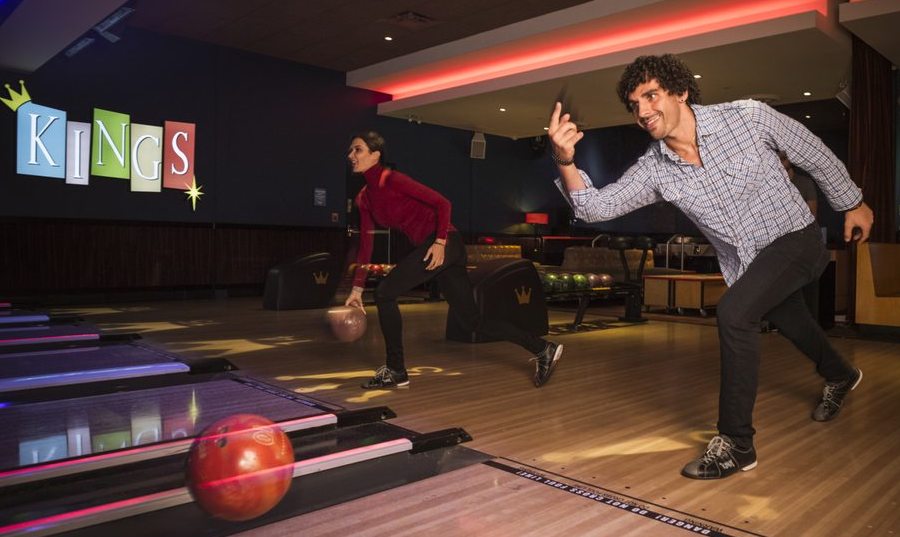 Kings Dining & Entertainment - Boston Seaport, a sports bar and bowling spot, is another go-to, with four stars out of 93 Yelp reviews. Head over to 60 Seaport Blvd., Suite 225, to see for yourself.
As one of its many locations across the United States, Kings' Boston Seaport spot provides a varied menu of food and drinks, gaming and bowling. Some of the games available to play are foosball, Pop-a-Shot Hoops and Asteroids (which are all coin-operated). It also has dozens of TVs and projection screens. 
"I stopped for drinks and appetizers. The beer was cold and the service was great. The atmosphere was very nice, but comfortable. I had a 34-ounce local IPA in a frozen mug; it was great beer and a great method of serving," wrote Yelper Craig P.
4. Four Winds Bar and Grill
Then there's Four Winds Bar and Grill, which has earned four stars out of 34 reviews on Yelp. You can find the sports bar and traditional American spot, which offers pizza and more, at 266 Commercial St. in the North End. 
It features a menu of appetizers, sandwiches, pizza, salads, drinks, entrees and desserts. Look for the barbecue chicken pizza with caramelized onions, bacon, tomato and scallions.
Yelper Wes T. said, "It's a great local spot to catch a drink and watch a game on the big TV behind the bar. It has lots of seating, with an area that opens up to the street outside. Perfect for nice weather days."