By
Hoodline
- Published on November 09, 2018.
Overall crime in New York declined again last month, according to crime statistics released by the New York Police Department. Total incidents fell to 7,520 per four-week period in October, down from 7,913 in the same period in 2017, representing about a 5 percent decline. Crime incidents tend to follow similar seasonal ups and downs each year, so it makes the most sense to compare the same month year-to-year.
Most types of crimes decreased this month, led by felony assaults and burglaries, which both fell by over 100 incidents (more than 10 percent) per four-week period from the same time last year. Shootings count for a much smaller portion of total crime incidents, but are also down by double digit incidents, or over 15 percent of their prior level one year ago.
The largest categories of crime incidents remain petit larceny and grand larceny (the latter including stolen property that exceeds $1,000, motor vehicles, and credit cards). Grand larceny experienced a slight decline this month from the same time last year, but petit larceny has increased by more than 100 incidents per four-week period (about 2 percent).
Four-week crime incidents vs one year ago, by offense type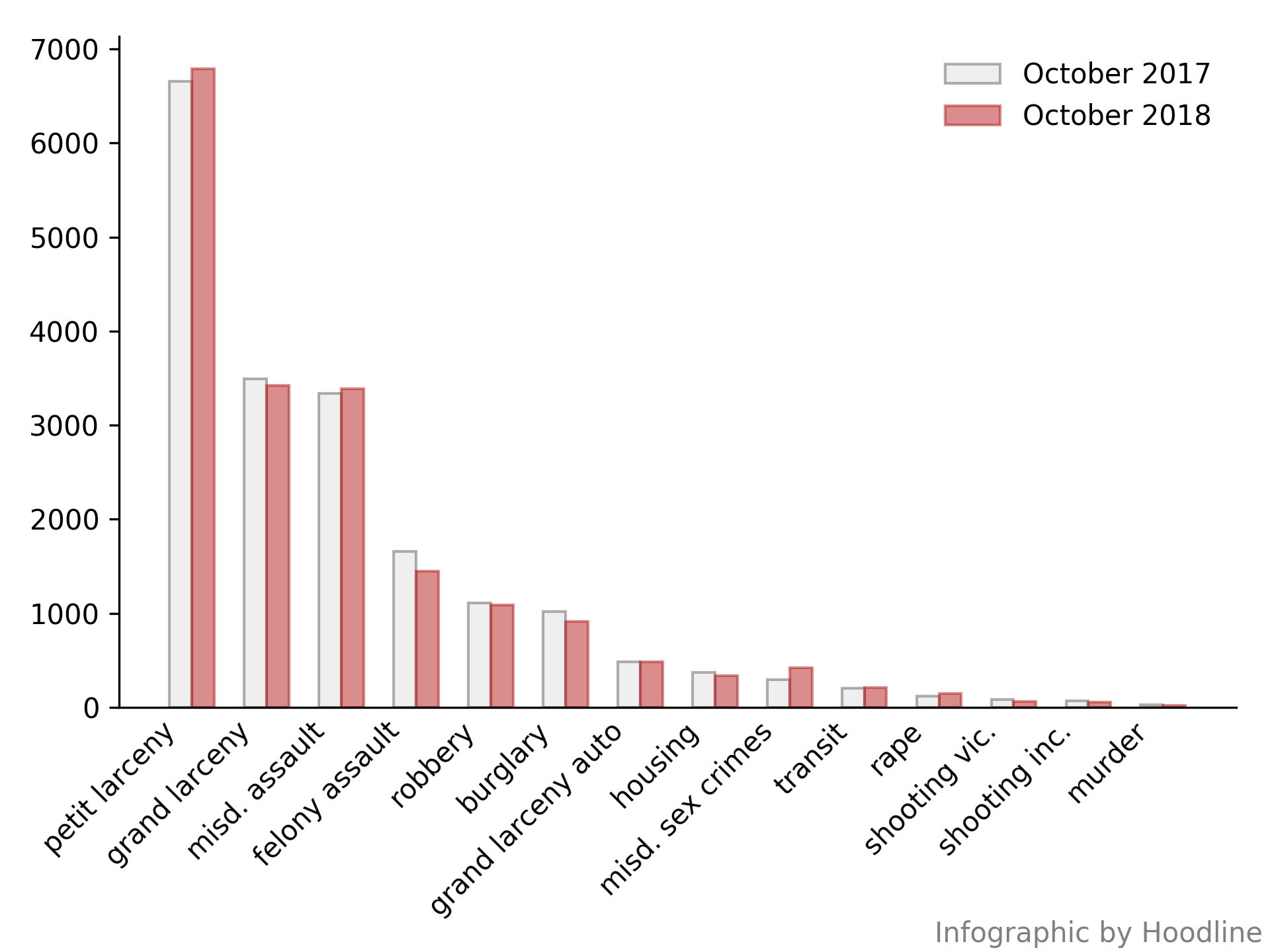 The largest percentage increases in reported crimes have occurred in misdemeanor sex crimes, from 294 incidents per four-week period a year ago to 420 the past four weeks, and rape, from 122 incidents to 149. An increase in reported instances of rape and sexual assault may arise not only when more crimes are committed, but also if a greater share of sex crimes are reported to the police. Studies show that a large percentage of such crimes are never reported, and changes in culture or police outreach may make more victims willing to come forward.
As far as where crime is concentrated in the city, Brooklyn and the Bronx experienced the largest decreases in crime. Brooklyn incidents dropped from 2,384 to 2,205 (about 7.5 percent), again looking at the same four-week period last year compared to now. Crimes reported in the Bronx dropped from 1,588 to 1,467 (about 7.6 percent), which represents a larger per-capita decline, since the Bronx has just over half the population of Brooklyn.
Four-week crime incidents by major offense type, by borough
Four-week incidents in Queens also dropped about 4.4 percent, and those in Manhattan dropped about 1.4 percent. Staten Island was the only borough with an increase in reported crimes from the same time last year, although it has by far the fewest overall, going from just 206 to 231 incidents per four-week period.
Petit larceny is the most common crime in all five boroughs. In Manhattan and Queens, grand larceny is second, followed by misdemeanor assaults. In Brooklyn, the Bronx, and Staten Island, misdemeanor assaults surpass grand larceny. Felony assaults take fourth place in all boroughs, followed by robbery or burglary.
To report an emergency or crime in process, contact NYPD at 911; for non-emergencies, contact your local precinct.