Welcome December into your lives this weekend with one of these wintry events. Go ice skating and take a curling lesson, catch the SF Symphony doing the score to a classic Tim Burton holiday film, and eat chili in every way imaginable — and then some.  
Here's our top picks for entertainment in town this weekend.
Winter Park at Civic Center
If you've ever watched the Winter Olympics and were confused on what curling is, now's your chance to learn firsthand. Starting tomorrow, Civic Center Plaza becomes Winter Park, with a month of festive events including morning yoga, ice-skating sessions and, yes, the chance to learn curling.
This Friday's opening skate will feature Olympic champion (and SF local) Brian Boitano, along with special performances from the San Francisco Ice Theatre and Mayumi Namikoshi. Curling lessons are offered every Sunday morning throughout December; get tickets here.
When: Friday, November 30, 11am   
Where: SF Civic Center
Price: Prices vary based on activity
'The Nightmare Before Christmas' with the SF Symphony
The opportunity to see an award-winning symphony perform anything by Danny Elfman should get your immediate attention. The SF Symphony (a Hoodline advertiser) steps up to the challenge this weekend, performing the score to Tim Burton's The Nightmare Before Christmas while the audience views the film on the big screen. There's availability for both the Friday and Saturday evening performances.
When: 8pm on Friday and Saturday evening
Where: Davies Symphony Hall, 201 Van Ness
Price: $105
SF & Chill-i Fest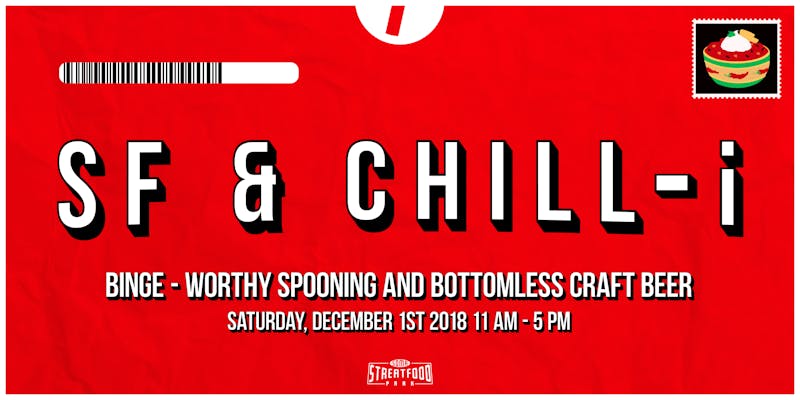 SF doesn't drop down to freezing temperatures very often, but that shouldn't stop you from warming up with some of the best chili creations around. On Saturday, the SoMa Streat Food Park will spotlight chili concoctions from some of the best food trucks around, serving classic dishes like chili dogs, smothered chili fries and chili burgers. Take a breather from the food with all-you-can-drink craft beers and live music.
When: Saturday, December 1, 11am-5pm
Where: SoMa StrEat Food Park, 428 11th Street
Price: Free admission; $35 for all-you-can-drink beer
Union Square Menorah Lighting
Hanukkah begins this Sunday, the start of eight nights of lights. Kick off the festivities with the Union Square Candle Lighting Ceremony, at 4:30 pm. Expect kids' activities; special appearances by David & Alex Graham and rock musician Perry Farrell; and a musical performance by Jerry's Kosher Deli.
After the menorah lighting, pop over to the Fillmore to see Farrell's newest musical venture headline a special concert, with a portion of the proceeds benefiting the Bill Graham Memorial Foundation, in support of the Bill Graham Menorah Project.  
When: Sunday, December 2, 4:30pm
Where: Union Square
Price: Free
Enjoy your weekend!