SantaCon is getting all the attention in San Francisco this weekend. But if you'd rather avoid the bar crawlers, we've found a cultural celebration, some holiday runs and even something for the dogs.
Here's our top picks for entertainment heading your way over the next few days.
Parol Lantern Festival
Now in its 16th year, the Parol Lantern Festival is a Filipino tradition. The local community comes together to make the ornamental, star-shaped lanterns, then displays them throughout the festive month of December.
This year's festival includes parol-making workshops, a "parol stroll" parade through Yerba Buena Gardens, a contest for the best handmade parol (with $500 on the line) and entertainment from local artists and musicians. Plenty of Filipino food and handcrafted desserts will be available too.
When: Saturday, December 8, 5pm-9pm
Where: Jessie Square, Yerba Buena Gardens
Price: Free admission, Parol kits costs $6-7
Festive Runs: Jingle Beer Run, The Krampus Cross Country & The Santa Skivvies Run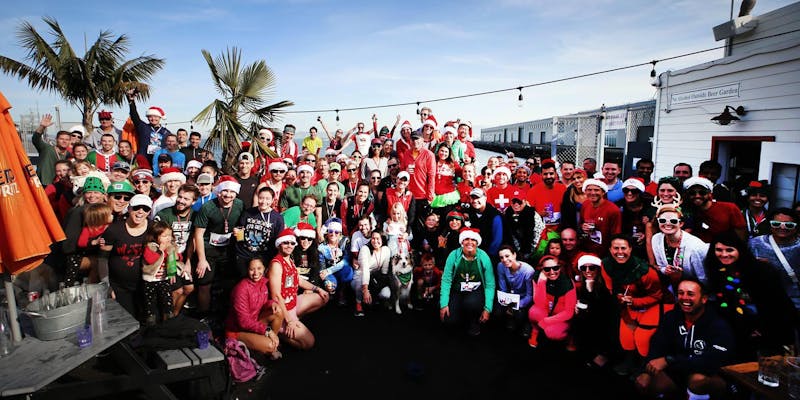 Many people tend to pack on a few pounds during the holiday season, so it's a good idea to stay as active as possible. This weekend gives you a few chances to burn some extra calories, to make room for all those cookies, eggnog and latkes. 
Starting on Saturday morning at 10 a.m., the 9th annual three-mile Jingle Beer Run ($10 entry fee) will speed from the Marina Green to Pier 23. In addition to the promised beer at the finish line, winners will receive holiday-inspired prizes.
Sunday brings a doubleheader of runs. First up, at 8 a.m., is the Krampus Cross Country ($65 entry fee) where you'll have an option of a 5K or 10K run through the Presidio trails, with shirts, medals and free drinks at the end.
Then dash over to the Castro by 11 a.m. for the Santa Skivvies Run, a one-mile underwear run benefiting the SF AIDS Foundation. The dash is followed by a block party and "struttin' contest."
The 6th Annual Tannenbaum Toast
Few things are more San Francisco than raising a glass to Emperor Norton, the classic local character and self-proclaimed "Emperor of the United States." On Sunday, the Tannenbaum Toast will give you the chance to don your favorite 19th-century garb and tip back a Boothby cocktail in Norton's honor.
The event is hosted by the Emperor's Bridge Campaign, an organization that celebrates Norton's life and work. At the event, you'll get to hear about the organization's new Norton-centric art project, featuring contributions from 16 local artist teams.
When: Sunday, December 9, 4pm-6pm
Where: House of Shields, 39 New Montgomery Street
Price: Free
Howlidays Party at Jeffrey's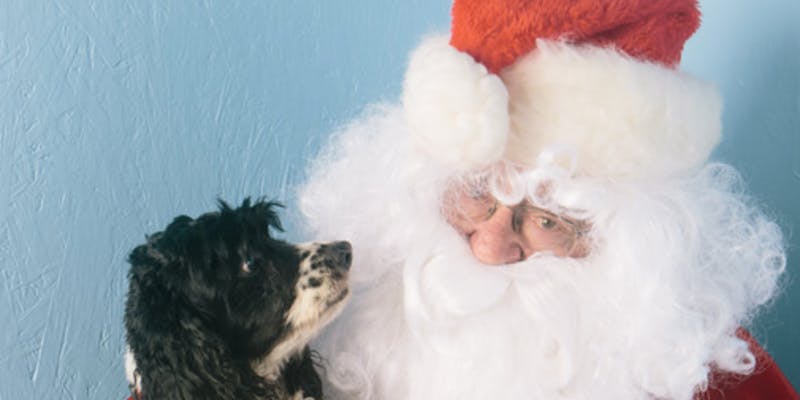 Dogs shouldn't be left out of the holiday fun this month. Bring your favorite pup to the North Beach outpost of Jeffrey's Natural Pet Foods for their annual holiday dog party.
There will be festive drinks and appetizers for humans, while the dogs get to enjoy special treats and photos with Santa Paws. Photography will be courtesy of Kira Stackhouse, voted the best pet photographer in San Francisco.
When: Sunday, December 9, 3pm-5pm
Where: Jeffrey's Natural Pet Foods, 1841 Powell St.
Price: Free
Enjoy your weekend!