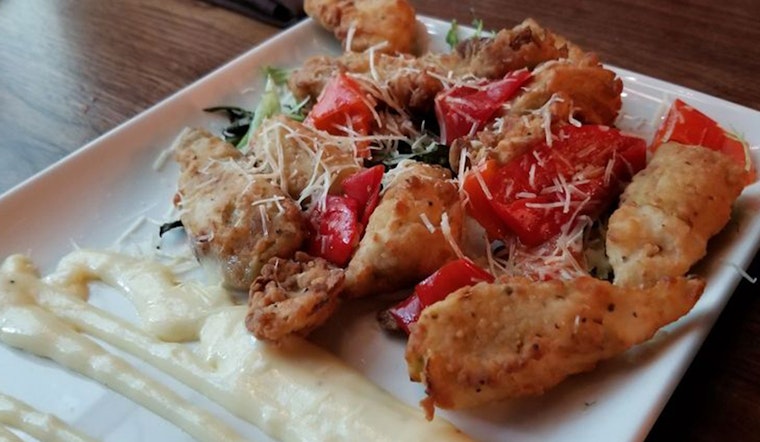 Published on March 14, 2019
Wondering where Seattle's insiders are eating and drinking? It's easy to spot lines out the door, but some underlying trends are harder to see.
We took a data-driven look at the question, using Yelp to discover which local businesses have been most discussed this month.
To find out who made the list, we looked at Seattle businesses on Yelp by category and counted how many reviews each received. Rather than compare them based on number of reviews alone, we calculated a percentage increase in reviews over the past month, and tracked businesses that consistently increase their volume of reviews to identify statistically significant outliers compared to past performance.
Read on to see which spots are on a hot streak, right now.
Daniel's Broiler
Open since October 2018 on the second floor of the Belltown Hyatt Regency hotel, this classic American steakhouse and seafood spot is trending compared to other businesses categorized as "Seafood" on Yelp.
Citywide, seafood spots saw a median 1.3 percent increase in new reviews over the past month, but Daniel's Broiler saw a 38.5 percent increase, maintaining a mixed 3.5-star rating throughout.
It's not the only trending outlier in the seafood category: Cinque Terre Ristorante has seen a 3.6 percent increase in reviews.
Located at 808 Howell St. (between Olive Way and Ninth Avenue) in Belltown, Daniel's Broiler is an all-day affair. It offers breakfast fare such as pancakes and eggs Benedict, and also lunch and dinner options like the turkey club sandwich, filet mignon steak and grilled salmon. Here's the full menu. 
Kokkaku
Whether or not you've been hearing buzz about Wallingford's Kokkaku, the well-established New American-Japanese steakhouse is a hot topic according to Yelp review data.
While businesses categorized as "American (New)" on Yelp saw a median 1.5 percent increase in new reviews over the past month, Kokkaku bagged a 13.5 percent increase in new reviews within that timeframe, maintaining a sound four-star rating. It significantly outperformed the previous month by gaining 1.4 times more reviews than expected based on its past performance.
There's more that's trending on Seattle's New American scene: Redhook Brewlab has seen a 7.8 percent increase in reviews.
Open at 2208 N. 45th St. (between North Corliss and North Bagley avenues) since October 2017, Kokkaku offers fried chicken, pork tenderloin, sockeye salmon and other protein-centric entrees, as well as a variety of steaks and desserts. Check out the business' website for a full list of offerings and more information. 
13 Coins Restaurant
Pioneer Square's 13 Coins Restaurant is the city's buzziest place to get brunch, by the numbers.
The traditional American 24-hour restaurant, which opened at 255 S. King St. (between South Second Avenue) in February 2018 and prides itself on its "24-hour menu," increased its new review count by 5.6 percent over the past month — an outlier when compared to the median new review count of 1.3 percent for the Yelp category "Breakfast & Brunch."
It's not the only trending outlier in the breakfast and brunch category: Great American Diner & Bar has seen a 4.1 percent increase in reviews.
13 Coins offers classic brunch fare like an eggs Benedict with house-made Hollandaise, plus appetizers such as pork belly sliders, meatballs, steak bites, onion rings and fried artichoke hearts and entrees like chicken parmigiana, pan fried oysters, sea scallops and beef ravioli. Check out the full menu here. 
---
This story was created automatically using local business data, then reviewed and augmented by an editor. Click here for more about what we're doing. Got thoughts? Go here to share your feedback.