After one year in the Castro, Indonesian fusion restaurant Indo (4039 18th St., at Hartford) closed its doors this past Saturday, March 16th.
Those doors didn't stay closed for long, though. Indo owners Bryan Lew and Tommy Charoen have quickly transitioned the restaurant to their fast-casual chicken-and-rice concept, Rooster & Rice, which opened in the space yesterday.
Founded by Lew and Charoen in 2015, Rooster & Rice specializes in Thai-style khao mun gai: poached chicken served with rice, chicken broth and a gingery sauce. 
Last year, it merged with competitor Chick'n Rice, which was founded in 2017 by the creators of food delivery service Caviar. As part of the merger, Chick'n Rice's locations were rebranded as Rooster & Rice.
The Castro will be the fourth San Francisco location for the newly combined chicken-and-rice company; it also has outposts in the Marina, SoMa, and the Financial District.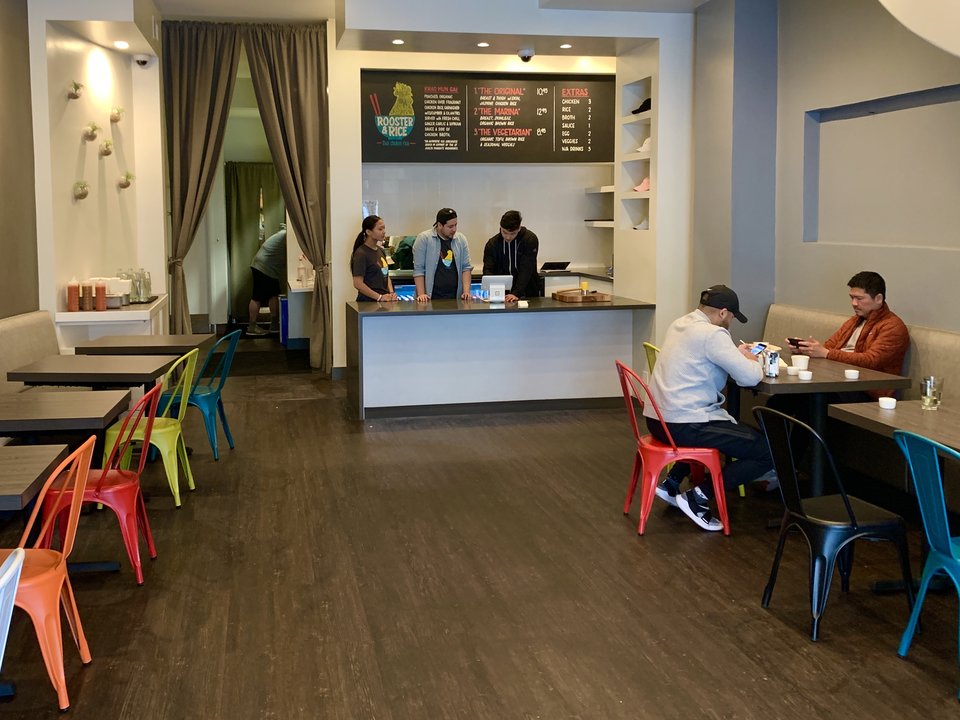 While Indo's Sunday-brunch pop-up Morning Wood was a hit in the neighborhood, Lew said he had to close the restaurant because "dinner just wasn't cutting it."
Most of Indo's staff has stuck around for the transition to Rooster & Rice, he said. To start, Rooster & Rice will be open daily from 11 a.m.-7 p.m., extending its hours to 10 or 11 p.m. once the staff is up to speed. 
Indo's original location in Palo Alto will continue on, but the Morning Wood pop-ups won't be returning to the Castro. 
"It's pretty sad," Lew said. "It just never got to where we wanted it to be." 
Rooster & Rice, on the other hand, is growing quickly. The company will open its fifth San Francisco location at Geary and Stanyan in June, and Lew says they're currently working on a deal for a potential outpost at the Stonestown Galleria mall. Santa Clara's Westfield Valley Fair mall will also get a Rooster & Rice by the end of the year. 
Lew said he plans to expand the restaurant nationally, starting with Seattle and Los Angeles.
"We're trying to go big," he said. "We're trying to be the next Chipotle."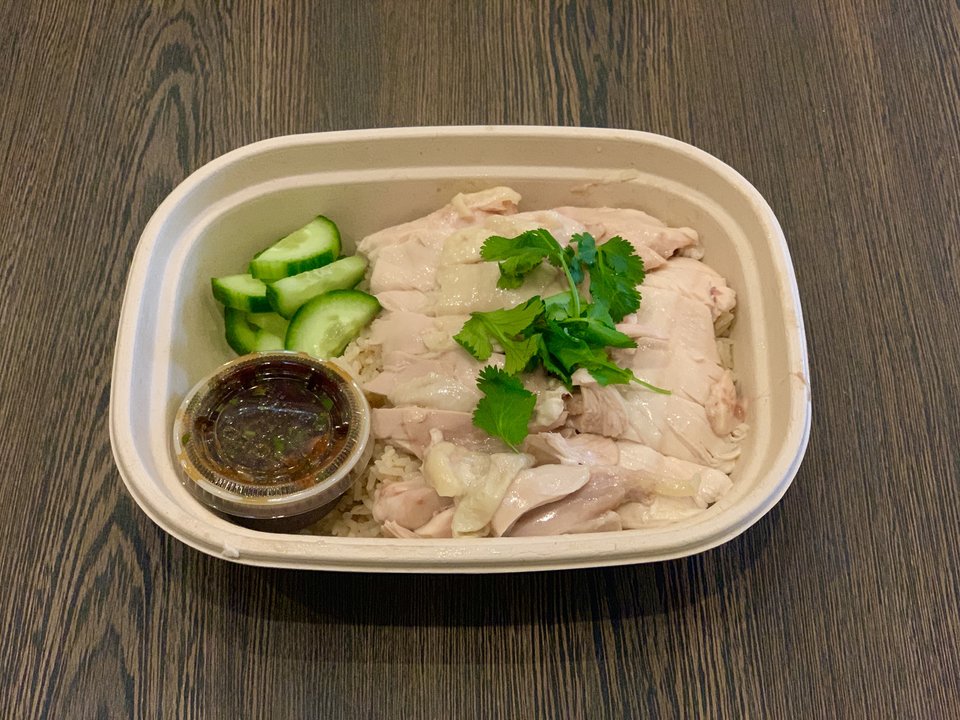 The menu at Rooster & Rice is simple, with just a handful of options. "The Original" ($10.95) consists of organic poached chicken over rice, accompanied by sauce, cucumbers and a side of chicken broth. Variations include "The Marina" (with skinless chicken breast and brown rice) and "The Vegetarian" (with organic tofu, brown rice and seasonal vegetables).
The fare will likely be familiar to Castro residents, as another restaurant, Gai (3463 16th St., at Dehon), which opened in the neighborhood last year, serves a nearly identical menu. 
"It's a hot concept right now," said Lew of the decision to open another chicken and rice restaurant so close to Gai. But he notes that the two have one key difference: Gai also serves the Cantonese and Vietnamese variations of the dish, while Rooster & Rice is focused just on the Thai version.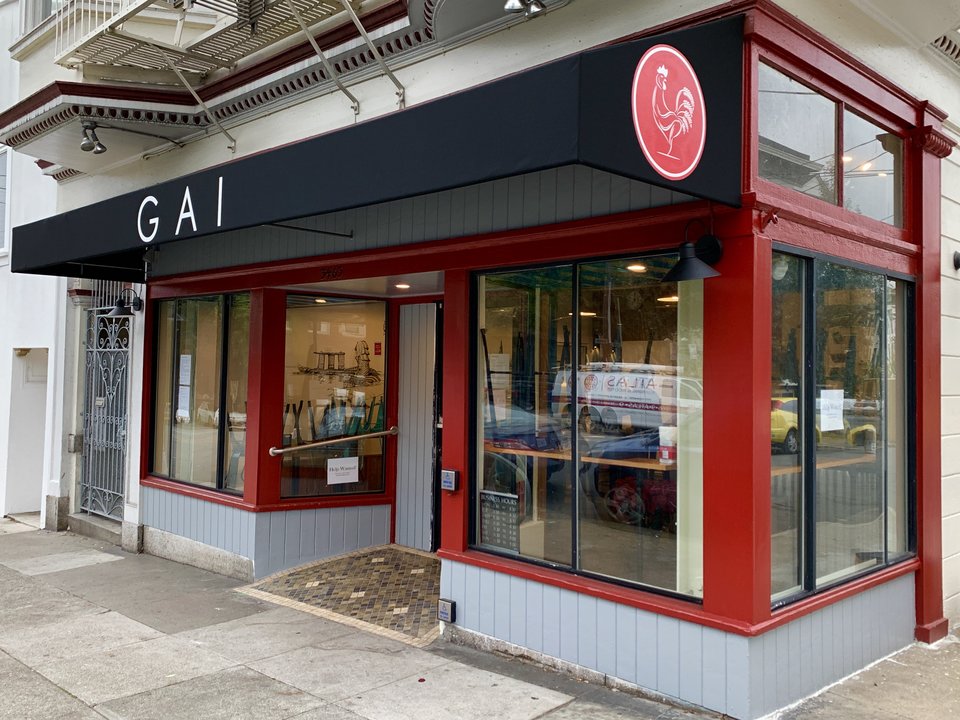 Gai owner Kevin Lieu said he's somewhat concerned about the new arrival. 
"It's going to effect us no matter what," he said. "They're just so similar, and distance-wise, we're so close to each other that there's definitely going to be an impact."
Lieu, a first-time restaurant owner and Sunset resident, says he plans to make sure that Gai is "distinguishing [its] brand" in the face of the competition. To start, he's adding a new menu item: the "Fit Gai," a non-rice variation for those who only want poached chicken and broccoli.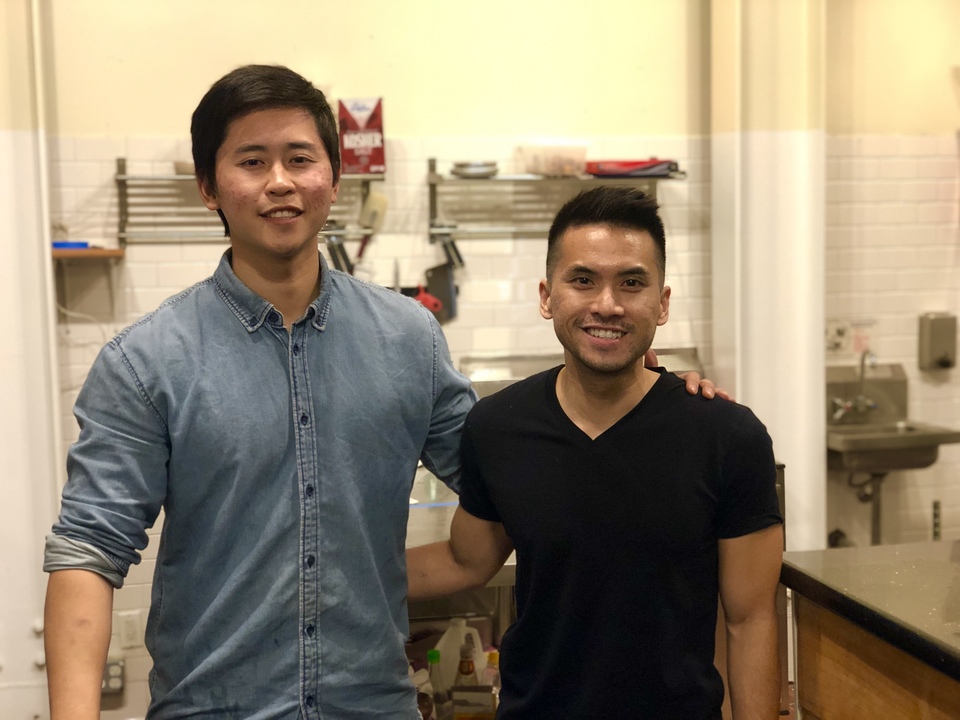 Lieu, who has no plans to expand beyond the Castro, says he chose to open a restaurant in the neighborhood because it played an integral part in his coming-out story. 
"I found a sense of identity here, and this is where I wanted to put my footprint," he said. "We want to connect with the community."